Her soul-stirring performance of Vickie Winan's "Long as I got King Jesus" lives rent free in my head and is a well-spring of joy. Michelle was a symbol of Black queerness. A symbol that resounds even beyond the spaces she occupied. I felt I knew her. I felt she was a friend, family even. I felt this connection the first time I witnessed her glide across the bar-room floor cloaked in opulence. She owned everything! She was a queen, and we all knew it.
Maybe it was her Jamaican background.
Maybe it was how she embodied the great divas.
Maybe it was her spirited performances.
Maybe it was all this which accounts for the great loss we mourn today.
I spoke briefly with Tynomi Banks in memory of the aggressively private queen, Michelle Ross. Tynomi is just one of many Black drag queens who has benefited from the path carved out by the diva and her 45-year reign within the industry.
Tynomi, who has been making waves within the entertainment industry, with a recent SuperBowl Ad, a starring role in a new film and clothing line in celebration of Black lives, recognizes that her own success is possible because of queens like Michelle Ross. This is Tynomi's tribute (as told to Albert Williams).
Michelle Ross was a friend, mother, sister, family. When I was in… I won't say a dark place, but rather, trying to figure out my own life, we had a moment together where we both were working a gig. We sat in the backroom together and she shared with me some of her back story. Stories about her life and her lived experiences. I was able to identify with so much in her personal story and it provided answers to many of my own questions about myself and where I wanted to take my art. She was a beacon, a beacon of light, a person who did not follow the rules. Sure, she gave glamour or rather old school glam in her art, but she was a believer in choosing your own path, and not always taking what everyone says is the right path for you.
Michelle was very inspirational. I do have my own drag mother, but I always considered her family. I guess you could say she was more like an aunty, you know the type, you go to the family cookout and hope she is there because she is your favourite? Yeah. She was that person for me.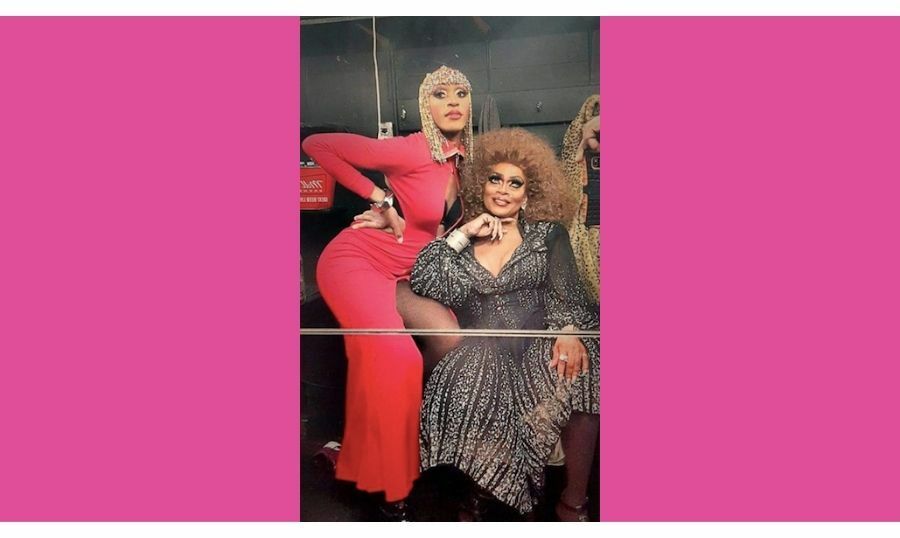 I loved watching her perform. She's so funny, too. I hope I tell this story the right way, but sometimes she'd be so tired wearing that gown and all that glam she would say, "I have to keep my running shoes." It's just so funny how she said it. Despite her tiredness, she would always power through the performance because she knew what was important. I learned that from her, it didn't matter what emotional state she was in on the stage; tired, sad, angry or whatever, you would never know. She channelled all the emotions into her powerful performance. She knew her purpose was to make many people happy and so she delivered. I learned from Michelle, even if you're in a room with one person, you better give it your all.
Michelle was full of life and pure fun to be around. Losing her is still a shock to the system. The closest queen to her is Devine Darling and she is taking it hard. (Devine Darling is still processing and is not ready to talk) She was the true family member, a true daughter to Michelle. The queens of colour are rallying around Devine, ready to give support and lift her up when it gets too much for her to bear.
For those who won't get a chance to see Michelle perform in person. You've missed out on a true legendary performer. Michelle Ross helped to shape the blueprint for how drag queens deliver in performance. No matter what age, gender, orientation, when you were in that bar or anywhere she was performing, you felt a connection because her mission was built on this. She wanted to make sure you had an experience. She had a way, an elegance, a beauty about her and how she performed that was purely captivating. You've missed out on feeling a sense of family. There are many queens who learned at her feet and so Michelle's style will still be here, we're still going to deliver what she taught us.
Miss Ross, even in death you are one of our brightest stars. May the light you blazed continue to shine forever as a symbol of hope to Black, queer youths.
Lead photo: Krys Cee/Facebook