Shad replaces Jian Ghomeshi who was the host for seven years, until he was fired in October. Ghomeshi is currently facing sexual assault charges.
Cindy Witten, executive director of CBC Radio Talk says, "It was a difficult time last fall and it is behind us. We're excited to introduce Canadians to their new host and a fresh and lively Q."
Born in Kenya to Rwandan parents, Shadrach Kabango was raised in London, Ont., going on to earn a business degree from Wilfrid Laurier University and a master's degree in liberal studies from Simon Fraser University.
Shad is a a multiple Juno-nominated artist who shocked everyone when he beat out Drake for best rap recording in 2011 for his studio album TSOL. His first full-length release was in 2005 with "When the Music's Over" and he broke out with his follow-up "The Old Prince," which was nominated for a Polaris Prize. Shad's most recent release was 2014's "Flying Colours."
Shad beat out 200 other candidates who were being vetted and auditioned for the job over the last few months on a rotating basis. He auditioned for one week in January. In an official statement Shad says, "Joining the Q team is an honour. My mission in music has always been to make a unique and positive contribution to culture and to people's lives. This is an exciting opportunity to pursue that same mission in a new way, alongside a brilliant, passionate team."
But minutes before that on social media, the rapper was coy, posting a Facebook status update late last night saying: "Did you guys hear the news? The Spurs beat the Raptors tonight with unselfish play. Duncan scored 12!"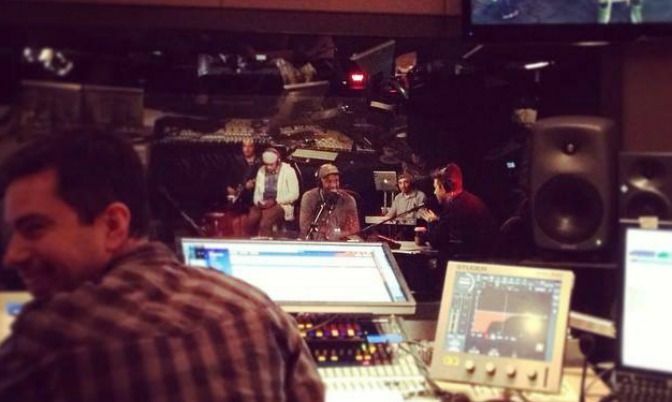 Shad auditioning for Q in Janaury 2015. Photo courtesy Facebook.
Head of public affairs Chuck Thompson said, "We couldn't be happier with our choice!"
And Witten added, "We were looking for someone who is an original thinker, curious and emotionally intelligent. Also, a good conversationalist who is witty and fast on their feet. We wanted someone steeped in arts and culture in this country. We found there were different points of connection with the guests when the host was a creator or an artist themselves."
There had been rumours the radio show would also dump the name "Q", but the broadcaster confirmed the show will keep it's name when it re-launches in April.