Something on the healthier side of the spectrum, yet delicious and not necessarily a meat dish either. These are definitely dishes that will be making it to my turkey table this year and beyond.
Roasted Vegetable Lasagna
Original recipe from forward.com by Tal Ronnen
Serves: 8-12
Time: 90 minutes
4 red or yellow bell peppers
4 large zucchini, sliced on a diagonal about ¼-inch thick
1 large Italian eggplant, sliced into ¼-inch-thick rounds
1 large onion, sliced into ¼-inch-thick rounds
¼ cup extra-virgin olive oil, plus more for coating the grill pan
12 large fresh basil leaves, chopped
3 fresh thyme sprigs, leaves stripped from the stems and chopped
4 fresh parsley leaves, minced
5 garlic cloves, minced
2 shallot, minced
salt and freshly ground black pepper
4 cups ricotta cheese (use a vegan option if desired)
2 cups basil pesto
6 cups puttanesca sauce (if you don't have a puttanesca sauce, a flavourful tomato sauce - will do)
1 pound lasagna noodles, cooked in boiling salted water just until al dente, drained, and rinsed (use gluten free pasta if looking for a gluten free option)
10 ounces mozzarella, (use vegan mozzarella for a vegan option)
1. Put each pepper directly on a gas burner over high heat and char, turning periodically with tongs, until the skin is wrinkled and blistered on all sides, about 10 minutes. Alternatively, you can roast the peppers using a broiler, turning them occasionally. Put the peppers into a bowl, cover with plastic wrap and let them steam for about 10 minutes to loosen the skins.
2. Pull out the cores of the peppers and remove the seeds. Pull off and discard the blackened skin. Dip your fingers in water as you work to keep the charred bits from sticking. Cut the roasted peppers into ½-inch-wide strips and put in a large mixing bowl, along with any juices that have collected. Add the sliced zucchini, eggplant and onion, tossing to combine.
3. Combine the oil, 6 basil leaves, thyme, 2 garlic cloves and 1 shallot in a small bowl or measuring cup, season with salt and pepper, and whisk to blend. Pour the marinade over the vegetables, tossing to coat evenly. Set aside for 10 minutes so the vegetables can soak up the flavour.
4. Preheat an outdoor grill and coat with oil, or coat a grill pan with oil and put over medium-high heat. You can also do this indoors using a broiler, preheat the broiler.
5. Arrange the peppers, zucchini, eggplant and onion on the grill or grill pan (if using a grill pan, you will have to do this in batches) and grill, turning the vegetables once, until they are tender and lightly browned and have released most of their moisture, about 5 minutes per side. Or, if using the broiler, arrange the vegetables in a single layer on two nonstick baking sheets and broil in 2 batches. Set the vegetables aside.
6. Finely chop 6 basil leaves, 4 parsley leaves, 3 garlic cloves, 1 shallot and combine in a bowl. Add the ricotta and season with salt and pepper. Add 1 cup of basil pesto in a large bowl.
7. Once the puttanesca or tomato sauce is ready, the vegetables grilled, and the filling made, you can start assembling the lasagna. Preheat the oven to 375°F.
8. Ladle about 1 cup of the tomato sauce/ puttanesca into a 9-by-13-inch baking dish, to just cover the bottom. Slightly overlap 6 lasagna noodles crosswise so they completely cover the bottom of the dish, with no gaps. Top the noodles with one-third of the ricotta-pesto mixture, spreading it evenly with a rubber spatula. Sprinkle 1 cup of the mozzarella over the ricotta. Place one-third of the roasted peppers, zucchini, eggplant, and onion in an even layer on top. Repeat the process, layering sauce, lasagna noodles, ricotta-pesto, mozzarella, and vegetables 2 more times. Finally, top with the remaining lasagna noodles and sauce.
9. Cover the lasagna with aluminum foil and bake for 45 minutes to 1 hour, until bubbly. Remove the foil and top the lasagna with the remaining mozzarella. Bake for another 5 minutes, or until the cheese has melted. Allow the lasagna to cool for 10 minutes before cutting into squares.
To serve: Divide the remaining 1 cup pesto among eight to twelve plates, spreading it out with the back of a spoon. Set a lasagna square on top.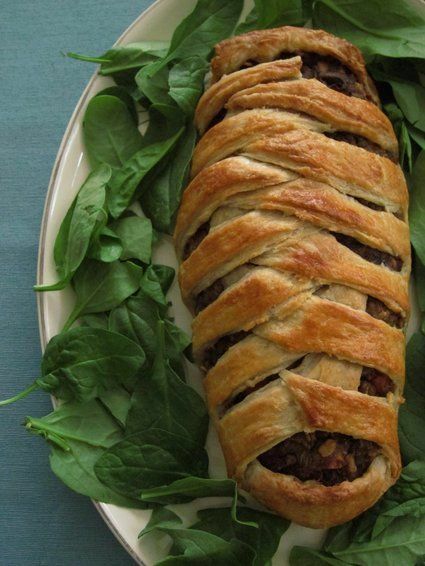 Vegan Lentil Loaf
Recipe by It Doesn't Taste Like Chicken
Serves: 8
Time: 90 minutes
*This recipe is vegan but the vegan ingredients can be replaced by non vegan ingredients

2 sheets of vegan puff pastry, thawed
1 cup uncooked lentils (green, red, or brown)
2.5 cups vegetable broth
½ cup pecans
½ cup walnuts
3 tablespoons ground flaxseed
⅓ cup warm water
2 tablespoons olive oil
1 medium onion
2 stalks of celery
2 medium carrots
1- 8 oz. tub (around 3.5 cups) of mushrooms
4 cloves of garlic
½ teaspoons salt (or more to taste)
fresh pepper
1 teaspoon dried thyme
¼ teaspoon cayenne
¾ cup rolled oats
½ cup flour (any flour will do)
a few tablespoons of non dairy milk to brush of the pastry
1. Preheat oven to 400F (200C). Rinse the lentils, then add the rinsed lentils to a pot with the vegetable broth, cover, and bring to a simmer and cook for about 35 to 40 minutes until liquid is absorbed and lentils are soft, even mushy.
2. Take an immersion blender or potato masher and mash the lentils until about two thirds of the lentils are mush. This lentil mush makes everything hold together.
3. Chop the nuts and put them in a dry pan over medium heat. Toast them, keeping an eye on them for about 10 minutes until they are all toasty and fragrant. Remove from the pan and set aside.
4. In a small bowl mix together the flax and warm water and set aside to thicken. (This is a great egg substitute for those who don't know.)
5. Chop up the onions, celery, carrots, mushrooms, and garlic. Heat the olive oil in a pan over medium high heat, then sauté the onions, carrots and celery until they begin to soften up, about 5 minutes. Add the mushrooms and sauté another 5 minutes until the mushrooms have shrunken and become juicy. Add in the garlic, salt, pepper, thyme, and cayenne and sauté about 2 minutes more. Remove from heat.
6. In a large bowl, mix everything together. The lentils, toasted nuts, veggies, flax mixture, the oats and the flour.
7. On a lightly floured surface roll out one of the puff pastry sheets until you get a rectangle that is about 10 inches by 14 inches. Transfer the pastry sheet to parchment paper. Now if you want to just roll up your loaf, you can totally do that. Take half of the lentil mixture and form a loaf shape down the middle of the puff pastry, leaving a bit of room at both ends. Use your hands to pat the mixture into a firm log. Wrap up the loaf any way you see fit. OR if you want to be all fancy, do a little weave. Use the back of a knife to make a guide dividing the pastry into three even sections. Then cut angled strips down each side about 1 inch wide. Cut off the top two and bottom two strips so that you have two end flaps. Place half of the lentil mixture down the centre of the dough and using your hands, pat into a firm loaf shape. Now fold up the top flap over the end, then take the top left strip and fold over the loaf. Take the top right strip, and fold that over, making an x. Do this all the way down the crossing alternative strips. Try to keep the strips close together leaving only small gaps. Once you get near the bottom, fold the bottom flap up, then finish braiding the last strips tucking the ends into anywhere they look good.
If you really want to be all fancy, you can use the remaining pieces of pastry to cut little leaf shapes, (or whatever shape you like) and tuck them into the weave.
8. Repeat with the remaining pastry and lentil mixture so you have two loaves.
9. Brush the top with non-dairy milk and move to a baking sheet.
10. Bake for about 40 - 45 minutes checking every now and then until it's all golden brown and gorgeous. Serve with Quick Vegan Onion Gravy or your favourite BBQ sauce heated up.
Although labour intensive, both of these recipes are a great addition to your turkey table or any table. They're great and healthy, meat free options for any dinner, any day of the week.
Have a great holiday season and a wonderful, healthy New Year!