The local Edmonton game show has been put on by the Council of Canadians of African and Caribbean Heritage (CCACH) for the last 25 years. The quiz aims to provide a sense of pride and appreciation to people of African and Caribbean descent.
Melody Cesar, who is the current AfroQuiz Coordinator, participated in the quiz from the time she was seven years old. "One of the cool things I learned from it was the contributions and history of black people in Alberta. I was growing up in Edmonton but didn't know or learn about black history until I joined AfroQuiz. It's so important for kids and the people living in the province."
The CCACH was formed in 1985, when a group of Black Edmontonians decided to unite 25 associations, mainly Caribbean, to address common concerns in the political arena. As time went on CCACH's focus turned away from politics and towards education. In 1992 Malcolm Azania the creator of AfroQuiz was interning at a school and saw a teacher using the Jeopardy game to teach a subject. Malcolm took the idea to his University group, and they began developing facts and information to create a Jeopardy game exclusively about Black history, heritage, and culture. The first participants were all University students.
Jeanette Austin-Odina - a teacher consultant, social worker and long-time volunteer at CCACH, attended an AfroQuiz game and fell in love. She saw AfroQuiz as a tool to fill the educational gap within the Canadian curriculum. In 1992 CCACH launched the first AfroQuiz for youth ages 9-18, but younger children have participated in the nine years of age and younger group.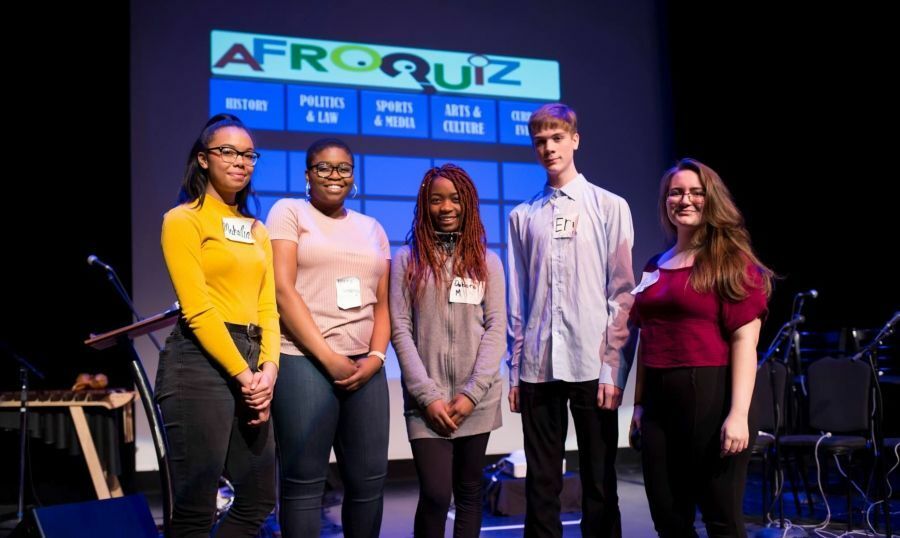 AfroQuiz takes place every year in February and is open to all ethnicities. The event has grown in popularity, attracting participants from all different races and backgrounds. The theme for 2019 was Black Women. Categories included Canadian black women in history, in STEM, and black women warriors.
An immense amount of heart, blood, sweat, and love for African history, is put into sustaining the longevity AfroQuiz has maintained. Jonathan Hayford, a former AfroQuiz contestant says, "I think AfroQuiz is a great thing because when I was studying, it was cool to realize that I don't have to fit into a stereotype and that I can grow and think outside of the box and do great things in this world."
CCACH chair Siyani Nsaliwa said, "AfroQuiz has helped a lot of youth in Edmonton create a healthy identity and increase their sense of worth, in a system that is not nurturing to who they are."
In a promo video for AfroQuiz, Nsaliwa's 10-year-old daughter Fatsani, went to a local Edmonton mall to ask people Canadian Black History Questions AfroQuiz Style. She gave them a clue, and participants answered in the form of a question.
Her first question was 1) She is considered the Rosa Parks of Canada; do you know who this person is? Most people got this answer wrong. Answer: Who is Viola Desmond. Her second question to the public was: 2) Canada's fastest man Andre DeGrasse hails from this Ontario city? Answer: what is Scarborough, only one person knew this answer. The last question was 3) Black history month was recognized in Alberta this year? A Caucasian woman was one of the people who this question and guessed nineteen something. She said her "mind was blown" when she was given the correct answer of 2017. Alberta became the 4th province to recognize Black History Month in 2017. The other three that recognize the designation are Ontario, British Columbia, and Quebec.
AfroQuiz is about identity and representation. All participants are gifted with a book by a Black author or relating to people of African heritage. There are tons of prizes to be won from iPad's to tablets and other gadgets kids love. A majority of CCACH's funding comes from the federal Department of Heritage and local community funders. CCACH seeks valuable partnerships with other community organizations across the globe to help spread the knowledge of African History. CCACH also hopes to foster a relationship with the Edmonton School Boards to expand their reach of participants.
Kezia Royer Burkett is a creative freelance writer with a degree in communications and multimedia from McMaster University. When she is not writing she is finding inspiration living life, raising her son and spending time with friends and family.