On August 1st, you can watch a CBC special where Black musicians and artists join forces to celebrate freedom. FreeUp! Emancipation Day is created by Ngozi Paul and her production company Emancipation Arts.
"Emancipation Day means a lot to me. It's a day that gives Black people an opportunity to define themselves, their culture, and their future going forward. We found FreeUp! as a platform to make this happen," says Paul, an award-winning stage and screen actress, writer, director, and producer from Toronto. She is also one of the founders of FreeUP! and serves as its celebrator-in-chief.
Paul expresses her joy at the Canadian Government's decision earlier this year to designate August 1st as Emancipation Day across Canada.
"It's wonderful, it's necessary, and it's about time. And we, as Canadians, have the opportunity to define what it means to be Canadian. And I believe that officially recognizing Emancipation Day across Canada is a great step for Canadians in terms of moving forward together," says Paul.
Paul first learned about Emancipation Day a few years ago and has since devoted her efforts to telling Black stories. She believes that the event presents a great opportunity for Black people to celebrate freedom together as a community, to contemplate over the past, the trials they've gone through, and the hope for the future.
The first FreeUp! Emancipation Day event took place in 2017. It was an open mic performance that asked the question, "What does freedom mean to you?" The show has since grown organically from open mic to concerts inviting well-known artists to perform. Last year, the company reached out to CBC to pivot towards a digital special and reach a wider audience.
"The central message we all can learn is to look back and move forward as one people, finding joy, and liberty. It's not always easy for us to celebrate or find reasons to celebrate. Freeup! gives us that platform where we can explore freedom and celebrate it," explains Paul.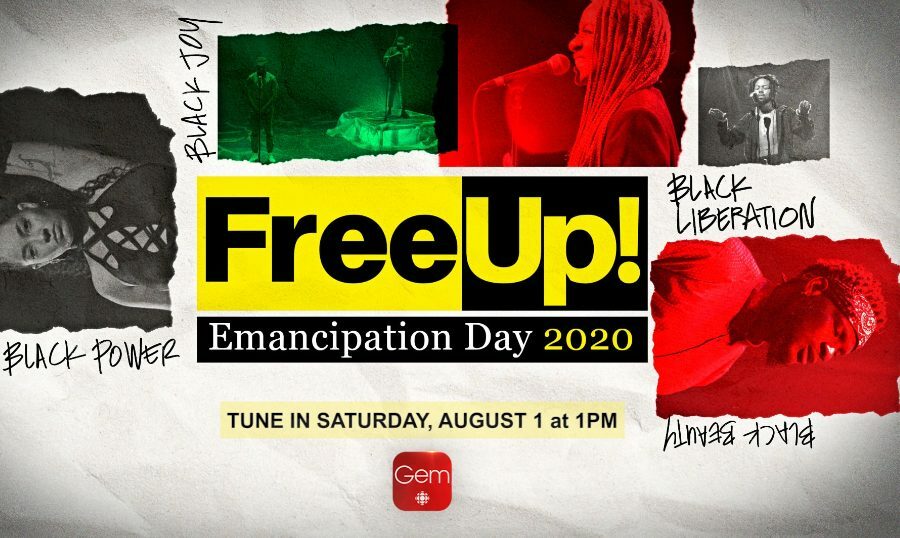 FreeUp! Emancipation Day 2021 will be a performance-driven, youth-led celebration of spoken word, dance, theatre, and music. The program will include multi-generational artists, singers, poets, and dancers to express what freedom means to them through their art. The show will be streamed on August 1st at 1 PM on CBC Gem.
Nearly 40 artists will be in attendance including Polaris Prize winner Haviah Mighty, mono-dramatist d'bi.young anitafrika, singer Jully Black, Aquakultre, Mark & Nathan Baya, and Peace Akintade. This year's lineup of young artists includes Anyika Mark, Poet Laureates Randell Adjei and Peace Akintade, slam poet David Delisca, and Juno-nominated artists Silla & Rise and others. The celebrated d'bi.young anitafrika will be presented with this year's Rosemary Sadlier Freedom Fighter Award.
But the show doesn't stop there. An after-party reception will be held for young and upcoming DJs at 2 O'clock on YouTube, which is free for everyone.
In addition, various art installations around Canada will celebrate Emancipation Day for the whole month of August as well. Toronto's art organizations that are celebrating include Canadian Stage, Crow's Theatre, and Soul Pepper. Pop Montreal will utilize the month of August for Emancipation Day.
Paul gives a special thanks to Rosemary Sadlier, "I want to thank her because this couldn't be possible without her. It took decades of her time to have Emancipation Day recognized nationally. And our festival award is named in her honour."
Next year, Paul hopes to have in-person events and stream to audiences who are unable to attend. "I'm hoping that the momentum will continue to grow. Hopefully, things will get better and we can have a few live events that we can stream nationally and internationally," says Paul as she looks forward to more live events.
"Celebrate Emancipation Day, free up yourself, ask yourself what freedom means to you, and get involved in any way that feels real and authentic to you," says Ngozi to her community.