Black women are 40% more likely than white women to have breast cancer, more likely to be detected later, and more likely to die once detected. Black women are also disproportionately more likely to experience triple-negative breast cancer before the age of 50.
These disparities pulled Chantal Carter, Founder of Love and Nudes, into action. Love and Nudes is an inclusive undergarment brand that seeks to amplify and represent the experiences of Black women in fashion and beauty. The bras and underwear come in colours like espresso, nutmeg, and butterscotch, reflecting the skin tones of the more melanated.
When Carter started her brand, she wanted it to be about more than lingerie.
"I wanted it to be a symbol of self-love," she says.
This year, she launched the stage zero collection. A collection to help raise awareness about breast cancer and screening among Black and brown women and people. The collection includes a prototype of life-like breast tissue models that help wearers identify signs and symptoms of breast cancer. The model shows life-like lumps, skin discolouration, and enlarged pores that reflect that of a breast with cancer.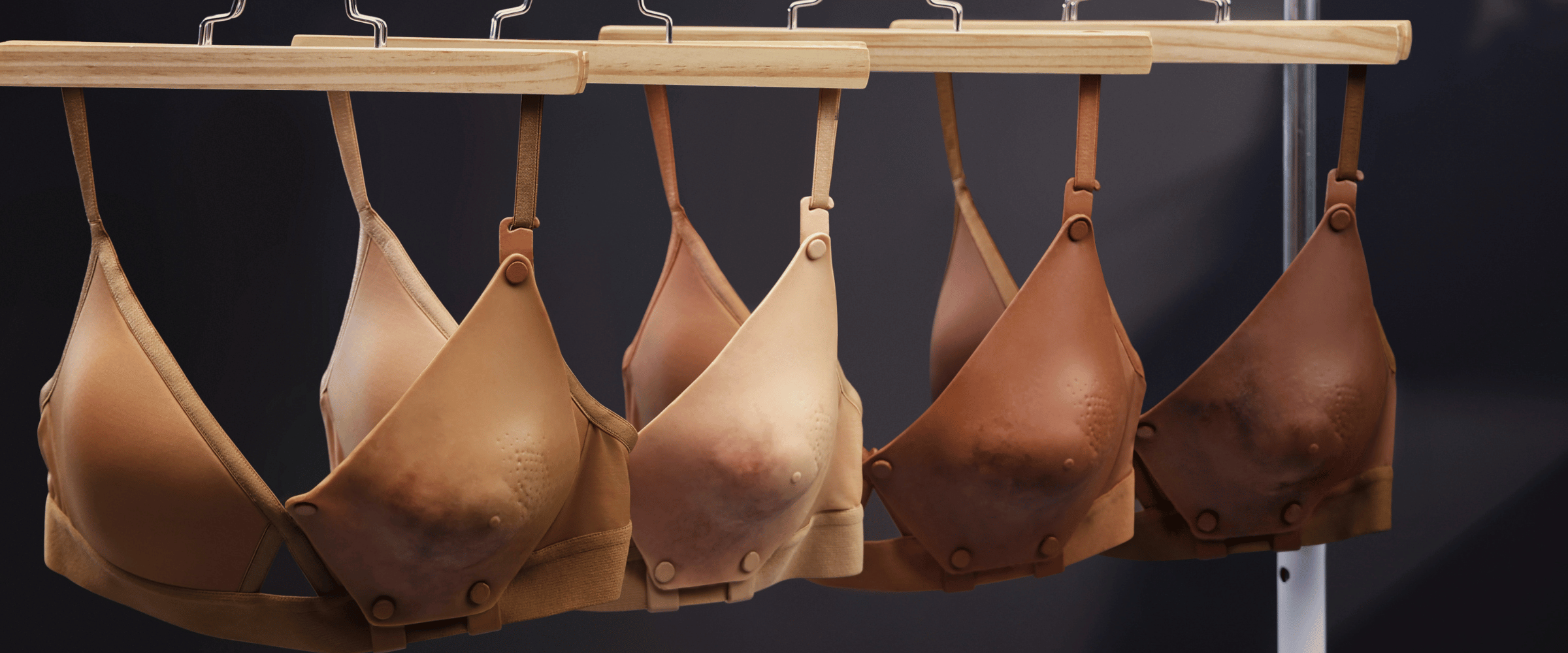 Carter designed and created the prototype with medical advice from Dr. Mojola Omole, a breast surgical oncologist.
The goal is to get people more comfortable examining their breasts and familiar with recognizing the signs and symptoms of cancer to help catch it earlier.
"We need to desexualize what breasts are," says Dr. Omole.
"If our arms were sore, we would touch it; our breasts should be no different."
Dr. Omole noted the barriers that culture and even religion can play in our relationship with breasts. Many people are uncomfortable talking about, touching, or examining their breasts, which can lead to a lack of awareness about their bodies. This prototype aims to overcome that hurdle through exposure.
Carter and the Love & Nudes team look forward to continuing to spread the word about breast literacy and the need to better inform communities about the signs and symptoms of cancer in ways that are culturally sensitive and responsible. Through this campaign, they're raising awareness for breast cancer and the disparities that Black women and people face. They do this while working to influence policy as they call to have the age reduced from 50 - 40 for breast cancer screening.
If you want to be involved and learn more, you can sign the petition here to help strengthen the conversation, and you can join the Love & Nudes team on February 4th as they showcase the Collection at Shop20, located in the Scarborough Town Centre.