I was awestruck by Dardaine's creative vision, her flawlessly executed social media campaign, and the fact that, at just 23, she was the youngest solo band leader this year.
Three days after Dream's digital band launch, I paid a deposit on my $380 costume and marked my calendar for my first chip down the Lakeshore.
But as parade day approached, Dream began to feel more like a nightmare. I, and hundreds of other masqueraders, waited anxiously for costume pickup dates to be revealed. Those dates weren't provided until a week before the parade. And then they were pushed back - three times - forcing most of us to pick up our costumes the evening before the parade. Already mounting concerns were compounded by extremely long pickup wait times (ranging from three to eight hours) that forced people to skip work and miss events. To make matters worse, many revellers were not provided their feathered backpacks and collars at pickup. Promises to deliver them or hand them out on the morning of the parade were not kept.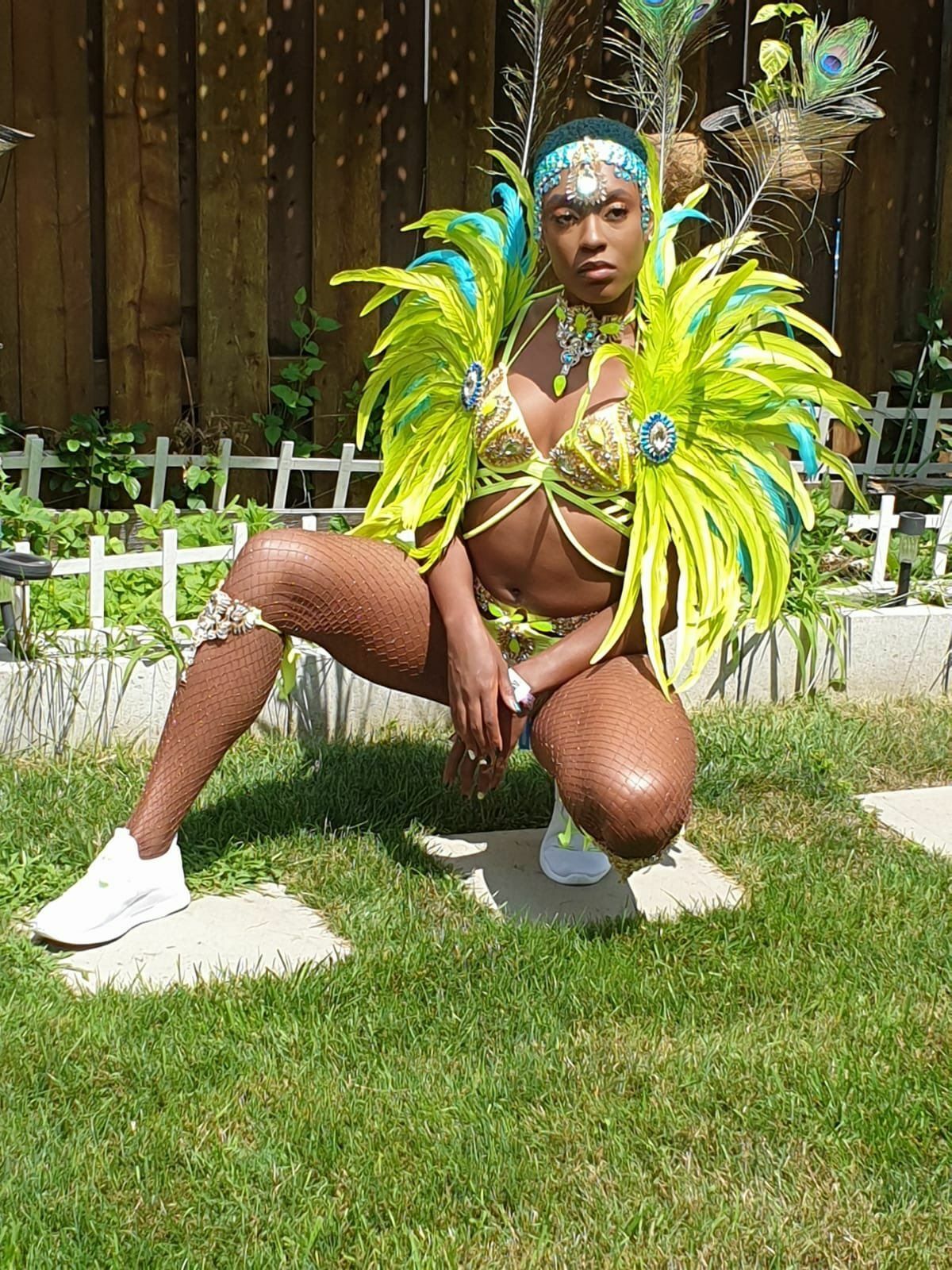 Talia Leacock-Campbell in her neon green costume from the Dream Carnival band.
By parade day on Saturday morning, dozens of masqueraders were left without costumes, or were so displeased with what they received that they chose to stay home. Those of us who did make it on the road were thankful to have a sweet road experience that included great DJs, a hot meal, and performances from soca superstars Machel Montano, Motto, and Nessa Preppy, but the difficulties that led up to parade day left a sour taste in our mouths.
When the dust settled after carnival weekend, I learned that Dream wasn't the only band that disappointed its revellers. Nyesha Hudson, who had spent $400 on a costume with Tribal Carnival's Enchantment section, noted that her experience was more frustration than fairy tale.
"Most questions were not answered from the spring until August. The pickup of my costume was horrendous, and at the end of the day, I had to make my own costume with scraps in order to even make it on the road in something," Hudson said.
Another Tribal reveller who wished to remain anonymous shared that he never received his backpack and many of the components of his costume were damaged. "The band leader should have ensured that the sections were ready a week ahead of the parade so that customers have the option to do any last-minute tweaking," he expressed. "After all, we paid our money."
Greg, a masquerader with Toronto Revellers noted that he was pleased with the overall experience, but, like Dream and Tribal, getting his $250 costume was far from a smooth process. "My costume did meet the expectation for the most part, I just had to wait extra long for it, and I never got all of it. I had no leg bands, and one armband was hastily tied on right before crossing the stage after 7 pm."
Both Tribal Carnival and Toronto Revellers are large and well-established bands, so the issue can't blamed on inexperience or size.
In the mess of broken promises and disappointing experiences, a glaring truth emerged: some of Toronto's Caribbean Carnival bands were brilliant in their artistry but missed the mark on the management end. While many of the issues that caused these band leaders to flounder were beyond their control, they failed to implement the good business practices that would have allowed them to pacify angry customers and save their reputations.
Here's what they could've done differently.
1. Quit ducking and be accountable 

The comments sections of both Dream and Tribal were filled with questions and concerns from anxious masqueraders as parade day approached. As if following the instructions of Fadda Fox's soca smash hit 'Ducking,' both bands chose avoidance over accountability. They failed to provide answers, deleted angry comments, blocked frustrated masqueraders, and, in some cases, closed the comments completely. These were all major missteps. Disappointing customers is an inevitability in business. We're human, and things go wrong. But the easiest way to keep a disappointed customer from becoming an angry one is to be accountable. Give them room to voice their dissatisfaction, accept responsibility for the errors, offer sincere apologies, and provide real solutions.
2. Avoid pandemonium with good communication 

Part of what upset Tribal masqueraders like Nyesha Hudson so much was that they weren't told the truth about their missing costumes until it was nearly too late. This lack of honest communication is a ticket to broken trust between a business and its customers. But it's not enough to just say something. What you say and how you say it matters. While Dream made an effort to communicate through several Instagram posts and by sending employees out to pacify the restless crowd at their camp, very little useful information was provided to explain the long delays and missing costume elements. Their attempts to reassure revellers failed because communication without transparency is just noise. Mas camps, and any business for that matter, that want to come through a customer service hiccup unscathed should ensure they are providing their customers with honest, transparent, and timely communication like the statement released by Grenadian band X'Nova after they ran into delays.
3. Make sure your team is E.P.I.C. 

I love a good DIY project as much as the next cash-strapped entrepreneur, but good business is knowing when to accept that you need help and making sure you do your due diligence to get a good team on your side. Many of the issues that crippled Dream Carnival can be traced back to a lack of proper support—too few staff to package and distribute costumes, no business manager or logistics consultant to streamline the distribution process, no PR consultant to manage the crisis and reassure customers. A business is only as strong as the team that supports it, and with an undertaking as complex as running a mas camp, having the right people in your corner isn't optional, it's a necessity. Because beautiful costumes will draw attention, but excellent customer experiences secure loyalty.
Despite my own dissatisfaction with the experience and my solidarity with the masqueraders still fighting for refunds and answers, I can't help but feel some sympathy for these Black entrepreneurs who are now dealing with the aftermath of a significant business screw up. But my admiration for their vision and my compassion for their struggle doesn't mean I can't want and expect better from them. I'm not sure what next year holds for these troubled bands and the ambitious but misguided creatives behind them. But I'm hopeful that in the midst of the chaos, they learned these lessons and will come back bigger, better, and more business-savvy than ever.
Talia Leacock-Campbell is passionate about helping women tell their stories and speak their truth as a copywriter for small businesses and personal brands and ghostwriter to CEOs eager to establish their expertise through writing. Other than a laptop and a story to tell, the keys to her heart: seafood, literature, and killer shoes. Follow her on Twitter.
Cover photo by Samuel Engelking shows Dream Carnival's Brittany Dardaine (centre).
Corrections: The author initially attributed the song "Ducking" to Farmer Nappy. The song is performed by Fadda Fox. The author was also incorrect in writing that Tribal Carnival was in its second year in Toronto. This is Tribal Carnival's 11th year in the Toronto Caribbean Carnival.