But for 25-year-old RaShaun Collins, it actually became one of his missions when he decided to open up Illustrative.TO, a tattoo shop where those with darker complexions can feel confident and comfortable about getting a tattoo.
"Being in this industry, I've seen artists tell people 'I wish you weren't so dark' or complain about their [clients] skin if the tattoo doesn't turn out the way they want it to," said Collins.
Alicia Sawyer, a client of Collins, was pleased with her most recent experience at Illustrative.TO.
"The shop is clean, has a funky vibe and the staff is focused but friendly, said Sawyer. She adds, "[Collins] is unbelievably talented and the fact that he specializes in tattooing dark pigment skin, which handles ink differently is exceptional."
For darker complexions, tattoos that fade and muddy over time are common, according to Insider.
This is why Sawyer said having a knowledgeable and skilled artist such as Collins when working on deeper skin tones is necessary.
"When seeking a new artist to finish my arm sleeve, it was important to find someone that understood the danger of keloid scars, how dark skin is going to hold colour, and spacing shading so that my tattoo would have definition and not look like an ugly blob on my arm," said Sawyer.
The 43-year-old said Collins understood all of that and was able to create one of the best tiger images anyone has seen.

"I'm honoured to have this beautiful tattoo predominantly displayed on my forearm," said Sawyer.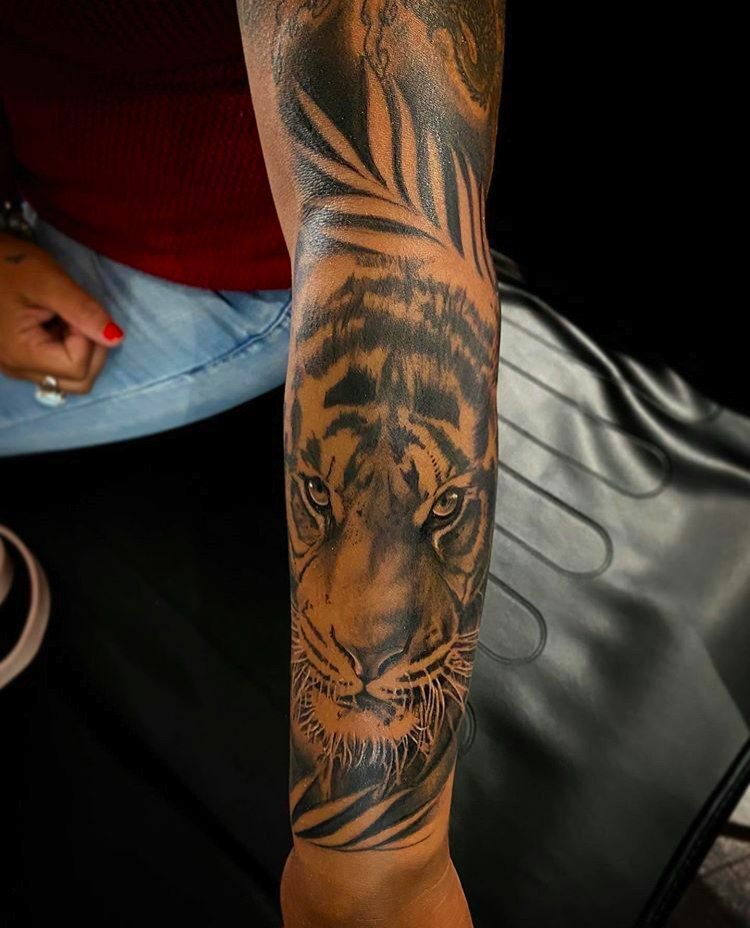 Imarri Townsend, a tattoo artist at the shop, says this is what sets Illustrative.TO apart from other places.
"This parlour is different because we actually are pro-tattooing dark skin. We've done lots of realistic, high-quality pieces on dark[er] skin clients and we're welcoming to everyone."
Townsend, who has only worked at Black-owned tattoo parlours in the past, considers working for Collins as a "blessing."
"He really gave me somewhere to work where I could succeed and took me in under his wing. He believes in me wholeheartedly and he lets it be known as well. None of my previous shops made me feel like this so I'm very grateful for him."
She says a typical day at the shop is usually fun and filled with jokes and laughter, but is also very inspiring because she's surrounded by such great artists.
"I've heard a lot of stories about hazing and torturous behaviour at other shops so I'm thankful that I didn't have to go through that," said Townsend. "I'd say it is a safe space for a lot of us in the community," she adds.
Collins said the shop gives off a different vibe, as opposed to a stereotypical parlour filled with artists who don't talk to you, "big biker dudes" and rock 'n' roll music blasting throughout the room. The shop attracts a more in-tuned audience who like to discuss matters going on in the world and within their community. 
"You come in to people who look like you, have the same type of conversations [as you], listening to the same type of music you're probably listening to," said Collins.
At his shop, he doesn't shy away from Black culture. Staffed with a diverse group of tattoo artists and his streetwear line on display for purchase, clients are greeted with catchy hip-hop music and an even more eye-catching hot pink signage as they enter the store.
Carlyle Fullerton, another artist at Illustrative, also enjoys the type of space Collins has created for the community.
"Being in an environment where I can fully be myself is important for me and I'm able to do that here," said Fullerton. He said it's a different experience working at Illustrative.TO because it's not just a tattoo shop. "It's family and we all have the same goal, which is to be successful Black artists and prove there is no limit to our capabilities," said Fullerton.
Collins who's only been tattooing for four years said he always knew he wanted his own business since high school. He got the Danforth Avenue spot in November 2019 and initially opened for business two weeks before Covid-19 lockdown orders were announced. He has begun taking in clients again since reopening.
Although owning a tattoo parlour as a Black man in the city can be viewed as a big accomplishment, Collins believes he still has a long way to go.
"I'm not where I want to be yet," he said.
However, he's happy he could create a grounded community for those coming into his shop.
Rosemary Akpan is a Toronto-based journalist who graduated from Ryerson's School of Journalism in 2020. Her interests include lifestyle, beauty, culture and the arts. Rosemary has experience in video production, broadcast, multimedia and digital reporting. You can find her online @rosiekpn.