Little Jamaica, home to several dozen Black businesses, has endured the pains of urban upgrades for almost a decade. March 17, 2020, the area was slammed with a second economic hit, COVID-19. According to the BIA York/Eglinton which represents 186 storefronts, only 47 businesses deemed essential remained open throughout the pandemic. The rest were shuttered indefinitely, as per orders of the provincial government.
As the city of Toronto emerges from the 4-month long shutdown and moves to stage 3 of the reopening process, commercial life is gradually returning to the storied neighborhood which was the commercial and cultural hub for Caribbean immigrants in the 1970's through 1990s. Despite the double whammy economic hit of constant construction and a relentless virus, Black merchants in the area refuse to give up. They're staying power has garnered the attention of an influential ally, the Black Business and Professional Association.
Nadine Spencer, you're the president of the Black Business and Professional Association, tell me about the BBPA and how it plans to help black businesses in Little Jamaica?
The BBPA is an organization that's been around for 38 years. It is working to create equity for Black businesses in Toronto and we've recently expanded our reach across Canada. We just launched this program in partnership with the city of Toronto, it's called "BBPA in The Community". Eglinton Avenue West, 'Little Jamaica', is one of the first communities that we're working with. Our goal is to create awareness for the Black businesses that are still there. With the LRT construction, we all know a lot of businesses have been affected by it. Until the transit system comes in, the challenge is that construction has closed a lot of doors for many businesses. Black businesses specifically are hardest hit along Eglinton. One study shows 40 Black businesses have closed their doors (not all are permanent closures), so what do we do for the estimated 60 remaining black businesses? The plan is to bring businesses back to Eglinton avenue and to promote awareness for the businesses that are there.
How will you carry out this plan?
The BBPA found that Black businesses in the area were hardest hit because they didn't have access to capital and we are going to help them find that capital. We are talking to the banks. A thriving, successful business sector in Little Jamaica is not just good for a strong Black economy, it's good for our city, it's good for the province, it's good for Canada.
You talk about Celebrity Pure Vegetarian restaurant, Natty B of Treah Jah Isle, you talk about Beni Booka from Beni Boo Styles, this program is for them and the 60 or so other Black businesses in the area. The program came out of the city's (Toronto) business roundtable discussion we were a part of in 2019. The BBPA mirrored Jimmy Wisdom, a cultural advocate and a great champion of Little Jamaica (who has since passed). He believed Little Jamaica must not lose its cultural vibe and cultural personality. One of the things he said to me and I'll never forget, he said, "Regardless of what you do and where you go, don't forget, you are Black first." That resonates with me and inspires my work with BBPA.
The BBPA is working with the Black businesses in every area of business readiness to make them ready for a post COVID success.
The BBPA's verve for Black business success is also evident in the association's newly launched website https://thelittlejamaica.com/about/ dedicated to the Eglinton west enclave. Every Black-owned business in the area is highlighted and, in due time, each place of commerce will boast a short promotional video. Time and sweat equity will reveal whether the BBPA's nascent plan to equip Black merchants with the necessary tools to succeed bears fruit. In the meantime, meet a few business owners in the storied 'hood.
Joe Sherlock, aka, Professor Sherlock, owner of Celebrity Pure Vegetarian restaurant
"I migrated to Canada in October 1994. My sister got residency and she brought me here. 3 months after I came, my sister died from complications due to lupus. She left 2 of her children for me to take care of. So, I started in the streets, then friends from back home said, "Sherlock, you're better than that." "Find a career, do something with yourself." I went to cosmetology school, hustled, worked at salons. I got tired of working for other people and heard about a girl who was running a salon here on Eglinton who was looking for a business partner. We worked together and after a few months I took over the salon. 2017, the landlord offered to lease this building beside the salon to me and I started the Celebrity Pure Vegetarian restaurant. It took me 7 months to get the business running and we've been here since. I do this, work 18 hours a day 'cause sky's the limit, you understand? I believe you have to achieve first then entertain after, that's why I work 18 hour days here. This is what I always wanted to do. My mother used to sell food back home in Guyana when I was a kid. I always know food is taste. My mother would say if you can cook food with taste, people would pass all the big fancy restaurants and come to you. I cook vegan dishes, my recipes come from Guyana, from my mother, and from my heart.
How is business? I never closed down during COVID, customers wanted the food. But, at the beginning of the COVID, business went down. Within the last month (June), business is going back up. But remember, that's only take-out, so business is still down from where I need it to be. Where I plan for it to be.
During the pandemic did you have doubts your business would survive the shelter in place order? At the beginning, yes, definitely! Before the government says they are going to assist, you have to start talking to your landlord, making arrangements early.
Did you apply for and receive federal emergency funding? Yes.
What is your most popular dish? Barbecue seitan ribs. Our curry dish is very popular too.
What's your dream for your restaurant? I guarantee this restaurant gonna reach franchise level. Due to understanding God and knowing God, I know there's no limit to life.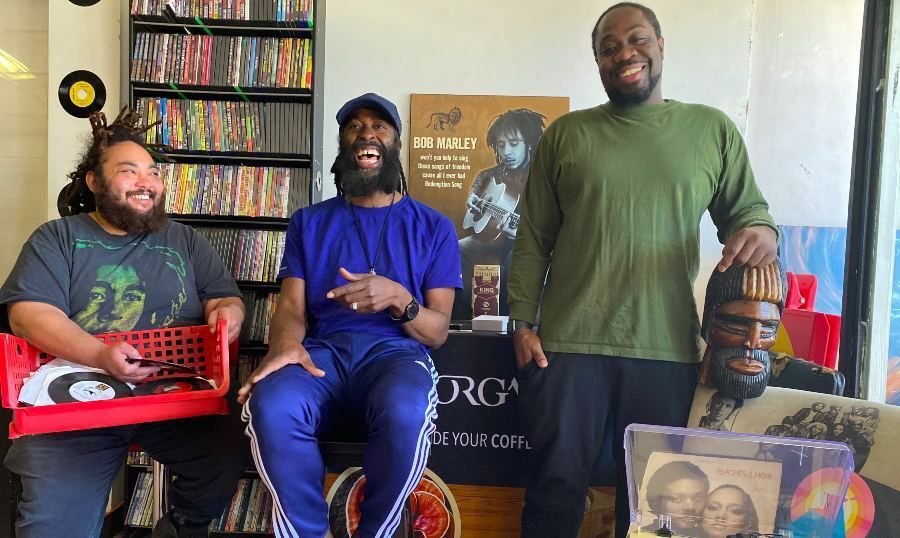 Natty B and Chosen, Treah-Jah Isle -Cultural Hub: music and natural food store
How would you describe the business?
Natty B: One stop shop! One stop shop! So good I have to repeat it twice! We have music, food, natural health, culture, books, entertainment, you name it, we try to encompass it all.
How's business since COVID emergency restrictions have started to ease? A little slow but I guess it's picking up. Some of it has to do with… I blame the government. They didn't make reopening rules clear. We reopened when stores with street access were allowed but a lot of people didn't know we were open.
How long have you been here?
Natty B: since 1997. Yes! We're open 6 days a week. Everyone's welcome. Come in for good conversation and order our most popular drink, Irish Moss. All the minerals, all the vitamins, keep you right.
When did you realize this place of business, this cultural hub, was your calling? Me and a couple of brethrens we had a vision, we always had a purpose and our purpose was to enlighten our community. I was a broadcaster. I had a program, 'Zion Train' on the radio at York University and the program was dedicated to enlightening our community. I felt that as Black people we were lost thinking that our only history was slavery. I went to great extremes using our radio program to enlighten us to who we are in the grand scheme of things, we are God's chosen children! The message was too raw, they fired us. This place is a continuation of the message.
What's the store about?
Chosen: Community. It's a cultural hub, not just a place to come and shop but a place where you can come, smile, laugh. It's a different energy when you come into the store, you forget what's going on in the world when you come in here.
How long have you been a partner in the business?
Chosen: Just over 10 years.
How has the business changed over the years? A lot of aspects, we didn't have the juice bar, we didn't have the studio. We implemented those over the years. We grow as the community grows. We transitioned from a record store and brought in other items. Our lifestyle is natural and as the world changed and the need and interest in natural foods and natural health items grew, we added that aspect to the store. Treah Jah Isle has been in business for over 2 decades, what's the secret to its longevity? Chosen: It was never just about business and seeing how much we can make. It was all about, OK, how can we service our community? How can we make this a Center for our people in all aspects of life? We're rastas, a lot of rastas come here. We're Black, a lot of Black people come but then a lot of other cultures come here as well. I've noticed, on a spiritual aspect, a lot of people come here...mental health is an aspect in our community that is relevant right now and we welcome everyone. People come in here just to hang out and they feel very comfortable. They enjoy the music, they love the culture, it's a safe place for them.
Rosey Edeh spent a decade (2005-2015) bringing the latest entertainment and pop culture news to the masses as a senior reporter on Global TV's ET Canada. Building on her vast experience as a news anchor and TV personality as seen on CNN, MSNBC and Global News, Rosey has founded an award-winning production company, Micha Muse Media Inc. Movies, plays, art exhibits, good books and all things track and field get this journalist, filmmaker and three-time Olympian excited for life. Human connection, struggle and triumph, maintain Rosey's mission to tell meaningful and even entertaining stories that hopefully offer readers insight, depth and even a little levity. Twitter: @roseyedeh