The donations will go towards two Black-owned nonprofit organizations, Toronto-based BlackMINT and Atlanta-based The Next IT Girl.
BlackMINT seeks to provide Black youth with the skills and mentorship needed to engage in the tech world. "They are using technology to build cells of future technology, and they're doing it in a way that is so strong, so innovative and so scalable," said Olawoye.
He also said their outreach can touch millions of Black people. "The way they are using technology to touch the community is really awesome. So, we're really excited to be able to donate ten thousand dollars to them to support them in doing this at a scalable level."
The Next It Girl supports and offers a space for Black girls and women hoping to get involved in tech through a series of workshops. Though headquartered in Atlanta, its two other locations include Indianapolis, IN and Charleston, SC.
"I believe more young Black girls seeing STEM and technology as a career in the future is a good thing," said Olawoye. "So, we want to be just unapologetic and invested in things like that and ensure that they know that we are rooting for them."
Olawoye is driven to see this opportunity being offered to girls who look like his daughter in the future. "I have a little girl," said Olawoye. "She's six years old and I want to make sure that there are services and programs like that for her and people who look like her."
These donations are part of the company's Pay It Forward initiative, which seeks to support Black-owned nonprofits, regardless of whether they are connected to BPTN or not. "We want more incredible STEM graduates from the Black community," said Olawoye. "And we want to invest and donate to those companies, organizations and nonprofits doing that work."
Only three years old, BPTN is one of the largest North American networks of Black tech professionals. "It's growing at a rate of 10 per cent month over month," said Olawoye.
Its goals, according to Olawoye, include working as a 'double-sided marketplace'. "So, we support both supply and demand," said Olawoye. "On the supply side, we are unapologetic about supporting Black tech professionals across Canada and the US."
There are three ways in which the organization supports Black tech professionals. The first is through networking. "Your network is your net worth, especially in technology. So, we are very intentional about connecting Black folks to each other in technology," said Olawoye.
The second is through providing a network needed for getting professionals into executive roles. "We know that it's not because Black folks are not smart or educated that we're not at the right proportion in executive levels," said Olawoye. "It's simply because there's a network gap. So, we are intentional about connecting the supply to demand through our Cultivate Initiative."
The third way the organization supports Black tech professionals is through their learning development. "We support Black professionals to learn from global leaders from around the world so they can continue to grow and build their skills."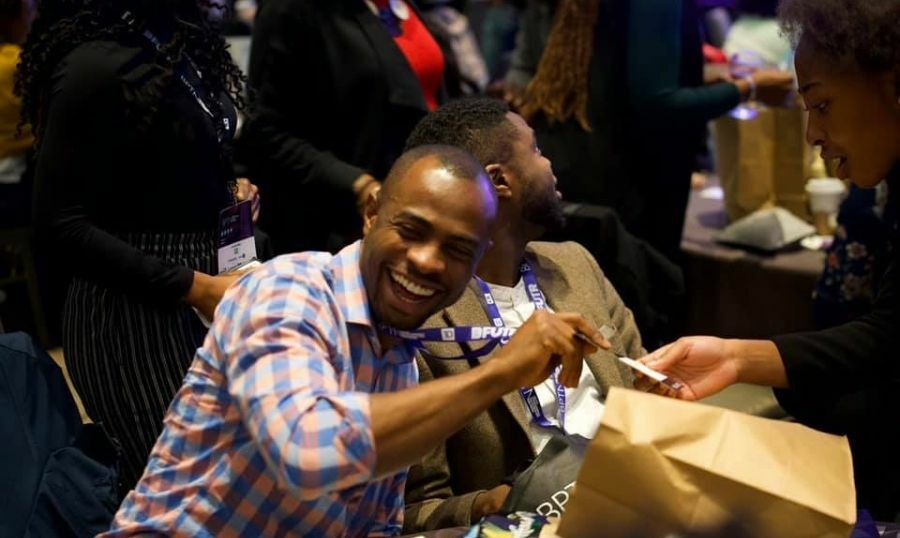 On the business side, Olawoye said they provide large companies like Hootsuite, Salesforce, LinkedIn, IBM and Microsoft with professionals looking for roles within these companies.
"Those are the companies that now come to us and they say they want to hire our members," said Olawoye. "And we become advocates for our members to make sure that we're getting them in the right roles and the right positions at the right time at the right level."
BPTN also put an emphasis on ensuring these professionals are supported via networking. "We support them to network and build their brand and become an employer of choice for Black tech."
An equally important, if not crucial role for the organization, is providing internal support to these companies so they offer Black professionals safe spaces.
"And of course, we support them internally because we don't want to just bring our members into companies that are not conducive," said Olawoye. "So, we support companies with learning, with development and with tools to be able to build environments that are conducive for Black tech professionals."
BPTN's efforts seem to be paying off, especially after getting on the radar of the Royal Bank of Canada (RBC). On Feb.16, BPTN partnered up with RBC to develop a $4.5-million program.
"The organizations plan to help more than 1,000 Black business and tech professionals under the age of 30 find work with Canadian companies over the next three years through what BPTN calls its "Champion's Table," according to the Globe and Mail.
With future endeavors looking brighter, Olawoye's dream of filling tech spaces with Black professionals in the coming 10 years looks even brighter.