Ali didn't imagine that her kitchen would turn into the production site for a now successful candle business called Brwn Collective. Now, these aren't your aunty's candles. They're bold, body-licious candles that celebrate the Black feminine form.
"Candles are a fun manifestation of the values I hold close to heart. My candles are a representation of my dedication to equity, diversity, and inclusion. Oftentimes, I feel that when talking about beauty, Black people and Black women are just an add-on, never the center. Now, we have something for Black women, finally," says Ali.
Growing up in Canada
Ali's family left Somalia when she was 10 and landed in Barksdale, a melting pot of Toronto reputed for its diverse population. She considers herself fortunate to have been too young to understand how significant those days were for her parents.
"It wasn't easy for my parents, but thankfully, they were able to do what needed to be done to provide for their family. They really worked hard," says Ali.
Growing up, Ali had her fair share of challenges. For starters, the sudden move to Canada came as a cultural shock to her, and she didn't speak English very well. However, Ali made friends quickly because most of them spoke her language and were going through similar experiences.
University life, however, was a turning point for Ali as she began to experience racism. "Throughout my twenties, I was bombarded with micro-aggressions and people making stereotypical assumptions about me, my language, and my religion," recalls Ali. Although conversations about white privilege and racism have picked up steam over the years, racism is still a real thing for Ali.
Black Women's Bodies & Beauty Standards
"In Somalia, curvy women are considered to be a sign of beauty," says Ali. "There are both thinner and curvier Black women but Black societies have always encouraged more curvaceous bodies, something which is naturally tied into the physiologies of Black women.
Ali feels that Western culture doesn't celebrate curvy bodies as such. "If you're a curvy woman, sometimes some people feel bad about that," Ali comments. "I believe both curvy and skinny bodies are beautiful and no race should be excluded." Ali believes that the standard of beauty is slowly beginning to accept more styles and body types, including curvy women.
Brwn Collective: The Candle Business
When Ali began her Brwn Collective in December 2020, she sold most of her work through social media before finally launching her website, brwncollective.ca three months later.
She draws her life philosophy from the words of Maya Angelou, "People will forget what you said, people will forget what you did, but people will never forget how you made them feel." Ali sees Brwn Collective as a way of connecting social justice and creativity.
"Body candles have been popular for some time here but most of them are skinny and very white, which I didn't relate to and never purchased," says Ali. "Sometimes, you see only one shade of a darker colour but we have so much diversity in our skin tones. I made my own version of them to represent something I felt was missing from my life," explains Ali. "So Brwn Collective is a very loud statement about who I am and is dedicated mostly to Black women."
This isn't to say that the candles aren't for everybody. "I hope that everyone feels included," Ali quickly adds. "You'll see that there are different body types and different shades of colours to represent women from all backgrounds."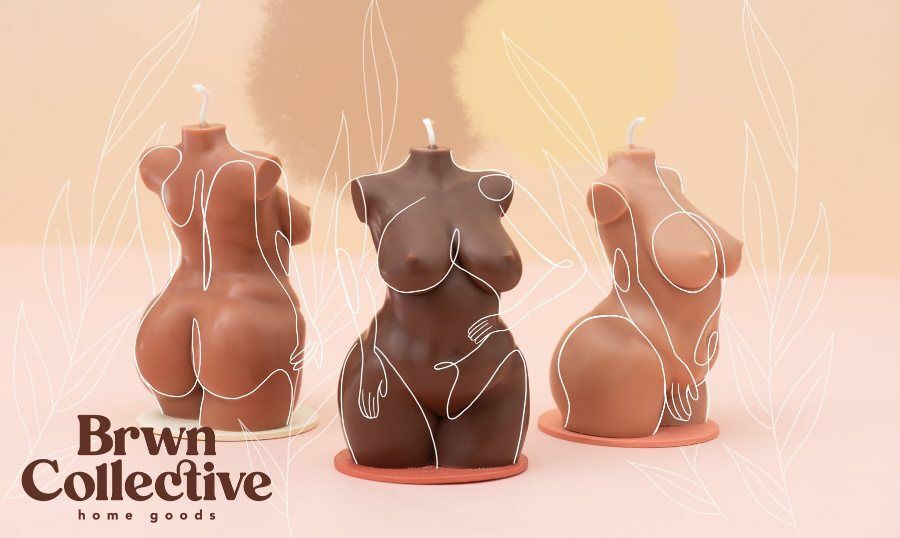 Her candle lineup, both skinny and curvy interpretations of women's bodies, comprises six different colours: four brown skin tones and two lighter shades. Ali makes all of the candles by hand in her kitchen. Though she used to make candles for herself, she wasn't familiar with this specific type of candle-body candle. Through trial and error (and watching DIY YouTube videos), Ali was able to perfect her body candles.
"There were at least two months of making mistakes but it got easier each time, confides Ali. "It's really like science. If it's the wrong temperature or the wrong colour, it probably won't work out," explains Ali. "It took me a long time to figure it out."
Ali's advice to anyone wanting to start their own business is to do their homework, which includes market research to understand their potential customer base. Also, expect the unexpected.
"Anything that can go wrong probably will go wrong at first, so as much as you can, try to be ready for the unexpected," Ali suggests.
The candles are made to order, with 100% soy wax and a cotton braid wick for clean burning. She sources all her materials locally intending to support Canadian business, and the number of candles she makes depends on the demand for it. She spends 2 to 3 hours after working her day job to make candles. Ali is the Manager of Health Equity and Community Relations at a local not-for-profit healthcare organization. On weekends, Ali can spend eight hours a day producing more candles. "Keeping work-life balance with my daytime job is not easy, but I enjoy doing both," explains Ali.
Success
"The response has been really impressive," Ali says. "In just one week, I managed to hit my six-month goals thanks to the community whose support has been overwhelming. I thought it would be only Black sisters, but I've received support from so many women, including White and Asian women."
Although Ali's current focus is on her female customers, she intends to add a male body candle in the future. "If men want to buy my candles that's great, but my immediate priority is women."
Since the candles are handmade, Ali believes the pricing reflects the hard work and effort that goes into making each product. "I think my products are fairly priced, and I think the fact that people are responding well shows that they understand how much goes into it," Ali asserts. Ali now sells body candles and bubble candles, with plans to do more.
Future Plan
Ali's candles are currently only sold online, though she hopes to one day expand the distribution of her products to in-store locations. Over the summer, she plans to launch small pop-up shops and is also planning to add new products like body butter and soaps to her line of products.
"I think the candles are a fun thing, but they're just a small reminder of what it means to be a woman and to be equal. I think that it's important for us to do big things, but I also think it's important to do small things. I hope that my candles can make someone feel good."