As the owner of Le Salon Dieppe | LSD Beauty in Dieppe, New Brunswick, a boutique salon and spa offering services for hair, nails, piercings, brows, and lashes, as well as facials, laser and massage treatments, Clinton can remember a time where it wasn't so prosperous. I spoke with Clinton about the various hurdles he's faced trying to open a business as a Black man on the east coast of Canada.
As a young Black man in Toronto, Davis remembers having big dreams. "That depends on what year we're talking about; astronaut, novelist, rapper, producer, biologist, entrepreneur and at times I've gotta say, due to certain influences around me, gangster maybe."
It's strange to imagine someone moving from the hustle and bustle of Toronto to the East Coast. Clinton recalls needing to "slow down" his life for a bit.
"Which didn't happen," Clinton says. "My parents had moved out here, I'd been seeing someone out here on and off, and I'd had my second child with her. We didn't work out, but I came a few years later to know my son better," Clinton explains. "I eventually brought my oldest out here and stayed for my parents, my family, and the 'Big Fish Small Pond' opportunities I was getting."
Those opportunities would prove to be endless. While living in Moncton, he took over a Glamour Secrets Franchise, known as Trade Secrets in Ontario with his partner.
"We were both in management," says Davis. "She'd taken the Glamour Secrets to a level that caught everyone's attention but wanted to leave." Although the business was a franchise, that specific location had been without an owner for years. "When the company knew my partner was going to move on they approached her with a work-to-own offer that was hard to walk away from and she asked if I wanted to come on board." Even though beauty had never been an interest of his, for Davis it seemed right at the time and they took it on as their main project. "She was later selected to be on a national reality TV show, "Be the Boss Canada" featuring the same franchise and won," adds Davis. "It made it even easier to own the business sooner and it went from there."
While the opportunities were endless, they came with hurdles and barriers that existed due to racism. According to Davis, certain groups of people in New Brunswick weren't used to or ready for Black or North African business owners in the beauty industry to be successful. "Things were fine for a while, and I'm not saying it's related, but around the time Trump started rising in popularity in the states, and then the PPC here in Canada started talking louder," Davis remarks. "Sentiment for our business slowly started to change." While it's not uncommon for a salon or spa to have a complaint a couple of times a year, especially with a larger team serving the number of clients they were, there were a few extremely dramatic accusations made by clients or their husbands. "They contained about 10 percent truth that the internet latched onto and said every nasty thing you could think of about our team, us, our character, and our business," shares Davis. What kind of things were said?
"Things like a client not finding their colour perfect or a stylist leaving colour stains around the ear," Davis says. Davis believes some of the messages were rooted in racism and a sense that they didn't belong there. Messages demanding they be closed down also suggested making sure no one solicited their services and went as far as to mention showing up at the business owner's home.
"This, combined with private messages that were even less friendly and bordered on highly racist or even violent, happened three times, and two of the posts went very viral," says Davis. "We were harassed for weeks each time."
Despite all these hurdles and the trauma as a result of the racist bombardment they faced, both Davis and his partner persevered and kept their business. When asked why they didn't just leave, Davis says, "We couldn't, but in some ways, later on, we gave in."
His partner, who had a profound love for the beauty industry, left years later and can't even walk into the new salon without anxiety or feeling emotionally triggered. "The stress of these attacks hospitalized her a few times," says Davis, who sums this up as the impact of hate from strangers who don't even know you.
"The reality is, as much as these 3 attacks hurt us badly, made us feel unwelcome and made us look over our shoulder a bit more, our business was doing well," insists Davis, whose loyal client base saw the lies for what they were. "While attacks like that can take everything you have from you unfairly and thankfully didn't," Davis says before continuing, "it was about the feeling of hundreds, thousands of people saying horrible things about you online and what it can do to one's psyche. We weren't celebrities, so no one trained us for this."
After everything they'd been through, more yet was still to come. After choosing not to renew their franchise because of certain policies they felt didn't align with how they wanted to run a business, they wanted to move on to new endeavours.
"We thought we'd been accepted by the business community here because when we went to networking events people smiled at us, chatted, and we were the runners-up for the city's Young Entrepreneur of the Year award in 2014," recalls Davis. "We'd decided we wanted to exit and move on to something else."
They did months of research, which led them back to contacts at an organization in town called 3Plus, designed to help young entrepreneurs and immigrants grow and develop the economic prosperity of their region.
"We were partnered with an employee who worked with us for years," says Davis. "After months of consulting, he convinced us to stay in the industry, go independent, develop a plan to help us create our own franchise, and eventually, under the guise of having 3plus and the city's support, got us to invest with his bigger company." Unfortunately, this was too good to be true. "Long story short, this man, Daniel Bard, was a con artist who ripped us, and many others off, and the company that employed him took no responsibility," Davis says before adding, "the business community looked away and victim shamed us." A video his partner posted to social media to share their story hit 20,000 views in a few days, and local and national media picked it up resulting in people reaching out.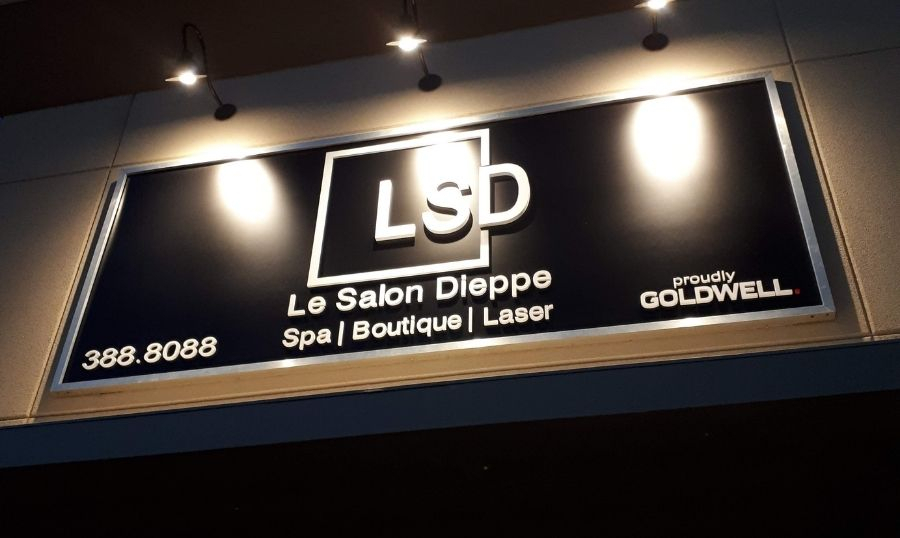 "The man had many victims outside the organization but it seemed several visible minorities had been burned working with the local organization itself, but since this was pre-2020, the media didn't have an interest in exploring that angle," says Davis. "Despite this scam, we built the one new salon and spa location, and once again, survived this attack to grow a thriving business."
Thrive they did. While some may say that success is due to the influence of BLM movements after the murder of George Floyd, Davis has his own theory.
"No way. It's what we did. It's the team we have and their ability to serve. They rely on us, and we rely on them, and at the end of the day, that's made for very happy clients. What I will say has changed since these movements, is the way people approach us. The way complaints get handled in a way one would expect them to. The way people don't explode on us, threaten us, try to exploit us as much. If they do, strangers are bold enough to speak out against it, to stand up for us, to not just hop on the "send them home" bandwagon. I'm thankful for that. Our increasingly diverse clientele puts a big smile on face. Word is spreading throughout certain communities that they can feel safe here. No one on my team is going to say a client or their child has "difficult" hair, or a hard to understand accent. That's not going to happen here. We understand women from certain backgrounds need a cordoned off area where men won't see their hair. They don't teach hairstyling methods for curly hair in NB hair dressing schools, but we are educated on dealing with curly hair at our salon. It's also a joy to see these faces because it makes ME feel more at home. I look around and see a client base that reflects the communities I come from. I'm starting to feel like a regular business owner, instead of that Black Man that owns a business."
Davis pauses for a minute then adds, "When you've experienced racism enough, it's hard to know when people are looking at you and just seeing a person, or if they're looking at you and hating you because they see you as someone they feel doesn't belong."
Despite all of the aforementioned challenges, Le Salon Dieppe | LSD Beauty remains successful and is an example of perseverance for Black Canadian business owners who must oftentimes juggle managing their business and other people's ignorance.
To learn more about Le Salon Dieppe | LSD Beauty and the work Clinton is doing check out their website and @lesalondieppe on Instagram and Facebook.