You pass by the plethora of options and mountains of pink in the aisles for girls, and then you cross your fingers hoping to find something in the puny aisle and a half for boys. There are few items harder to find than warm underclothing for boys. All kinds of tights abound for little ladies but what about the lads? Meet Julie Thompson, the mom behind Skights! She started the business just a few short years ago and already has been featured on national TV and has had her product in baby gift baskets for celebrities such as Halle Berry and the Duke and Duchess of Cambridge! Here's how she did it.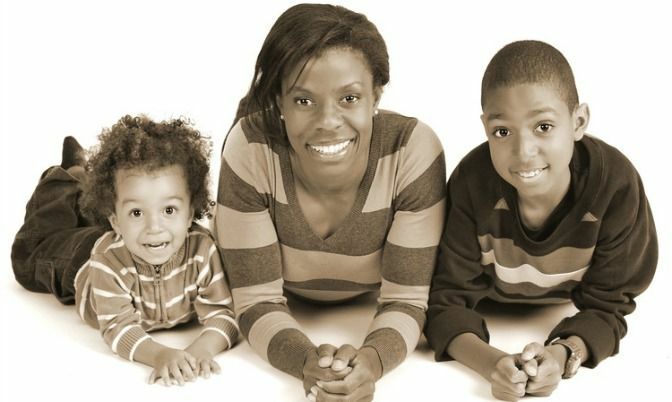 BB: First of all, what's behind the name?
It's a combination of socks and tights, the name kind of just came to me one day and I said yes, that's it! (By the way, that's Julie's adorable 3 year old son modelling skights in the picture)
BB: How was the idea born?
In December 2011, I was at the mall with a friend of mine who also has a young baby boy and she said she was buying girls tights to put under her son's pants to keep him warm. I said why are you doing that? And she said there were no other options. So, I figured you know what I'm going to make them myself!
BB: What was the first step you took?
I found this woman on the Internet who had a business making pink construction boots. I thought she might be able to give me advice on making a niche product so I sent her a long email, thinking that she probably wouldn't even respond. I went downstairs to get a drink and by the time I came back up she had responded! So we talked on the phone and she gave me lots of great pointers. And you know what's funny... recently an entrepreneur sent me the exact same kind of email looking for advice on how to start a business, so it's all come kind of full circle.
The first thing I did was create a logo. And then I started looking for sock manufacturers. That was the biggest challenge because the advice I had gotten was to find a manufacturer in China. But I didn't want to do that. And let me tell you, EVERYTHING has been outsourced, it is no easy task finding a manufacturer for any kind of clothing in North America. I found someone in Trenton, Ontario who makes adult socks but he said he couldn't help me. He gave me a few names and I went back and forth with a few people in the US. I found this one person who agreed to make a prototype and it was a huge waste of money. She charged me $600 and it wasn't even close to what I had in mind. At this point, I really was considering just giving up the idea. But when I went to a conference with a friend called I Can Do It Toronto, she said something to me that struck a chord. "Julie you set so many ships to sea and you never see them back to port." That was it for me. So I went back to the original guy who I had first spoke to in Trenton, Ontario which is great because it's about an hour from where I live. And, we talked for a long time and I guess I convinced him to get on board because he agreed! He is very easy to work with and I was elated that my product could be made in Canada.
BB: What's been the biggest challenge?
The biggest challenge is financing the whole business on my own. You have to be so creative with your money. Finding time to work on the business is also a huge challenge. I'm a single mom of two boys, 13 and 3 and I'm a police officer by day. Thankfully I work regular hours 9-5 during the week. So I work on the business when the kids go to bed and on the weekends.
BB: What's it been like trying to get the product into stores?
At first I would take my son with me wherever I went. I didn't really have a choice; there was no one else to watch him. And I mean he's cute but he's not the best salesman. I quickly learned it wasn't a good look, going into stores trying to make business deals with my kid on my hip. So it's been a challenge trying to work around that. What I've learned to do is focus on the one yes and don't worry about the 99 no's. I've gotten the product into 11 stores around the GTA, but I'd love to have a distributor. That's my next goal.
BB: How much does the product cost and how did you decide how much to charge?
It costs $15. I didn't think too long and hard about it, i just looked around and what other people were charging.
BB: What is the biggest selling point?
It's a great way to keep little boys legs warm during the winter. Skights are easy to wear, and convenient because you don't have to take them off when you're changing a diaper. And they actually stay up! They don't roll down or bunch up.
BB: So how do you get your product in the hands of celebrities?
Well there are companies that run celebrity gifting. The most affordable one I found is named Hollywood Baskets. You pay a $200 fee to get your product as an option in a gift basket for a celebrity who is having a baby. If they choose your product, you get a signed thank you note with their picture on it. So far, I've gotten into baskets for Halle Berry, Michael Bublé, Vince Vaughan, Fergie, Jennifer Love Hewitt and the Duke and Duchess of Cambridge. And then I did some old fashioned one on one promotion when Elton John was doing a concert at the GM Centre in Oshawa. I just approached his people and they loved the product and gave it to him.
BB: What do you know now that you wish you knew before you started your business?
I wasted a ton of money on traditional advertising. There are so many cheaper ways to get your product out there. For me, the most economical was giving it to mommy bloggers. They write about it and run online contests for you. So far I've had 12 different mommy bloggers write about Skights. In fact it was through one of them, Nanny Robina that I was able to have the product featured on Breakfast Television Toronto, and CityLine with Tracey Moore. Apart from that, word of mouth and social media are key.
BB: Any other lessons learned that you'd like to pass on to budding business people?
Nothing happens overnight. It's a lot of little steps. Be passionate about your product and remember that small steps make big gains.