The Toronto Region Board of Trade recognized him as the Emerging Entrepreneur of 2013 for a very specific reason; his passion to eliminate youth unemployment is unwavering. He is on a mission to show young people they can gain financial freedom through owning their own business.
Detailing Knights is a waterless car cleaning service in the Greater Toronto Area that provides professional quality service at a reasonable price. Ryan implements a student franchising model, equipping participants with critical business knowledge.
"The experience and skills that one gains from running a business cannot be taught in a classroom. It must be experienced in the field. I strongly feel young people should run a business at least once," says Ryan.
50% of post-secondary graduates are unemployed or underemployed because there is a current disconnect between the school system and the real world. With very little options statistics are showing that students in low-income neighborhoods find fewer opportunities to learn leadership. Ryan offers a way out of this cycle through his franchising program with Detailing Knights.
He provides business kits to the students at absolutely no upfront costs. (Right now he's relying on sponsors and donations from the public to fund these kits). The business kits include all the materials the student needs to get started, from vacuums, power cords, the waterless cleaning solution as well as marketing materials such as business cards, fliers and lawn signs.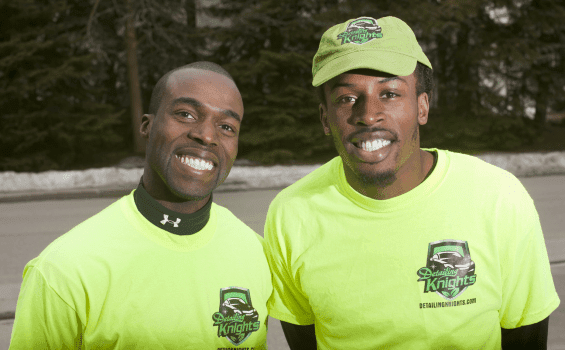 "I first started working with Ryan because I needed a job and detailing was easy enough to pick up. Now I have progressed beyond just cleaning cars to actually running a business. Something I never dreamed of, I have moved out of housing and into my own place with my wife and daughter and I owe it all to Ryan. I don't think I would have ever been able to get out of the Jane and Finch scene without Ryan as my mentor. Just being able to look up to him and watch a passionate man make crazy statements and then execute them is amazing. He is going to do amazing things and I am glad to have benefited from his early ambitions. I am a Knight for Life!"
Ryan started Detailing Knights five years ago after being laid off from his job just 2 weeks before his wedding. He recognized that starting his own business would provide him more control over his career and put his 'job security' solely in his hands. "My brother loved to clean cars and when I was laid off, I figured we could start our own business. I would take on the role of marketing the business and he would be the detailer and Detailing Knights was born," says Ryan.
Ryan credits his entrepreneurial heart and desire to support others to his parents. "Everything I can remember from my childhood is for the most part positive. I value their opinion wholeheartedly and I truly see that they believe in what I am doing."
When Ryan was growing up he was not well off. His mother got pregnant with him at age 15, and his father lived a life of partying. However, after Ryan was born, his father stepped up to the plate to care for his family. Ryan was the first of 4 children.
One of Ryan's proudest moments was seeing a family member succeed through Detailing Knights. "When my cousin Daniel was able to move out of Jane and Finch and into a nicer house, that was a big moment for both of us. We stood out front and looked at each other and said 'Progress is Progress'. Seeing his advancement is what is more important to me than any of the awards that we win and will win. When he tells me that he is more confident now and has bigger dreams now after working with us."
Though Detailing Knights is progressing, getting there was a big challenge.
"We started the business in 2009 and up until 2012, we were not making a lot of traction. Cash flow is always the toughest barrier as I try and match my vision with my bank account. Great ideas always come to mind but I have to be careful to try and take affordable steps forward to not put too much strain on my family. While running my business I also decided to run a College Pro Painters franchise on the side and that was one of the best decisions I ever made. It really taught me the power of running a 'business' instead of being self employed and doing everything yourself. Being able to take what I learned from them in 2012 to my company in 2013 is what truly allowed our business to take off."
Because of its 99% water waste reduction and work in the community Ryan's company has also been certified as a BCorporation by the BLab, a nonprofit dedicated to certifying impactful companies that hold true to accountability, transparency and social and environmental performance. Detailing Knights is the only car cleaning company in the world to earn a Bcorp distinction.
Presently, Detailing Knights have expanded to a shop located in Pickering with Newstart Canada and 3 mobile reps around the city. In addition, they have partnered with programs such as the Learning Enrichment Foundation, and Rise Asset Development inside Rothman's School of Business. Ryan is also teaching business part-time at Sheridan College.
In the years to come, Ryan sees his company expanding all across Canada to provide the opportunity for more young people to experience running a franchise with Detailing Knights.
If you would like to help sponsor a business kit or if you know of any young person that would benefit from this entrepreneurial endeavour, encourage them to send an email to This email address is being protected from spambots. You need JavaScript enabled to view it. or call him at 416-909-2513.