Pan-Roasted Atlantic Salmon | Sweet and Sour Ginger Braised Purple Cabbage | Smokey Chili Lime & Coriander Butter
Atlantic Salmon
Pat dry and season both sides with salt & pepper
Heat a heavy bottom pan with enough oil to coat the surface
Once the oil is hot, carefully place salmon into the pan and flip once seared (roughly 1min)
Turn down the heat, cover with a lid and continue to cook until desired doneness is reached
Smokey Chili Lime & Coriander Compound Butter – Yield 4oz
Ingredients:
1 stick of butter (4oz) – room temp
1 tsp crushed chili flakes, or chili powder
1 tsp smoked paprika
2 tsp chopped coriander
Zest of one lime
half a lime – juiced
Method:
Place butter into a bowl and add the remaining ingredients
Mix thoroughly with a spatula
Roll into a cylinder (check YouTube for how to vids) and place into the fridge before slicing into coins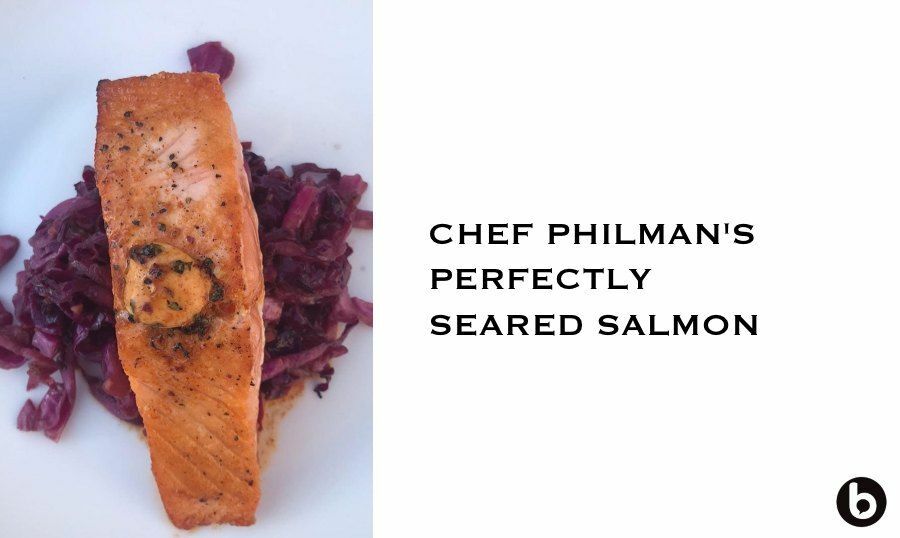 Sweet & Sour Ginger Braised Purple Cabbage
Ingredients:
3 cups purple cabbage sliced
1 tbsp ginger, minced ½ cup white vinegar
2 – 3 tbsp sugar
1 -2 tbsp of your favourite cooking oil
Method:
Heat large sauté pan, with oil medium-high
Add in ginger and stir for a few seconds before adding in the cabbage
Maintain medium-high heat while stirring the cabbage.
Once cabbage begins to soften add in the sugar and vinegar
Cook until desired doneness is reached.
I like mine a bit crunchy so about 5 -7 min of cooking is good for me.
Finish with salt and pepper.
Enjoy!