Meet Marcus Udokang, a 46 year-old cyclist who decided to drop everything and bike across Canada.
"[It's] a lifelong dream coming true," he says, in between chuckles. "[The] years go by. You get some advice, and you think, 'When am I going to do this?'"
"I just chose this summer. I had to leave my job to do it, but that's okay. It was a good plan to do that."
Udokang a former business analyst and current full-time cyclist, began his trek on May 9th from Port Hardy, Vancouver Island – Canada's most western point. By the end of his journey he'll have cycled all the way to Cape Spear, also known as Canada's most eastern point in Newfoundland.
When you add up the numbers, that's over 9,000 kilometres.
At the time we spoke to Marcus, he was in Sorel, a small town in Quebec roughly 100 km east of Montréal and 230 km west of Quebec City. He was headed for Trois-Rivières.
So far along his journey, he's had some pretty wild encounters.
"I was in a town called Shaunavon in Saskatchewan. I had a day off because it was going to rain…But that afternoon it was nice and sunny so I went to a park to lie down and enjoy the heat. I was in my shorts and I [saw] two RCMP officers come up and approach me. I said, 'Hello…what's going on?' The officer said, 'Well, someone called to check up on you.'"
"I said, 'Oh, to check up on me?' I told them it was going to rain, and that's why I wasn't camping. I explained it to them [that] I [was] cycling across country. They said, 'Well, you know it's a small town and people see things.' It sort of dawned on me that I [had] a beard so I said, "Well, I grew the beard specifically for this cycle". I told them I was trying to get a tan because when you cycle, your back gets tanned but not your front and legs. I said, 'I'm trying to even it all out.' They cracked up.
Other arguably more lighthearted experiences was getting locked out of his motel at night and having to enlist a fellow cyclist to help him break into his room. Another involved a run-in with a raccoon while camping. The critter stole his entire stash of peanut butter.
"Getting locked out of the the motel was definitely the worst. Had it rained I would have been screwed."
Ironically enough, Udokang finds his journey has been relatively safe in comparison to other rides he's gone on. Having cycled across various other western parts of Canada, Udokang says some of the toughest areas to cycle in have been major cities – with Toronto being one of them.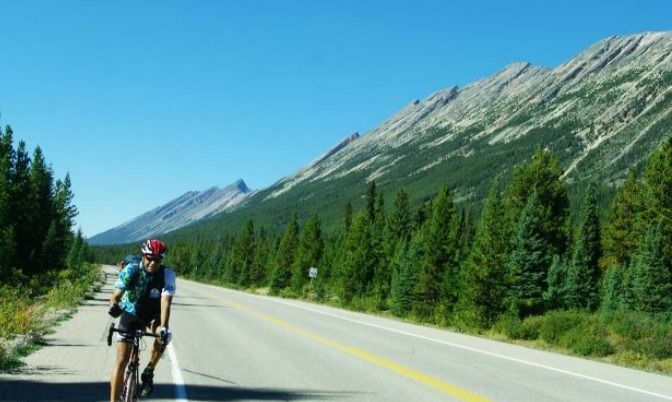 Marcus Udokang in Banff, Alberta
"I used to live in Toronto years ago and I was hit by cars four times. The last one was almost fatal – it was a head-on collision. The worst place to cycle is in a big city where there are lots and lots of people."
"It also depends on how the city builds their cycle routes."
It's true. Some of the more challenging places to cycle are in major metropolitans. From dangerously popular 'dooring' occurrences to busy intersections, major cities are a danger zone for cyclists.
Just this year alone, there were reports of 18 collisions involving the deaths of 20 pedestrians and cyclists by vehicles in the city of Toronto.
"In Calgary, there is so much space. The cycle routes are so far away from the main road. The chances of you being hit are slim – except if you're downtown. The big thing really anywhere outside of a countryside [is] the big major highways."
Udokang notes that so far along his journey, he has seen a significant difference in the quality of bike routes – most notably in Quebec.
"[It's] beautiful. There's a highway that runs on Route Verte, and it goes all the way from Montreal to Quebec City. They've got huge wide paved shoulders, signs to indicate the bicycle route on the right side of the road, and it's been fantastic."
"I would say Québec is light years ahead of the rest of Canada when it comes to cycle routes."
At the time he spoke with us, he was over 5,000 km (out of 9,000 km) into his ride – more than halfway.
"The motivation is knowing that I'm ¾ of the way done. The motivation is that it's the second largest country in the world. So imagine that. It's not like you're going to Europe and it's country after country."
"There are so many who are doing this. I've met so many people – not just Canadians. There are people from around the world who come to do this. I think the best advice to all these cyclists is: don't give up. Just keep on moving."
"I'm the third black person I know doing it this year. Why is that the case? I don't know. Maybe there were a lot more in past years. But in all the research I've done online, I never once came across a black person who was cycling across country. That's also another motivation. What black Canadians are out there doing it?'"
Udokang cites his mother and girlfriend as some of his strongest supporters. But although his friends and other family members have been extremely supportive, this may be a one time trip for him.
"I wouldn't mind doing Labrador. Labrador would be a nice place to do it. But I don't think I'll do the whole country coast to coast again."