Her family immigrated to Canada from Jamaica in 1975 and Hunter says her parents worked very hard to make sure their four children – she has three brothers -- could have a better life.

"Every day we would gather as a family around the dinner table. It was one of our traditions and we would talk about our day. We would share and my parents would listen to us. I think that's certainly where I was able to find my voice and share my ideas, and be listened to, and to really know the importance of family and community and hard work."
She developed an understanding of entrepreneurship from her father who had his own business as a transport driver in the construction industry and her mother who worked in manufacturing and assembly.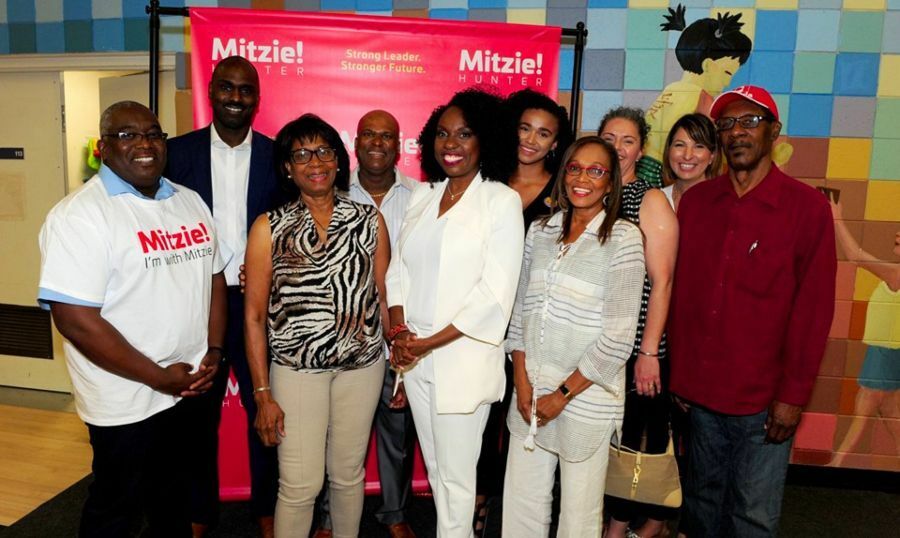 Mitzie Hunter with immediate family.
As CEO of CivicAction, Mitzie Hunter was working with business, government and community to create positive changes, whether they were to improve the environment, to improve transit and transportation infrastructure, or to look at the jobs of the future and to address skills gap.
She was a very engaged leader so when she got the call to run in a by-election in Scarborough-Guildwood in 2013 she immediately said yes.
"It was very natural for me to answer the call of service. I believe that running for public office is a call to serve and it's one that you do and you take seriously. It was a chance to give back but it was also to improve the lives of the people in a community that I care deeply about," says the graduate of the University of Toronto's Rothman School of Management.
Hunter says Scarborough is a very important place to her, having grown up there as a child.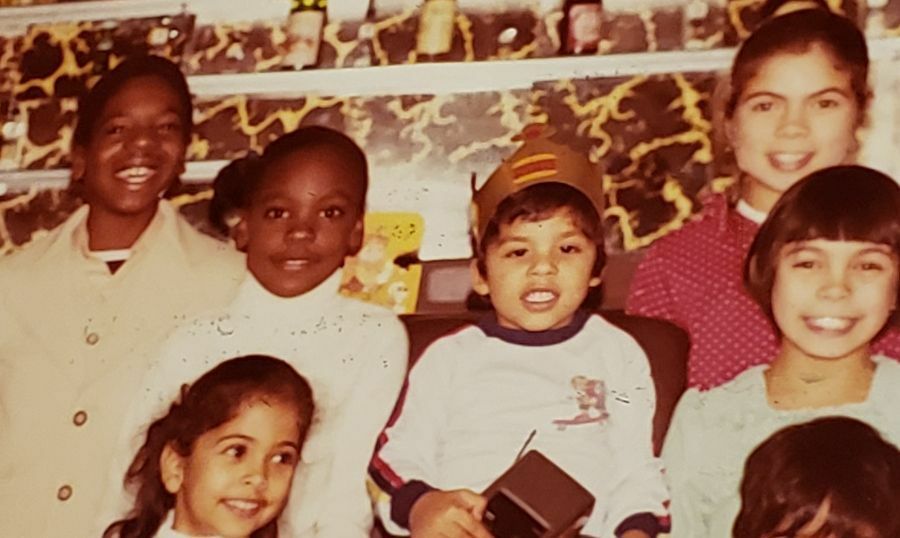 Mitzie Hunter growing up in Scarborough, Ontario.
When Hunter was pursuing undergraduate studies at the University of Toronto- Scarborough she started a business during a recession as a way to find work. It started off as a talent agency and then quickly turned into a marketing, communications and event planning company.
In 1993 Hunter volunteered on a committee looking at the sustainability of Caribana and ended up facilitating a number of workshops and helping to draft a proposal that went into the ministry, resulting in the first multi-year funding for Caribana from government.
She was the first person of colour in Ontario's history to serve as education minister and was able to celebrate the graduation rates at 86.5% "and to see the excellent system of education that we have" but was also concerned about the 13.5% who were not graduating.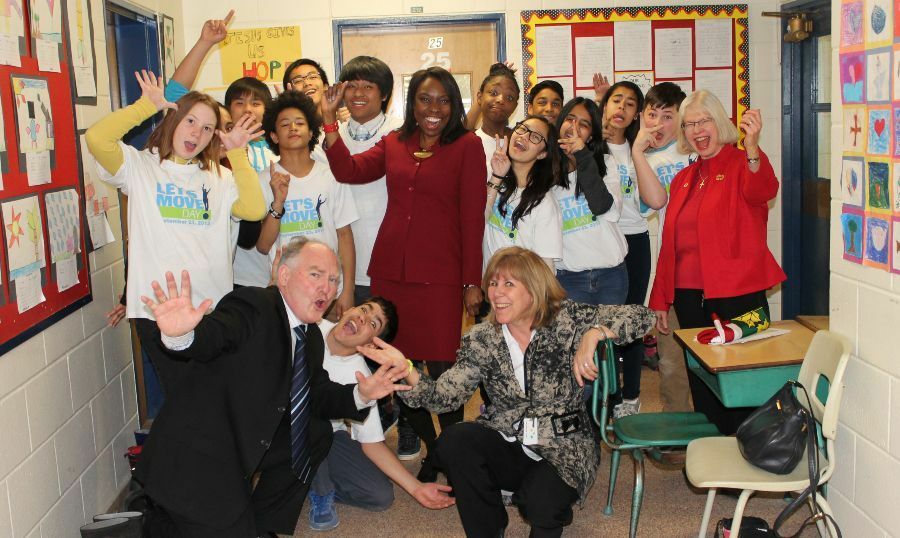 "When we looked at that we realized there was more work that we needed to do as a ministry and as a government. We developed the Education Equity Action Plan to support school boards to support students of all backgrounds – different racial backgrounds, students with disabilities, Indigenous students, and students in the care of Children's Aid who needed more focused support to help them succeed within our excellent system."
As education minister she travelled across the province and looked at the "very critical and important priorities that will be needed for our future."
"When we talk about investing in the skills and in the talents of our people and in young people especially, one of the things that I championed as education minister was financial literacy and digital literacy, entrepreneurship and innovation because learning in a digital age is very different than it was in the past and we want to make sure we set up young people for success."
Hunter says all of those experiences helped to give her the broad scope that she needs as a leader but also the effectiveness in being able to set priorities and to execute them.
As the associate minister of finance she was responsible for the Ontario Retirement Pension Plan and she describes it as a fantastic opportunity to take a long-range look "75 and 100 years from now, how do we make sure that Ontarians continue to thrive."
She is proud of the pension reform work that she did which eventually led to the expansion of the Canada Pension Plan (CPP) for all working Canadians.
Hunter noted that Ontario really led the transformation of pension reform at a time when then prime minister, Stephen Harper, and the Conservatives were against strengthening people's benefits through CPP expansion.
When Hunter goes door-to-door she says everyone is disappointed in Doug Ford and what she is hearing from Liberals across the province is that "they want to see a new face, a new voice and someone in our party with new ideas to take us forward."
She says as people lose trust in Ford that they will be looking to the Ontario Liberals to present that fresh face, new voice and new ideas to respond to the things that are important to them.
"I believe that under my leadership we will have that stronger future for Ontario and we will have that vision that helps us to move forward as a province."
"I've put out a bold challenge to our party. Should I become the leader in March of 2020 we would begin right away as a team to knock on one million doors riding by riding and to reinvigorate the party from the grassroots, and reconnect the party to the Liberal values built on education, healthcare, the environment and supporting our young people."
Asked whether seeking the leadership of the Liberal Party would result in vote splitting of the Black community because her colleague, Michael Coteau, was already running, Hunter said this is a good opportunity for the community.
"We have two people that are in the race and that's something that I think should be a moment of pride for the community. Our democracy is about having choices. Michael and I, of course, are colleagues and have worked together in the Ontario Liberal Party. In fact, we sat beside each other for a number of years and we are both leaders in our own right. I think this is a source of pride for the community and we obviously offer different experiences and I know that we have our own personal vision for the future of the province."
But it won't be a cakewalk for either of these two candidates. In the 2018 general election the Ontario Liberals suffered a major defeat resulting in only seven of them being elected and the loss of the party's official status in the legislature.
"We had certainly been in government for a long time, for 15 years, and people wanted to have a change. I don't think the change that has resulted is what people wanted, especially when you see all the cuts that are happening now under Premier Ford," says Hunter about the party's defeat.
But Hunter is laser focused on the future. One of her main priorities is championing her gun violence bill and making sure that support is provided to people who have experienced this type of violence.
"It's something that I'm working towards. We need to end gun violence, we need to do everything we can to reduce those occurrences in our community and to keep our community safe and healthy."
Asked what motivates her daily, Hunter says, "I do things that I'm very passionate about and I've had the wonderful privilege of having a diverse career. Every morning I have that passion of making a difference."
Serving as the MPP of Scarborough-Guildwood she says gives her an amazing opportunity to help improve the community and to make a contribution, "to make a difference in the lives of people."
"My constituents support me. I've run in three elections there and they voted for me. They know me as Mitzie and they want me to do this. They say I am with you and it's very encouraging for me to have their support."
The leader of the Ontario Liberal Party will be chosen at a delegated convention on March 6 and 7, 2020 in Mississauga.
Neil Armstrong is a Toronto-based journalist who freelances with the Jamaican Weekly Gleaner and formerly with Pride News Magazine, and Caribbean Headline News on Rogers TV. Previously, he worked at Radio Jamaica Ltd.(RJR), CHRY 105.5 FM (now VIBE FM) and CJRT FM (now Jazz FM).
Is there a Black Canadian story we should cover? Email us at info (at) byblacks.com.