Once again I decided to pass on the Christmas family reunion in my hometown in France and embark instead on a new adventure to the "end of the earth".

There is no shortage of options to explore the immensity of Patagonia. With limited time in the area, I narrowed down my "must see" list to El Calafate (Argentina), Torres del Paine National Park (Chile), and Ushuaia (Argentina).


"We are starting our descent to El Calafate airport…" I told myself that I was off to a great start when I peeked through the window and realized that the airport was in the middle of nowhere. We landed in what seemed to be an abandoned old western town. Not a lot of youngsters on the plane that day. Two thirds of the passengers were seniors about to embark on their own adventure cruising Antarctica.

While I enjoy travelling solo, I do appreciate sharing a meal with new friends and my first night in Patagonia did not disappoint. Seated by the windows of the restaurant, I observed a group of friends down the street, drooling with envy at their barbecue. "I will take what's cooking on the grill," I said jokingly to the waiter. Little did I know I would join the gathering with Mauricio and his friends later that night! The waiter must have put in a good word for me. Mauricio welcomed me as a friend--I tried the famous Argentinian "Choripan" for the first time, drank some delicious Malbec, and had some great laughs by the bonfire. I had to know, so I asked: What is the special occasion? - "Porque es Lunes!" (Because it's Monday). I had no response--the answer was too perfect.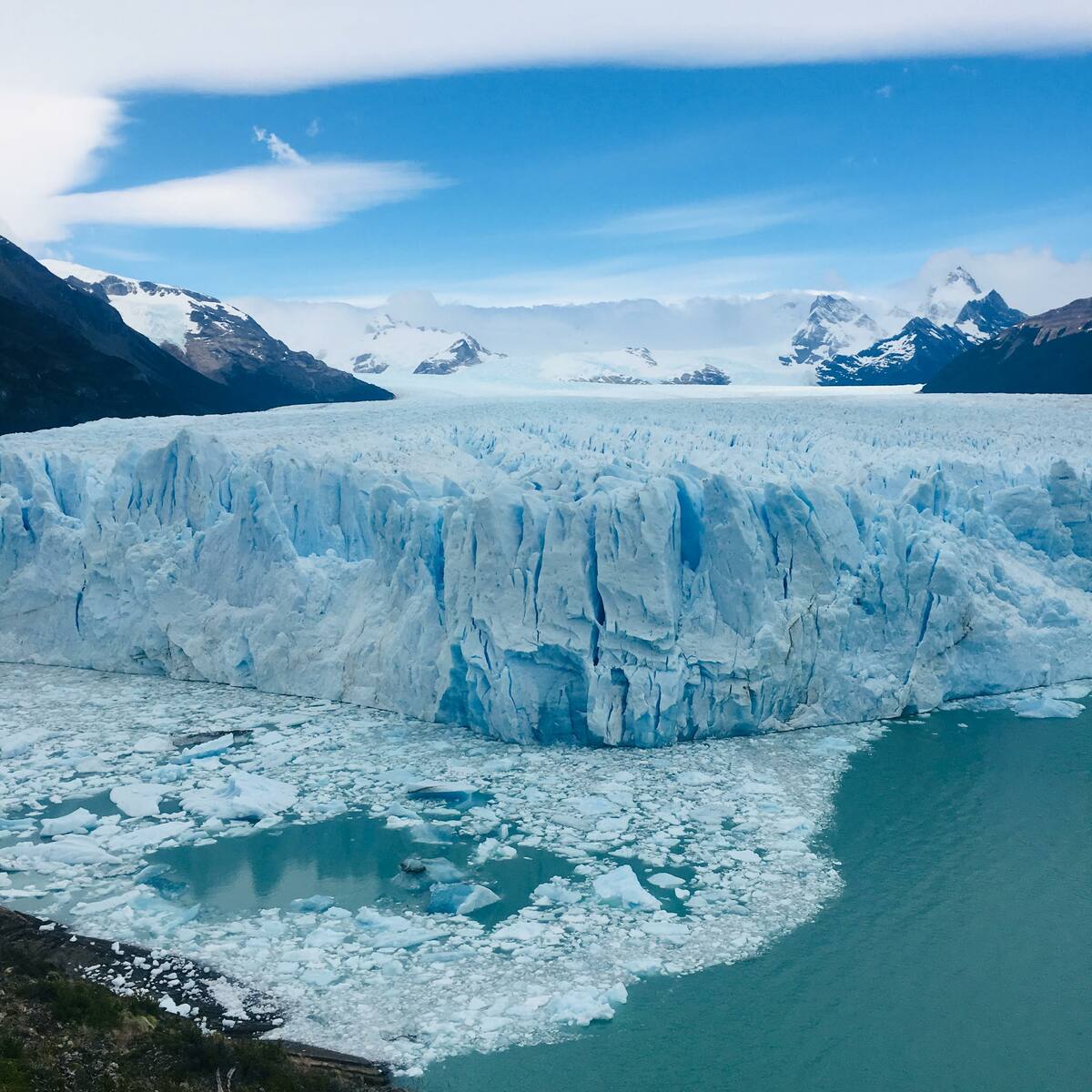 The Perito Moreno, the Glacier - at el Calafate
"The best pictures are taken with your eyes" – An apt saying by my Mom. It turns out she is right, once again! I had never seen a glacier in my life and that first experience at the Los Glaciares National Park was memorable. My eyes could not fully comprehend the magnitude of beauty before me: The Perito Moreno glacier taking pride of place in the crystal blue water, the immensity of the glacier and the peaceful atmosphere. Waiting patiently, to my surprise I witnessed part of the glacier collapsing before me. As I was trying to find the right angle for my first picture, a loud escalating noise immediately grabbed my attention. Pieces of ice started to ripple down from the glacier. Within minutes, massive chunks of ice collapsed, section by section as if Mother Nature was playing dominoes. The newly formed icebergs partially disappeared under the water and then resurfaced, continuing their journey down the "lago Argentina."

After such an eventful day I was thoroughly energized for my very first solo multi-day trek. I like a good challenge so instead of booking the five-day "W circuit" with a group tour in Torres del Paine (Chile), I decided to plan the trek on my own. This meant booking my campsites, carrying my bag and part of my equipment, cooking my own food, and entertaining myself with my own thoughts and good books. It seemed fairly simple in my head--the reality was slightly different. My adventure began at the supermarket trying to plan for five days of solo hiking; (For some perspective, in Toronto my dinners often consist of cereal and milk). Packing my bag for four-seasons weather was also a challenge. The W trek had it all: steep and rocky paths, mesmerizing and jaw-dropping landscapes (crystal blue lakes, magnificent mountain peaks), and some surprises.
"You might see some wild animals," I was told. I did not expect to encounter a puma also doing the trek. Luckily it was cub, keeping his distance from hikers.

My last hiking day to the grey glacier remains my favourite. Standing in the middle of the trail I finally understood the concept of aerodynamic. The wind was so strong, none of the hikers could stand straight; some opted to rest behind rocks or lay down on the ground waiting for a break in the extreme winds. Some, including me, attempted to soldier on, leaning forward to make it beyond the windy portion of the trail. I found that quite amusing. In Toronto, when I'm running late, I sometimes lean forward as I ride my bike to save some precious seconds. This time I was leaning forward not to be blown over. This was the moment I felt "it:" that sense of joy, freedom and happiness I seek throughout my travels, and it felt great!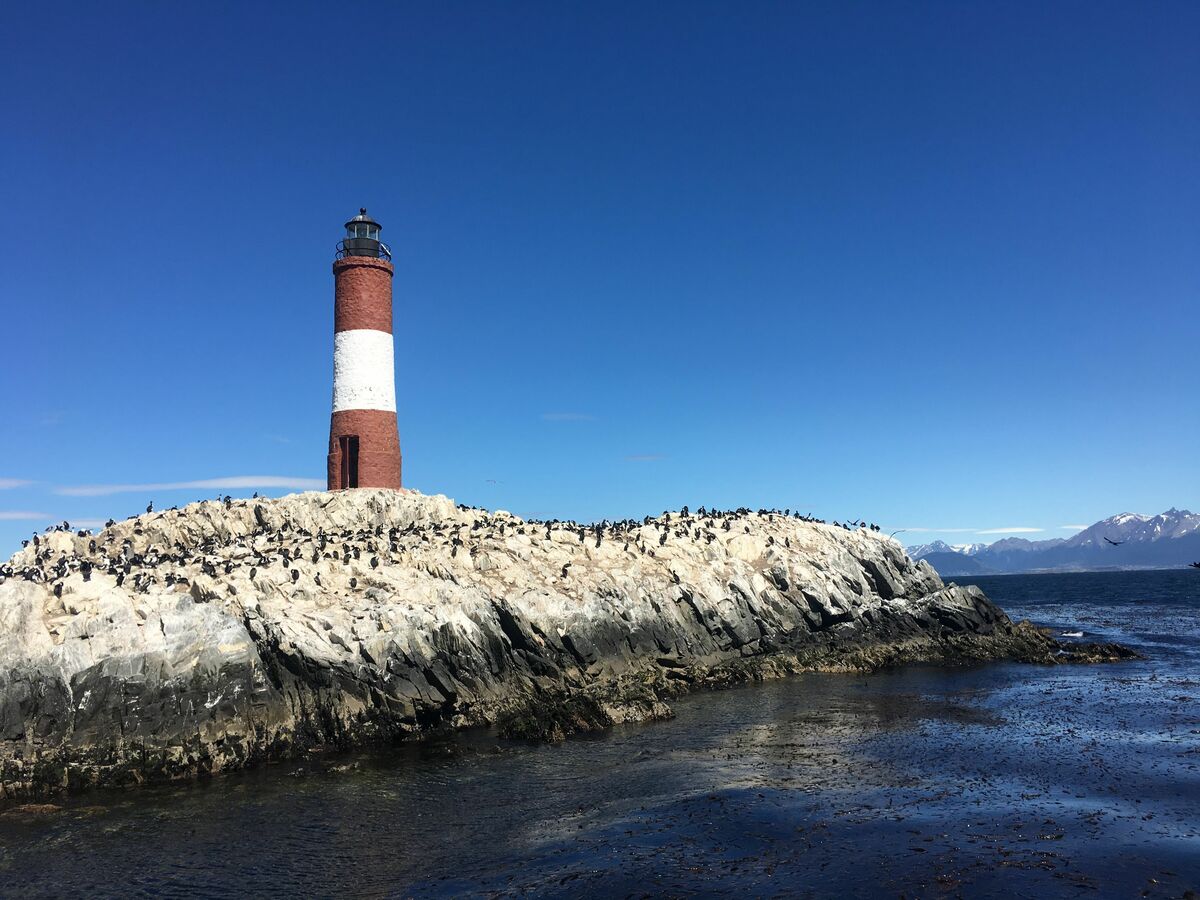 The lighthouse in Ushuaia.
After one night sleeping in a bed with a limited chance of being blown over by a gust of wind, I packed my bag and off I went to my last stop in Patagonia: Ushuaia. The journey from Torres del Paine to Ushuaia took over 12 hours by bus, including a ferry trip across the Magellan Straits at its narrowest. The ferry ride was the highlight of this long voyage to Ushuaia. I enjoyed watching the little blue dot showing my location on my phone, slowly moving toward South America's southern-most tip. I spent a few days in Ushuaia, hiking, running, and wandering around. On day two in town, I booked the famous boat trip through the Beagle Channel to explore various maritime wildlife (penguins, birds, sea lions). What I was most looking forward to was the stop at the "Les Eclaireurs Lighthouse"; known as the lighthouse at the End of the World. That was it, I had completed my journey.

On my last day in Ushuaia, I carefully selected the perfect postcard. I sat by the seashore, closed my eyes, retrieved some beautiful memories accumulated over my time in Patagonia, and wrote a few lines on the card. In a few weeks time my niece (aged 7) and nephew (aged 5) in France would receive their very first correspondence, sent from the "End of the World" by Auntie Delphine.
Delphine Wapoutou is a freelance travel and lifestyle writer. Uprooting herself from her home in Paris, France she moved to Toronto, Canada in 2012. Delphine caught the travel bug at the age of 15 when she left France for the first time to explore the Greek islands. She has since travelled to many different countries in Asia, Europe, Central America, and South America. Delphine has been writing travel guides and short stories for a community travel blog. She writes informative articles and life stories providing an entertaining read with a hint of humour. Delphine's extended travels, her positive outlook on life, and heterogen hobbies have allowed her to live unique experiences and have given her a broad base from which to approach many topics and destinations.