Stereotyped by the colour of their skin, the unjustified killings of these four males has left the Black community asking, "who is worthy of justice?" A new documentary film, "Out in the Night" explores this question, in another example of the U.S. injustice system.
In August of 2006, seven young Black lesbians from Newark, New Jersey visited New York's Greenwich Village for a night out. The seven women were hanging out in front of the IFC Center movie theatre when Duane Buckle, a man selling DVDs, propositioned Patreese. His advances were turned down with a confident response of "I'm gay". Displeased, Buckle proceeded to taunt the group of women, shouting homonegative and derogatory statements such as "dyke bitch", "I'll fuck you straight sweetheart".
His displeasure would turn physical, Buckle attacked the group of women. In the heat of defending themselves, Buckle would be stabbed, and the seven women would end their night out on a bus ride to Rikers' Island. The women facing assault and gang assault charges were offered lesser sentences if they took a plea deal. Three of them did, but four stood their ground, having faith in the justice system, rejected the plea offer. Patreese Johnson, Renata Hill, Venice Brown and Terrain Dandridge would receive various incarceration sentences ranging from three to eleven years and become known as the New Jersey Four.
The New Jersey Four would be the name that was settled on after what could only be described as a vicious, media feeding frenzy that serves to further highlight the Black and White nature of justice in America. The four women, who until that night had no history of criminal activity, would be called "killer lesbians", "the lesbian wolf pack", "the seething Sapphic septet".
The media fed a story of a guy who saw a pretty girl and was brutally attacked for daring to say hello. Suddenly, we were being fed stories from ABC news to The O'Reilly Factor about killer Black lesbian gangs targeting helpless straight males all across America. The New York Post ran this unabashedly biased headline: ATTACK OF THE KILLER LESBIANS. And below was the New York Daily News headline following the convictions.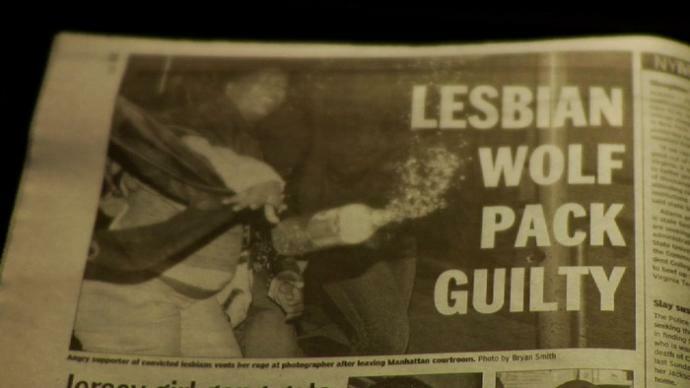 In Out in the Night, director blair dorosh-walther presents a more complete picture of what happened that night, exploring the role race, gender identity and expression, maleness and the media would play in the verdicts handed down. The film was screened in Toronto as a part of Inside Out's Four-Play Screening Series.
Out in the Night is a chilling film about four young women, who were victims of street harassment. Dorosh-Walther humanizes these women by giving them a voice, something they had never received from the justice system or the media. She weaves a story through interviews with family members, lawyers, and police officers. Filmed over a period of four years, we follow the family members and the women during a period of their incarceration.
We are given an intimate look at how incarceration disrupts families. Renata is separated from her son, he is five years old at the time. She will also lose her mother while behind bars, and not given permission to attend the funeral. Behind bars, Renata reveals ways in which the prison system polices gender. "I miss having boxers," she shares. "These panties are killing me."
Patreese's brother was killed in front of his house, less than a year before her release. She also was not allowed to attend the funeral.
Perhaps, the most horrifying part of the film is listening to the testimony of Duane Buckle. During his testimony, Buckle's anti-gay sentiments were overt and painful to listen to. When asked to confirm whether or not the women who attacked him were in the courtroom, Buckle says, "Are they women? I don't know what those are."
The Judge and Prosecutor equally dehumanized the women, painting them as man-hating because of their sexual orientation, "A vicious attack of opportunity almost taking a man's life".
All four women are now free, but this storm of injustice will follow them forever. They are also alive.
Sakia Gunn was not so lucky. Turning down a man's advances with "I'm gay" resulted in her death.
Patreese Johnson had met Sakia the week before her murder. She says it entered her mind when they were being attacked, "are we about to repeat history?"
Every Black queer woman I know has a story of street harassment, myself included. Some of those stories ended with words, some ended in hospitals or in hiding. Every Black person I know has a story of injustice.
Is history repeating itself?
No, history is revealing itself.