The short film is being screened at the Reel World Film Festival this weekend. Jeffers wrote the witty, musical comedy as a part of ACTRA's Young Emerging Actors Assembly.
"I decided to write something about rappers. I am a big lover and critic of today's hip hop and rap music scene. So, I wanted to write something around that. Then I wanted to put them in a situation that created conflict so, I pulled from the U.S. election."
The film stars Gemini award winning actor Patrick McKenna as Richard Lodd, a billionaire running for President seeking to win America's young and diverse vote. Lodd kidnaps famous rappers, Wanx and Stanx of the Gnawed Squad (Brendan Jeffers & Farid Yazdani) in order to coerce an endorsement out of the duo. What ensues is a battle wit and a smart critique of political tactics and the troubling state of hip hop today.
Jeffers wrote the film long before we knew who the two U.S. Presidential candidates were selected, which is a good thing. The film uses politics as a tool while keeping the focus on the film's rap duo.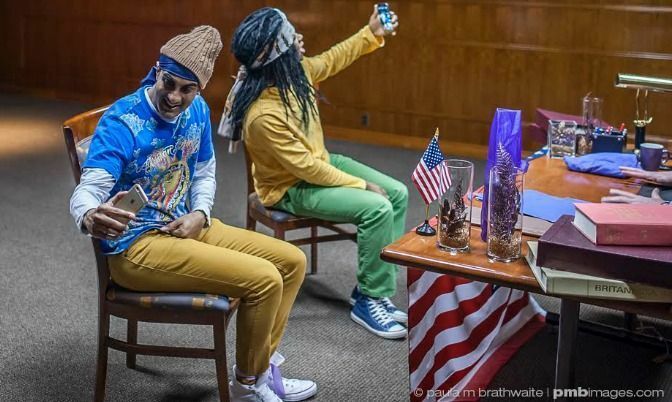 "It could have been more political for sure. I wrote it before Donald Trump was a legit candidate which, to me at least, is pretty crazy. I wanted the film to be about hip hop. I've been into music for a long time. Hip hop and rap are great. Every genre has its bad apples but there are some artists that just aren't adding to the fabric of the music while you have talent like Kendrick Lamar and Chance the Rapper. A lot of the songs today sound thrown together with no aim to extend the music beyond the moment. It is all the latest dance or popping some bottles. So I wanted to make a movie about that."
Wanx and Stanx work effectively as caricatures of hip hop today and seem an ode to the satirical and humorous characters of the Blaxploitation movement. Smart and funny, this short will leave you wanting more and looking forward to more from this young actor's pen.
Gnawed of Approval premieres this Sunday, October 16 at 2:20pm during ACTRA Shorts at the Reel World Film Festival.