After 5 years of making beats in his room, dreaming about his winning moment, it was finally time to show the world what he was made of. Having researched and studied his opponents, Manswell was confident that he would be triumphant in his battle against his respected peers, B-Jams, Little Sister, MetCalfe and more, Manswell.
Now in it's 10th year, The Battle of the Beat Makers, is an annual battle that gives young producers the opportunity to showcase their talents through with their beats. The winner takes home $1,000 in cash, a private consultation with celebrity judges, (this year Metro Boomin' and Sonny Digital), and a collection of production equipment.
The morning of November 8th, was an ordinary Sabbath day for Manswell. As a Seventh-day Adventist, he'd attend church services and recently, watched his older brother travel to schools conducting what was once their elementary school's choir. Manswell's Christian faith is what upholds his authenticity and stabilizes his dedication to his aspiring career as a producer.
"I want to bring something new to the table. When you hear my beats I don't want you to think of a swear word in the first four bars. My music comes from a genuine place so when you hear it, I want you to think something other than turning up or killing someone… I want you to think of something impactful and meaningful."
Jordon is a 6"4 goofy, yet stubborn young man with a friendly disposition. But that doesn't get in the way of his strong work ethic. "If it means telling people not to smoke or drink in the studio I do it, people respect when you stand up for something."
A few years ago, Jordon declined interviews on his aspiring career as a producer because he always felt that he didn't have anything to bring to the table. As he puts it, his resume was bare. Working with well-known local artists like Sean Leon and MaeOriel really solidified his name as a brand. Manswell says working with these two artists played an important role in shaping who he is in the city and building his confidence.
"Sean Leon taught me the most about aesthetics, branding, quality and everything about presentation. Working with him reminded me to do what I want regardless of what everyone else is doing. My work with MaeOriel, an incredible singer, made me realize I can make music at that level. It was a moment for me to work with productions outside of hip-hop and what people assume I always do. Working with her allowed me to believe I can explore other avenues as a producer and it will turn out right."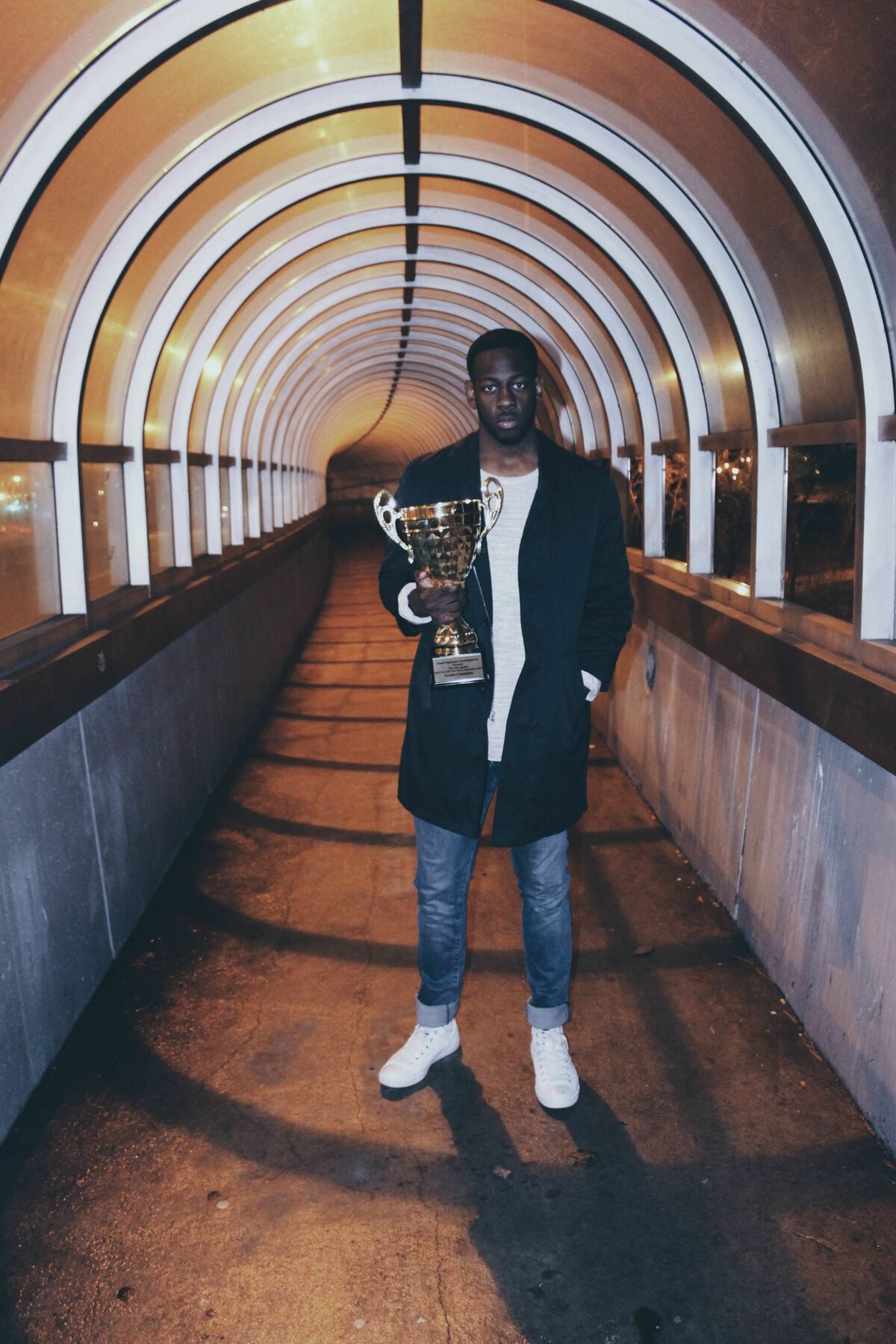 Manswell's drive to take producing to higher heights started way earlier. At Crawford Academy, his only school from kindergarten to Grade 12; while many of his friends branched into sports, Manswell was making beats in the cafeteria. "That's when I knew it was more than just a hobby, when I rather make beats than play ball with my friends". What kept him motivated over the years was not only staying consistent with his passion, but watching the interviews of other producers in the industry that he feels relate to his style.
"I watch a lot of interviews. Without interviews, I don't know where I'd be. Just by seeing other successful people go through the same things as we do. I love watching HitBoy interviews; I think he's the closest thing to me right now in terms of music style. He's the first guy I've seen that incorporates different chords and sounds in music to take it to a different level, which is what I've been doing also. Seeing him prosper makes me believe, that there is a spot for me somewhere in the game and people will appreciate that."
"Having someone like Jordan Evans with multi-platinum and diamond singles; making history, and he lives like 20 minutes away from me; is motivating," says Manswell.
When it isn't the other artists that keep him motivated, he also looks to those that give up on their dreams. Having encountered several situations where people tell him why they stopped pursuing what they loved Manswell promises himself that he never wants to live with regret. "I'm really hard on myself, I've seen a few people that give up on their dreams over poor excuses. I'm young now, I want to do whatever I can do. I never want to have that thought of 'I could have'.
It's easy for Manswell to stay on the right path. His musically inclined family is to thank for that. When he isn't playing on his grandmother's piano, or showing off interesting beats with his church family he is chipping it up with his brother. Aaron Manswell is also a producer, "He's more of an R&B guy", says Jordon "We play music for each other and we love the sound on both ends. He wants the best for me, as I do for him. We never knock heads even though our specialization in music is slightly different. We even make beats together, imagine hearing a hard hip-hop beat and then some gospel chords come in, no one does that anymore." Manswell hopes that in the future their two creative minds can work together in building an empire through music.
Apart from his continuous grind, Jordon is a full time student at the University of Toronto studying Communication culture and Information Technology. "If I get bad grades or quit I'm wasting my money and time. I know for sure if I drop out of school, I'm not going back so it motivates me to finish so I can focus wholeheartedly on producing," he says.
On the night of November 8th,2014, heading to the Battle of the Beatmakers, Manswell was bumping 50 cent and Kanye West in the car to get himself hyped. When he entered the venue, he was no stranger. As he listened to what everyone else had to offer he became more excited. This would be his second time competing,, except this time he knew he wouldn't fall short and lose in the third round.
After putting on the show he practiced so many times before, he finally lived the moment of winning 2014's Battle of the Beatmakers champion title. "I couldn't really believe it, sure people say dreams come true, but I actually dreamt about it. So it was surreal."
When his loved ones went out to celebrate Manswell was still shocked at what was now his reality- a monumental milestone in his soon to be career. There was an outpouring of support on social media, and even his producer hero Boi1da reached out to congratulate him.
"With everyone around me so excited and congratulating me, I was sitting there thinking I can't believe that just happened. I started having flash backs of how I started off with my cousins and making beats, battling at school, and all my hard work. Being on that platform and having people recognize you for your talent or something that you worked hard for is like the best feeling …ever."
Follow Jordon Manswell: