Unfortunately, like their other creative counterparts, the Black Theatre Workshop had to contend with the crippling effects of COVID-19. However, as we're already aware in showbiz, nothing can stop the show from going on.
The pandemic reared its ugly head during the 50th anniversary of the workshop. So it's only fitting that the celebrations start now under the title of their '50th-plus-one year.' Although presently, we are caught up in the whirlwind of the sixth wave of pandemic issues, the need for prolific art has never waned. So the much-needed presentation of the off-Broadway hit play Pipeline by American playwright Dominique Morisseau will be the first to take the stage as their return production.
Pipeline tells the story of Nya, a single mother who is invested in her son Omari's education. However, while enlisted in a private school, he's involved in a serious incident that may jeopardize what lies ahead for his future. The key messaging is what director ahdri zhina mandiela wants attendees to connect with and discuss beyond the viewing, "Pipeline is about the personal journey of a Black mother dealing with the scourge of the 'school to prison pipeline' affecting our communities worldwide. Not attending to and starting to fix the problems caused by institutional racism affects us all in very personal ways!"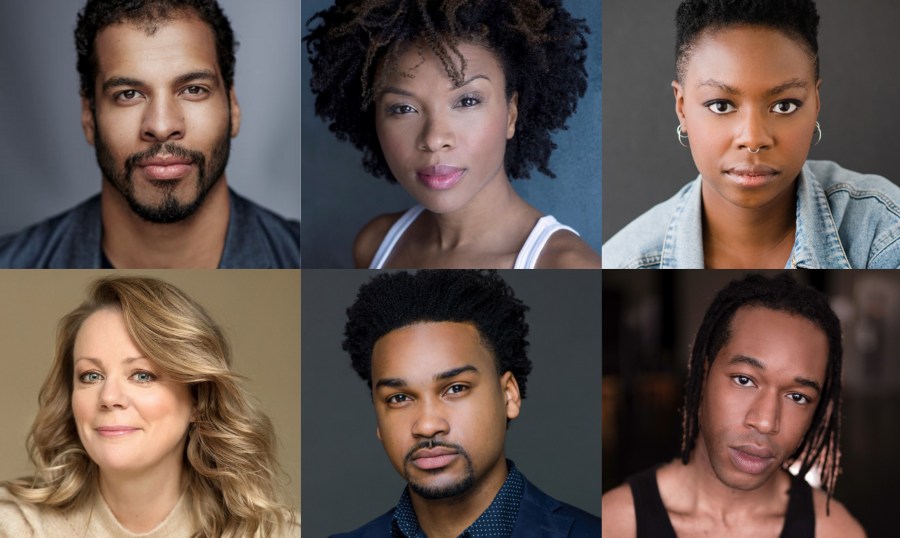 Top L-R: Jean Bernard, Jenny Brizard, and Gloria Mampuya Bottom. L-R: Anie Pascale, Schubert Pierre-Louis and Grégory Yves.
The school-to-prison pipeline problem is not just an American tale but one that is universal in its outcomes. The play deep dives into the experiences and societal barriers that marginalized communities struggle to overcome. mandiela adds, "Audiences will experience a very personal story and maybe for the first time peer into some of the effects caused by our ignoring institutional discrimination. I think a lot of people will walk out of the theatre either renewing their respect for how marginalized peoples struggle to overcome societal barriers, while others will, for the first time, realize how they look past peoples' individual humanity by just seeing them via stereotypes," she says.
The show will be presented in English and French for the first time, allowing the project to expand upon its audience and open up collective dialogue within the various communities in the bilingual city.
A question that remains is how can we affect change in perspectives and perceived notions of the Black struggle? mandiela says, "We can all be a small part of the change by seeing, listening to, and hearing others; regardless of our learned expectations, regardless of how each person may look or seem to fit stereotypical notions, and regardless of what languages or accents we tote."
Creating a safe space to discuss these issues and more that affect us systematically and socially is imperative. Therefore, the Black Theatre Workshop continues its mission to 'produce and promote outstanding theatre that educates, entertains and inspires.'
Cheers to the Black Theatre Workshop for another 50-plus-one years and beyond in creativity and compelling theatre.
Pipeline runs in English, from April 12 to 23, and in French, from April 26 to May 8, at Théâtre La Licorne in Montreal.