The TD Scholarship for Community Leadership award, up to $70,000 for tuition and living expenses for post-secondary education, is given out each year to 20 students across the country, in an effort to recognize them for making a difference in their communities and help them attain their educational goals.
For 17-year-old Harris, the journey leading up to the award started after Black History Month in 2017.
"I was approached by one of the teachers at my school who said they wanted to hear what (students) have to say about … racial prejudice at the school," she said.
Harris, currently a dance major at the art school, explained that even though she hadn't faced racism from students herself, she knew of other black students who couldn't say the same.
Through word of mouth Harris called for a meeting asking black students to share their experiences at school. Within a few days, she stood in front of a classroom of 30 students, ready to share their stories.
"It was worse than I thought it was," she said. "For example, a lot of black girls walk around with braids and (they) were getting their hair pulled."
Following the meeting Harris felt like something needed to be done, and the first Black Students Association at Cawthra Park Secondary School was born.
"The main goal of the association was to make sure students felt like they were belonging," Harris said. "It's important to create a space where everybody — black students or any other cultures — feel like they belong."
Since it's official launch in Septembr 2017, Harris says a Peel board member and the school's superintendent have attended their meetings.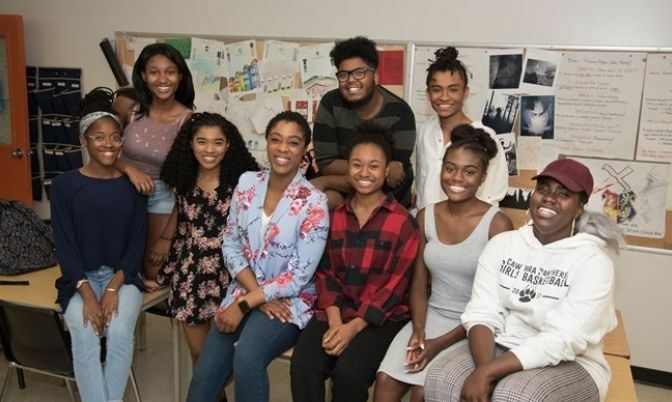 "One time (the superintendent) wanted to hear what plans of actions we had, and we gave him a list of things that we wanted to see happen," she said.
The list included holding racism workshops for teachers and a more diverse curriculum that taught history and art from the perspective of other cultures, other than Europe.
The workshops have taken place since the request, but Harris was told the curriculum would require more time and review, in order to change it.
Along with holding meetings and events, the Black Students Association works to educate and advocate for black students at the school.
"It's important to talk about race — especially my grade — because we are just about to go into the real world. There are a lot of things in the real world that people just don't talk about and race happens to be one of them," Harris said. "Just because we don't talk about it doesn't mean that racism isn't still here … ignoring it doesn't mean it doesn't exist and being colour blind doesn't mean the racism will just disappear, because people are still benefiting off of this system and there are still people that have disadvantages because of a system that was created years ago, and it needs to be talked about."
Harris will be attending McMaster University in the fall for biomedical engineering.
This article was written by Maryam Mirza and originally appeared in mississauga.com.