The Fredericton-born hockey pro, who broke the NHL's colour barrier 60 years ago, had been eligible for induction into the Hockey Hall of Fame since 1962.
But a groundswell of support led by hometown fans had given him reason to believe this would be the year.
On Tuesday, he got the call from Hall of Fame chairman Lanny McDonald and selection committee chairman John Davidson telling him it would happen.
"I had tears in my eyes, half crying and half smiling," O'Ree told CBC News from his home in San Diego.
"It was wonderful news … the only thing I could say is that I'm thrilled and overwhelmed."
In Fredericton, about 50 of his friends and supporters crammed into a tiny restaurant to hear the announcement they felt was long overdue.
Shortly after 4 p.m. Tuesday, the hushed crowd huddled around a mobile phone, listening to a voice listing inductees. The anxious cluster of fans erupted into noisy cheers when the name of the 82-year-old was called.
"This is just a wonderful day for Willie, his family, his friends," said David Sansom, who joined the crowd at the Cabin restaurant. "It's a great day for Fredericton."
O'Ree's hockey career was marked by overcoming adversity.
He became the NHL's first black player 60 years ago when he suited up for the Boston Bruins, and he continued to play professionally despite losing vision in his right eye after being struck with a puck.
His perseverance as a player is revered, but Sansom said O'Ree cemented his legacy as a builder in the sport and in his hometown during the years that followed.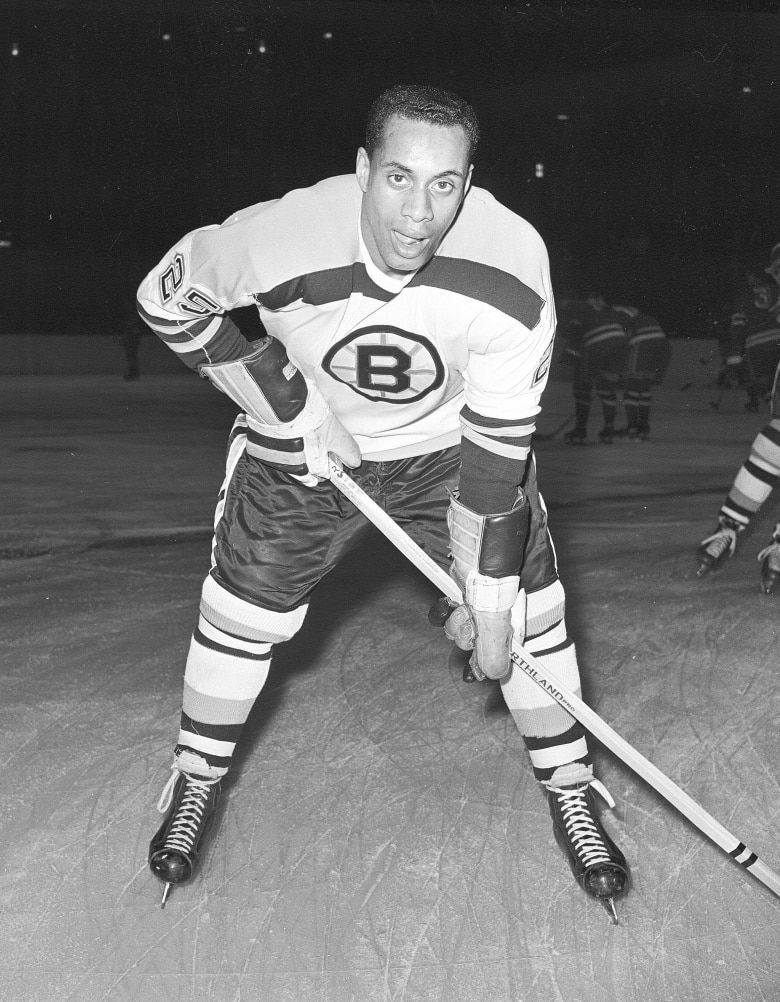 O'Ree has served as the NHL's diversity ambassador for the past two decades.
"He's given tens of thousands of children a dream, and he's living proof that dreams can come true," Sansom said.
O'Ree said he knew his playing career wouldn't be enshrined in the Hall. He only played two games with Boston before being sent to the minors, but he returned to the NHL in the 1960-61 season, scoring four goals with 10 assists in 43 games before being traded. He spent a total of 21 years in pro hockey.
He said it was the Hockey Is For Everyone ambassadorship where he made his mark. He would travel two weeks out of the month, visiting schools, YMCAs, boys and girls clubs and juvenile detention centres to speak with children.
"When that started, I said this is the type of work that I want to be involved in, helping more kids get on the ice and be able to play a sport where they never had the opportunity to play before," he said.
Current NHL commissioner Gary Bettman will also be inducted as a builder in November.
The player inductees include goalie Martin Brodeur, winger Martin St. Louis, longtime Canadian national women's team forward Jayna Hefford and former Soviet Union forward Alexander Yakushev.
Grassroots movement
Sansom and his wife, Brenda, were part of a grassroots movement that pushed for O'Ree's induction. Brenda said more than 300 people joined the cause and supported their nomination.
Their strategy was to illustrate not only his impact on the sport but his community as well.
"He is such a good person," Sansom, who's known O'Ree for about 25 years, said at the gathering at the Cabin restaurant. "He has done so many good things."
The Sansoms were one of O'Ree's first calls after receiving the news.
O'Ree said he was grateful for the campaign on his behalf and the hometown support. He has friends in Fredericton he's known for 70 years, he said, and while he's lived in San Diego for more than 30 years, the New Brunswick capital is "home."
In March, Brenda Sansom said the group had gathered 50 letters of support, including one from Karl Subban, father of Nashville Predators defenceman P.K. Subban.
That list included many other familiar names: Frank McKenna, Mike Eagles, David Alward, Nancy Sinclair and Maureen McKee-Buck. Each person on the list had a story to tell of Willie O'Ree.
McKee-Buck, who cheered alongside the rest of the group at the restaurant Tuesday, remembered the kind of effect he had on kids wherever he went. She recalled a time in the 1960s when O'Ree visited McAdam and spoke to local children at a banquet.
But he didn't stop there.
"He was so respectable to those young people," she said. "He gave them unlimited time. He listened to them, he encouraged them.
"So, right off the bat, he was doing what he was recognized for today. He was a builder in so many ways."