One of those not-to-be-missed events is the AfroChic Cultural Arts Festival, which by all accounts, did not disappoint over its two-day span earlier in July.
This year's headlining talent was the incomparable Erykah Badu, who embodied her DJ Lo Down Loretta Brown alter-ego for day one of the festival—a night of pulsating music and beautiful art in a lush, tropical venue.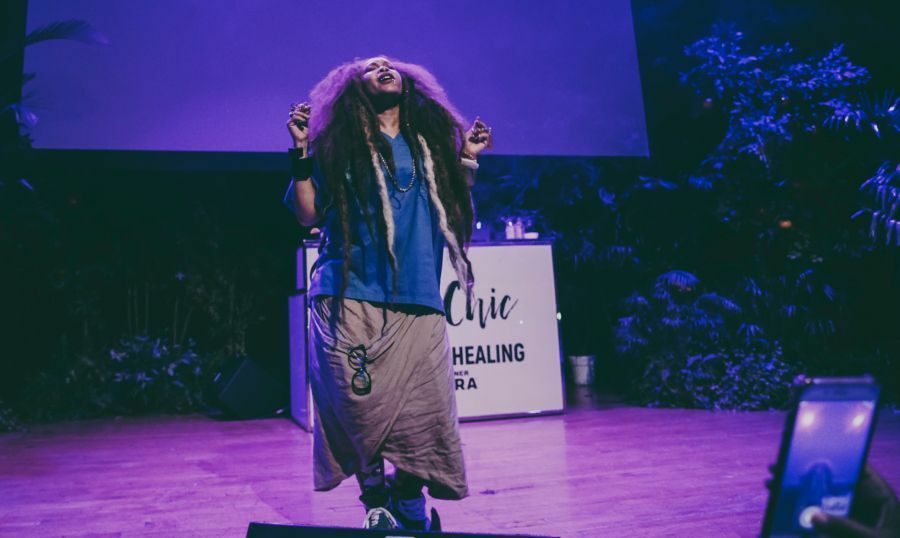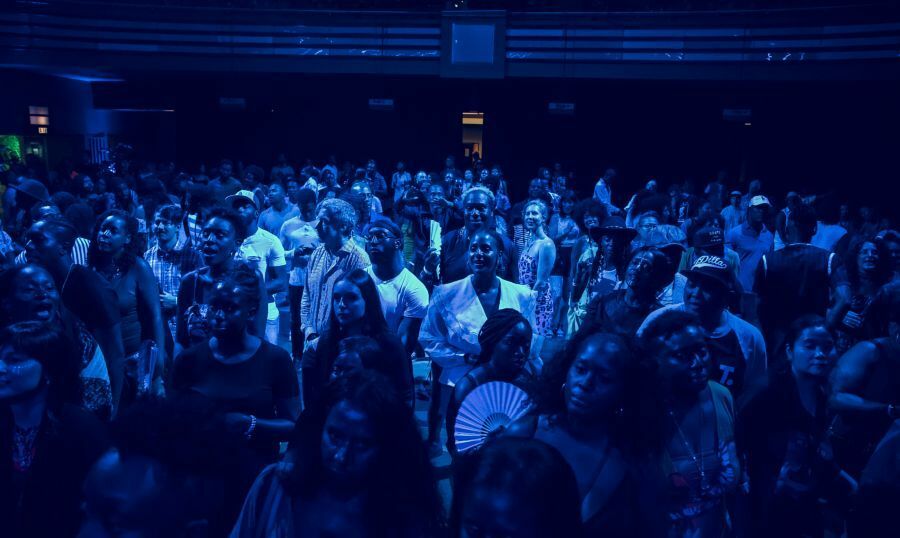 I wasn't in attendance for this first portion of the festival (read more about day one of the festival here), but on day two that followed, we got to share space with Erykah Badu and all the truths and multitudes she encompasses.
The 17th floor of Toronto's Globe and Mail Centre was the perfect space for an intimate and interactive event. Vendors like Shantea Kombucha and Women's Health In Women's Hands lined the inner foyer, with semi-circled rows of chairs pointed towards the windowed wall ahead of us, ready and waiting for us to take our seats. With time to mingle, shop, and enjoy complimentary juices, attendees took their time to enjoy the venue—including the spectacular rooftop patio with breathtaking views of the city.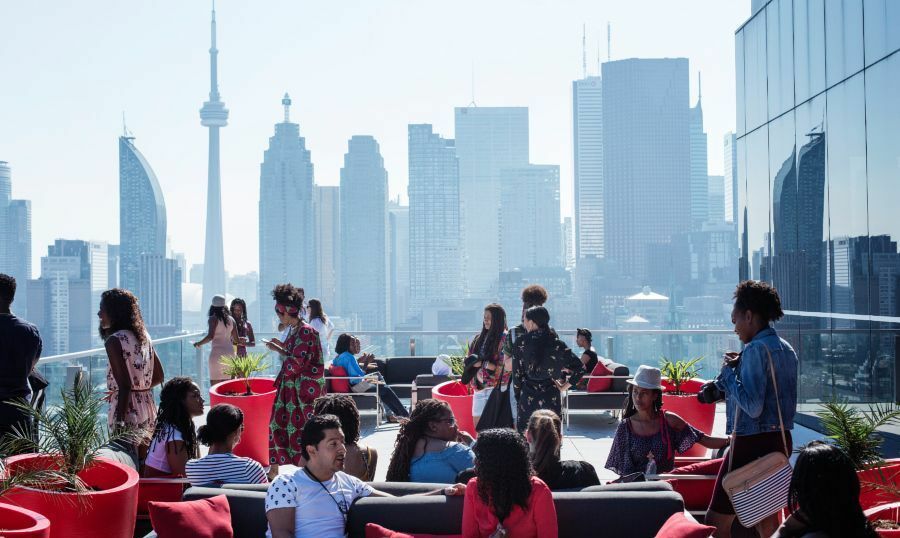 Finally, it was time for us to take our seats. After being led through a rejuvenating mindfulness activity sponsored by Lululemon, we kicked off the program with a warm welcome from the day's host, human rights educator/writer/public speaker Kim Katrin Milan. First up was an enlightening panel on intergenerational wealth, moderated by TD Bank's Naki Osutei and featuring panelists Nicolle Williams, Andrew "Smokey" Robinson, Ricardo Mcrae, Andray Domise and Lauren Simmons, the only Black woman trader on the New York Stock Exchange.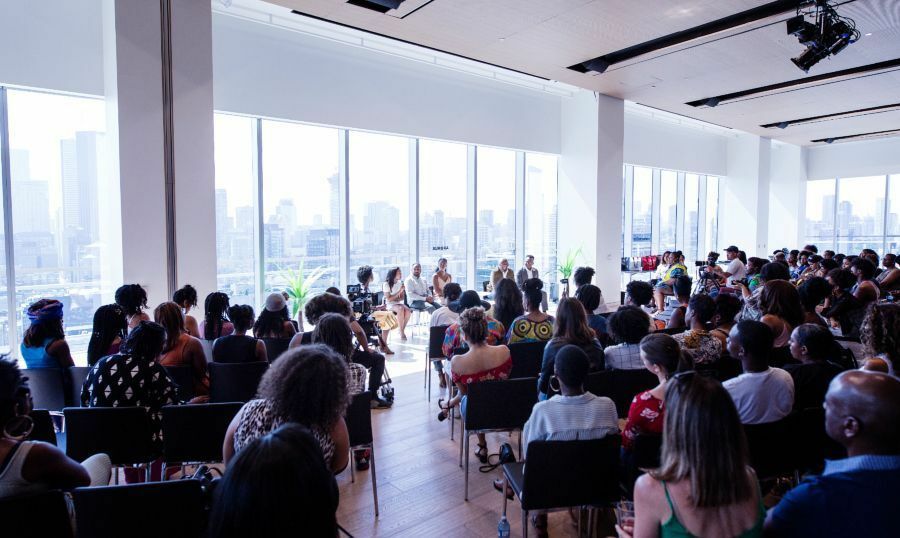 During the panel, we got incredible insights on how to make money work for us. "Start now, with whatever you have, no matter how small" was Ricardo McRae's advice for people looking to invest. Andray Domise encouraged us to take a critical look at the systems that set Black and other marginalized people up for failure. Lauren Simmons spoke to the power of perseverance and networking as she builds her career in the financial district. Andrew Robinson taught us about paper trading—the non-monetary way to practice investments and learn the ropes of the stock exchange without risk. Nicolle Williams reminded us that pride often goeth before the fall when it comes to money—we can't let our fears hold us back from asking important questions and getting the information we need from our financial experts.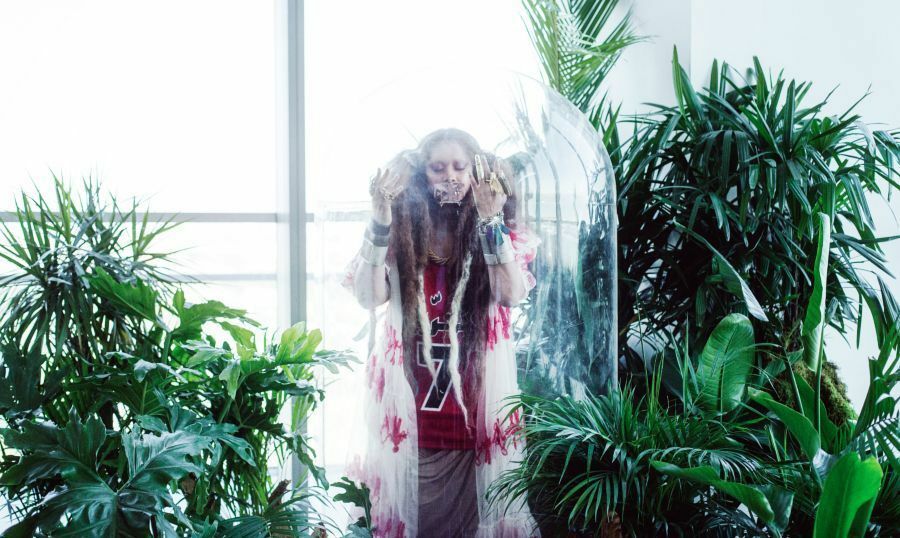 After a brief intermission, it was time to meet the woman of the weekend. With a grand entrance, Erykah Badu entered the room, took the stage with Kim Katrin Milan, and shared her perspectives on life, love, family, and wellness.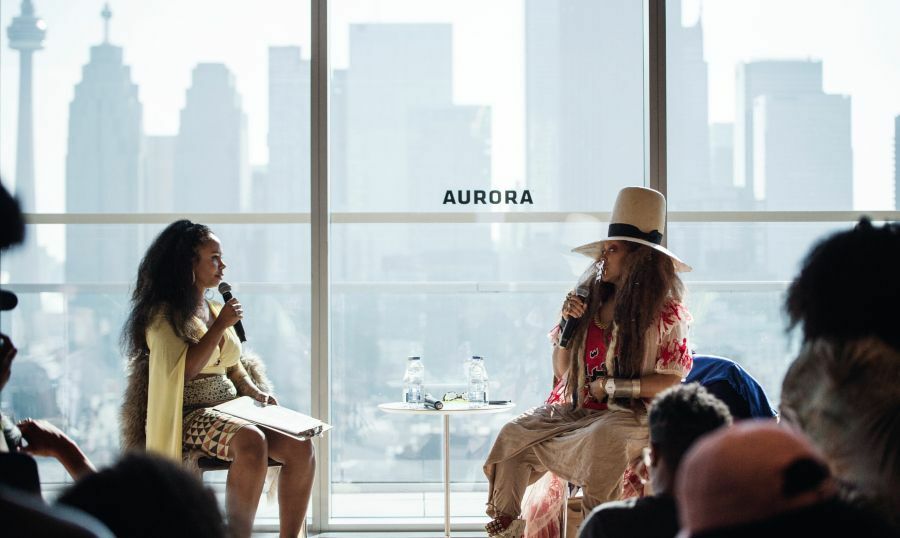 Badu talked about the natural meshing of motherhood and music—her first album dropped in February 1997, and she got pregnant the following month. Her first child was born in November 1997, the same day her sophomore album came out. She talked about drinking cinnamon clove tea with Drake, staying healthy with the care of her "five doctors" (Drs. Sun, Sleep, Nutrition, Spirit, and Creativity), and her work as a doula (including detailing the story of helping to birth her ex-partner's wife's new babies), keeping the entire audience enthralled with every word. The portion wrapped up with an extensive Q&A period where Badu generously answered questions and gave out hugs to the young Black women and men in attendance, and closed with Badu performing a quick reiki energy session before departing.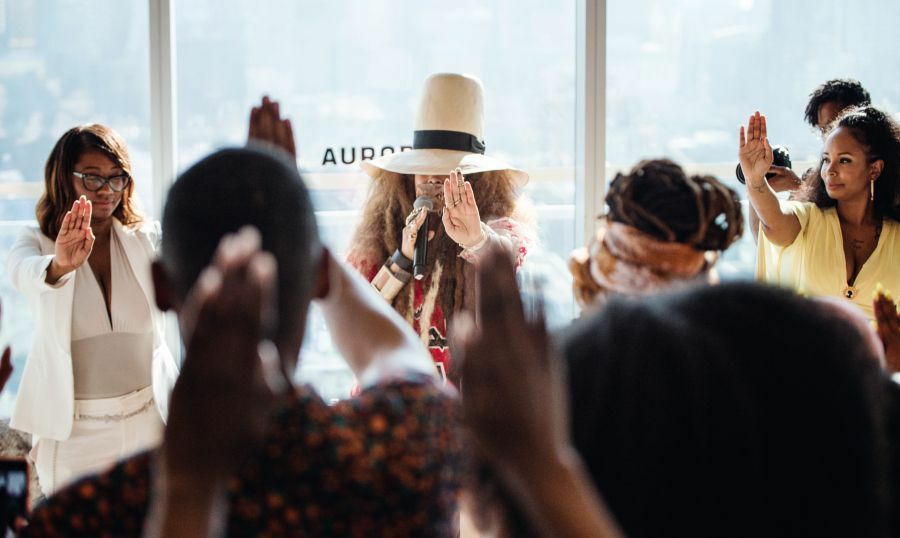 It was the perfect end to a wonderful event—the energy remained positive through the whole day, but Badu ensured that we all kept it that way as we went out into our Sunday evenings. And with that, another summer event was done! The bar has been set high, and so is the anticipation for whatever the AfroChic team offers next.
All photos by Team Imad