Toronto Police say many Toronto Community Housing tenants are receiving calls from people offering to buy groceries for tenants. As conversations progress, the scammers are asking for credit card or banking information. The mayor is asking people to call 311 if they receive this call and urging tenants not to believe these callers and that first responders or Toronto Community Housing will never ask for your credit card or banking information.
The other scam you should be aware of is a text message about the New Emergency Response Benefit. Do not respond to this text message if received on your phone. The government of Canada website is the best place to find reliable information on everything they are doing.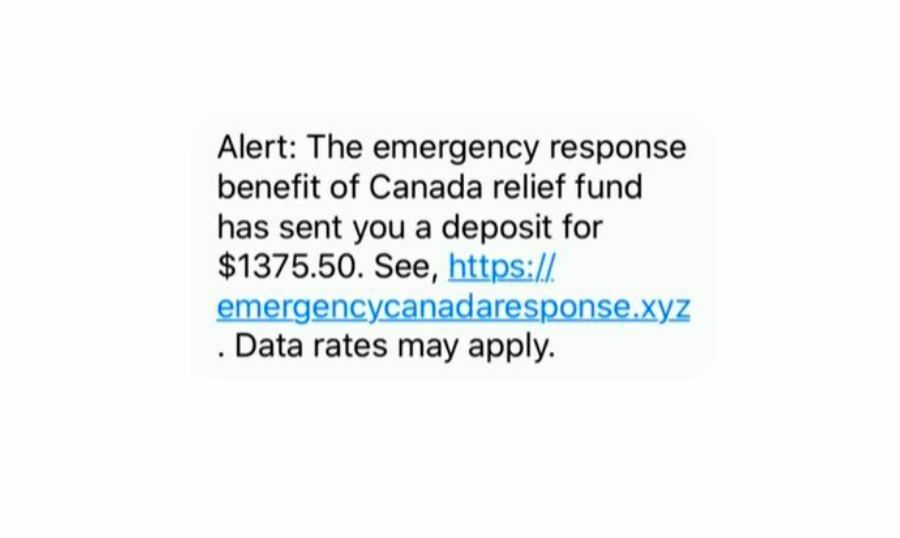 These COVID related scams are happening everywhere. In the United States, a local police department in Washington learned that someone was calling residents informing them that police had a warrant for their arrest because they had allegedly violated their quarantine. They then instructed them to provide their banking information over the phone for the purpose of paying their fines. Of course, no such arrest warrant or fines actually existed.
And Apparently, malicious actors figured they'd capitalize on current social distancing recommendations and self-isolation orders by spreading around fake offers of free Netflix subscriptions.
As reported by tripwire.com, the link did not lead users to the legitimate Netflix domain "netflix.com" Instead, it pointed them to a lookalike site hosted at "netflix-usa[dot]net." That site asked visitors to answer some questions about how they were handling the global pandemic. It then asked them to share the site with 10 of their friends.
The Canadian anti-fraud centre is keeping track of all the scams popping up related to the pandemic. Here's what they've found so far:
Fraudsters are posing as:
Cleaning or heating companies

offering duct cleaning services or air filters to protect from COVID-19

Local and provincial hydro/electrical power companies

threatening to disconnect your power for non-payment

Centers for Disease Control and Prevention or the World Health Organization

offering fake lists for sale of COVID-19 infected people in your neighbourhood

Public Health Agency of Canada

giving false results saying you have been tested positive for COVID-19
tricking you into confirming your health card and credit card numbers for a prescription

Red Cross and other known charities

offering free medical products (e.g. masks) for a donation

Government departments

sending out coronavirus-themed phishing emails
tricking you into opening malicious attachments
tricking you to reveal sensitive personal and financial details

Financial advisors

pressuring people to invest in hot new stocks related to the disease
offering financial aid and/or loans to help you get through the shutdowns

Door-to-door salespeople

selling household decontamination services

Private companies

offering fast COVID-19 tests for sale

Only health care providers can perform the tests
No other tests are genuine or guaranteed to provide accurate results

selling fraudulent products that claim to treat or prevent the disease

Unapproved drugs threaten public health and violate federal laws
The Canadian Bankers Associations has some tips on how to spot a scam:
Email scams are attempts to have you volunteer your personal information to criminals, including your credit card information, or to install malware on your computer or mobile device. There are simple steps you can take to avoid becoming a victim:
Be skeptical. Fraudulent e-mails can look like they come from a real organization. If you have any doubts about an e-mail purporting to contain health information or requesting donations for Canadians affected by COVID-19, don't use the toll-free number, e-mail address or website address provided because they may link you to the fraudsters. Instead, use a phone number, e-mail address or website address that you know is correct. Up-to-date information about COVID-19 can be found on the Public Health Agency of Canada website or on your provincial health agency website.
Be vigilant. Never send personal and/or financial information by e-mail.
Check the "from" address. If you hover your curser over the name, you will see the actual electronic email address. Some phishing attempts use a sender email address that looks legitimate but isn't – a red flag is when email domain doesn't match the organization that the sender says they are from.
Never click on suspicious links or attachments. Phishing emails often include embedded links that look valid, but if you hover over them, you can usually see the real hyperlink. If the hyperlinked address isn't the same as what appears in the email, it's probably a phishing attempt. Does the email include an attachment that you weren't expecting? Never open suspicious attachments.
Protect your devices. As always, make sure that your home computer is protected. Install anti-spam, anti-spyware and anti-virus software and make sure they are always up to date. If you receive a phishing email, there are two things you should do: report it and delete it. Reporting a fraudulent email to the organization being spoofed can help prevent other people from being victimized. To report a fraudulent email, be sure to send the email as an attachment.