How many of us have made plans to eat better, move more or fit into those skinny jeans that we keep in the back of the closet in hopes of one day being able to wear them again? I am certainly not here to offer you a miracle solution, sorry. But I will offer a little bit of help to aid you in your healthy New Year journey. Upping your dark green leafy vegetable intake to your list of things to get done this year will do wonders for your body in a number of ways. Did you know that Kale for example has more iron than beef per calorie? Or that it is an excellent source of vitamins A, C and K which are antioxidant vitamins? Vitamin K rich foods have also been shown to lower the risk of cancer. Vitamin K is also necessary for bodily functions including bone health, blood clotting and antioxidant activity. (Note: If you are taking anticoagulants it would be wise to consult your doctor, too much vitamin K can interfere with your medication.) Here are a few recipes that I love which help me to incorporate dark green leafy vegetables into my diet.
Collard Green Salad with Cashews and Lime
(Recipe from Bonappetit) Makes: 4 servings Time: 15 minutes Tip: Feel free to switch the greens in this recipe to kale! 1/2 a bunch of collard greens, washed with ribs and stems removed, torn or chopped. 1/4 cup of olive oil, cold pressed 2 tbsp of fresh lime juice 1 tsp of fresh ground pepper 1 anchovy fillet packed in oil, drained and finely chopped 3 tbsp of Romano cheese 1 cup of unsalted, roasted cashews, divided In a food processor, process 1/2 cup of cashews, 2 tbsp of the Romano and 3 tbsp of water. Mix into a smooth creamy paste and add more water if necessary. Season with salt and black pepper and set aside. Whisk the anchovy, olive oil, the fresh ground pepper and the remaining Romano cheese in a large bowl. Again, add salt and pepper to season. Chop the remaining cashews and add along with the kale to the large bowl and toss to coat. Gently massage the dressing into the leaves with your fingers to wilt the kale and make it more tender. Spread some of the cashew paste onto each plate and top with the salad. Add some shaved Romano and sprinkle with fresh ground pepper and serve. If you're in the northern hemisphere, chances are it's cold where you are right now so this is an excellent side dish to help to warm you up. You can also use collard greens instead of the Kale here as well.
Kale Mashed Potatoes
Makes 4 servings Time: 10 minutes Tip: Why not try spinach, swiss chard or kale in this recipe? 2 cups of mashed potatoes 1 tbsp of olive oil, cold pressed 2 cups of kale, washed, stems removed, chopped or torn 1/4 cup of green onions, chopped 2 cloves of garlic, minced 1/2 tsp fresh ground pepper In a pan heat the olive oil and gently sauté the garlic and onions for a minute or so, add the kale and continue to sauté until soft. Add the kale to the mashed potatoes (adding milk if necessary) and serve.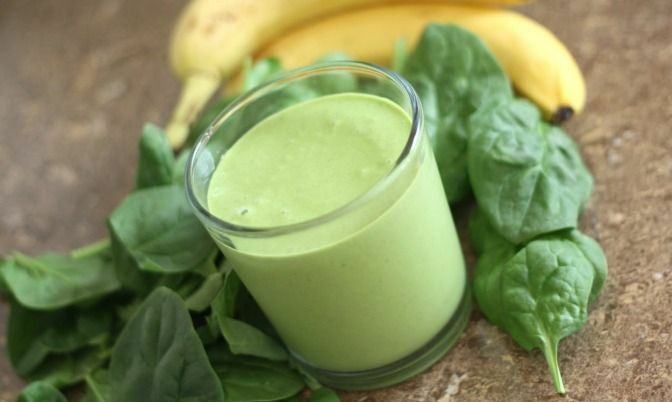 Green smoothie
This is a surprisingly delicious treat that is packed with nutrient dense foods which will do wonders for your insides. Makes 1 smoothie Time: 10 minutes 1 large handful of fresh spinach, washed 1 ripe banana 1/2 a large avocado or a whole small avocado 1 cup of organic almond milk (you can add more or less to reach your desired consistency. You can also use soy milk too. It is best to go organic so you avoid using GMO ingredients.) Put everything into a blender and blitz for a minute or so. Serve immediately and enjoy!