With everything that has transpired since December 2017, it has become clear to us that we—the interim FBC Steering Committee—must ramp up our efforts to make Black Canadian issues a national priority, alongside Diasporic communities across the country.

As a relatively new organization, we felt privileged to be invited by the Michaëlle Jean Foundation to be one among many community partners supporting this national celebration of the International Decade for People of African Descent. Truth be told, the event was much more than a celebration. It was a powerful affirmation of Black Canadian magic and a national call to strategic action.

Involved parties had their eyes set on getting the federal government on board not only for an official acknowledgment of the Decade. We wanted major dollars to be allocated for programming, policy and legislation that would fulfill the priorities laid out in the Programme of Activities for the Implementation of the Decade.

For FBC, the national gathering represented a critical opportunity to connect and consult with Black organizations from across the country. We wanted to learn more about your priorities. And we wanted to get feedback on establishing FBC as a democratically elected coalition of Black community organizations, advancing our diverse interests in tandem.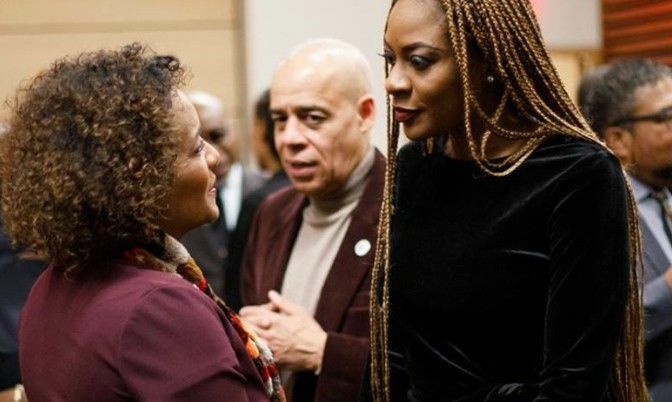 Based on your suggestions, we decided to take the conversation to the streets to allow those unable to attend the event to have their say and begin shaping the coalitions, which will elect the FBC Board of Directors, including its Chair. We are now conducting regional town halls across the country, for Canadians of African descent to shape the action plan emanating from the event.

Already, three very dynamic gatherings have taken place in Ottawa, Halifax and Montreal. We look forward to meeting and talking with many of you, over the next few months, as we visit Edmonton, Vancouver, Hamilton, Winnipeg, Durham, Windsor and Toronto, as well as return to Halifax.
A Backlash among Historic Gains

Much has transpired since 800 Black Canadian leaders and stakeholders convened for the Summit in December 2017.

On the one hand, FBC has been delighted by the concessions our communities have secured from the federal government. On the other, we have watched with alarm as influential members of our society have used what we have achieved to fuel a disturbing backlash of which our communities are becoming the number one target.

But let us begin with the achievements.

After at least three years of solid advocacy by a variety of Black Canadian organizations, the government of Canada officially recognized the International Decade. The announcement represented the first time a sitting Prime Minister had ever admitted the existence of systemic and anti-Black racism In Canada.

Two months later, the Minister of Finance presented the 2018 federal budget, which earmarked $214 million that Black communities can now access to address pressing issues like mental health, systemic barriers in the criminal justice system, women empowerment, homophobia, transphobia and entrepreneurship.

The FBC interim Steering Committee was honoured to work with a variety of Black organizations to secure federal recognition of the International Decade and the budgetary allocations for Black Canadians.

This is a major first step. And the federal government has pledged to continue working with our communities to develop additional measures to overcome the legacy of centuries of discrimination and marginalization.

These gains demonstrate, beyond any reasonable doubt, the power we can wield, when we work, as a community of communities, to drive change at the highest levels of our society.

But as can be expected, many are not impressed. Some influential Canadians are becoming increasingly uneasy—if not overtly hostile—at Black Canadian communities wielding such influence.

Since March 2018, our airwaves and print media have been peppered with articles, op-eds and TV commentary attempting to persuade Canadians that fighting anti-Black racism, with federal dollars, programming, and legislation, is "divisive", "ideological" and, worse yet, "reverse racism."

A well-respected senior journalist has even gone on record to claim that systemic racism is a figment of our imagination and that governmental initiatives tackling racism are dangerous. Alarmingly, several influential Canadians have since come to his defense, after he was called out for appearing to deny the experiences of hundreds of thousands of Black and other racialized Canadians.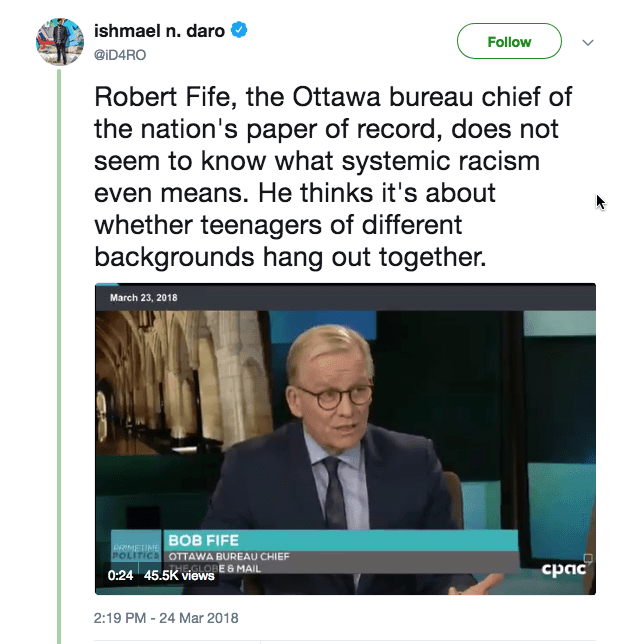 It is noteworthy that none of the "reverse racism" proponents have been able to contend with, let alone acknowledge, the empirical evidence itself on the matter. If they had, they would have been forced to confront an uncomfortable truth: available data reveals that across a variety of social and economic indicators, Canadians of African descent are victimized by anti-Black racism.

Equally disturbing is the way in which this discourse of "reverse racism" is taking hold of the political arena. A troublesome alignment of mainstream political forces with some of the most reactionary segments of our society seems to be crystalizing, as many take aim at anti-racism initiatives and their advocates.

In March, for example, we witnessed the unthinkable. MP Celina Caesar-Chavannes—a Black woman, profiled internationally for her work on mental health, anti-racism and women's rights—making a public apology under duress.

What was her crime? Standing up to a particular brand of bullying, which attacks anyone who rejects the belief that racism will only die when people like Ms. Caesar-Chavannes and Canada's first federal minister of Somali origin "stop seeing colour."

In the end, the MP's peace offering was not only dismissed; it was used as fodder for a political fundraising campaign, which denounced anti-racism work in Canada. Operatives even repackaged the controversy to promote their "alternative" political vision for Canada, in which talking about race is taboo and assigning government resources to fight racism is a "no no."

Not surprisingly, this (not so new) political vision was eagerly amplified by the so-called "Alt-Right" echo chamber. Dozens of netizens—some intimately tied to far-right Canadian and US online platforms—declared a full-blown social media war on the MP and all who dare defend her. Using terms eerily similar to those parroted in mainstream media, they denounced anti-racism advocates as "racists" and cheered on politicians who spoke out against the Whitby MP.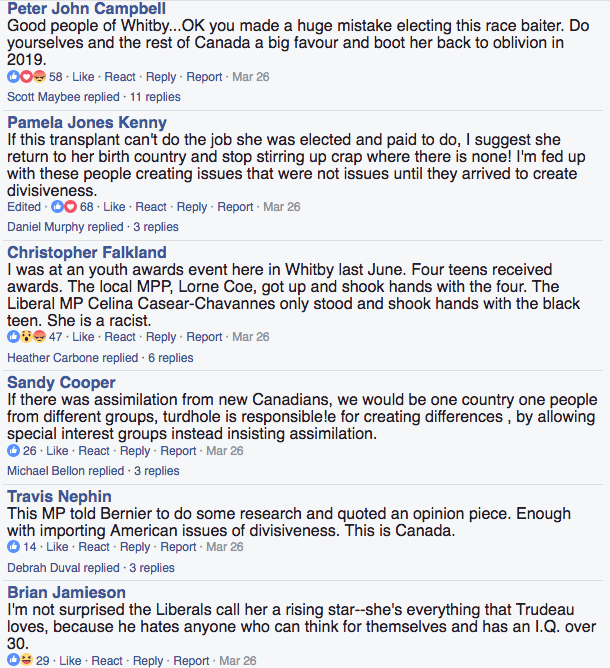 Like hundreds of Canadians across the country, the FBC Steering Committee reacted publically, pointing out that the Canadian Charter of Rights and Freedoms (s. 15) actually mandates the federal government to combat racism (not to speak of the quasi-constitutional Multiculturalism Act).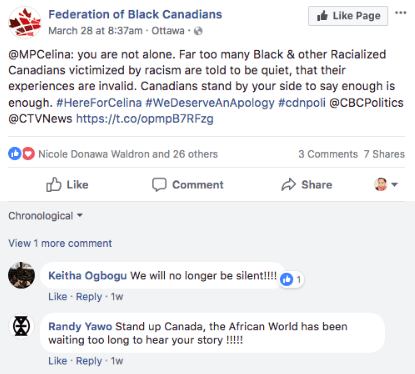 More recently, we have witnessed shameless racial paternalism re-enter the political arena with force. This took place just a few days ago when the leader of Ontario's Progressive Conservative Party boasted that he is the most supportive politician of Black Canadians. To describe the full extent of his support, he described how he has brought 80 presumably low-income Black youth for an annual bacchanal at his cottage in rural Ontario.

That the leader of a political party, with a serious chance of holding office, feels comfortable equating Black community support to teenagers jaunting around on jet skis, is extremely worrisome. It is yet another example of the serious work that needs to be done to combat the proliferation of anti-Black racism, in all spheres of our society.
We
stand alongside Black Canadians
across the country in demanding a retraction and a sincere apology.
To that end, we will continue working with you to demand that all political parties commit to concrete, evidence-based measures to combat anti-Black racism in Canada, at all levels of our society. We are counting on your help, as we engage directly with the leaders of federal parties, over the next few months, on the matter. This will involve seeking multiparty commitments to endorse the International Decade and pledge specific measures to eliminate anti-Black racism.
Our efforts, in this area, will not detract from our commitment to collaborating with organizations across the country in taking on Canadian immigration law and policy, particularly around the case of
Abdoul Abdi
in Nova Scotia
.
Feedback from Black communities in various parts of Canada has shown how Canadian immigration law continues to disproportionately and adversely affect people of African descent. We have
collected recommendations
from subject matter experts, community organizations and others on the issue, since the December Summit.
Alongside established Black community groups across the country, FBC will meet with federal political party leaders to demand the government halt the deportation of Mr. Abdi and reform immigration and national security policy and law.
Getting Governance Right
The growing assault on anti-Black racism initiatives has underscored the urgency of FBC moving forward on an issue of concern to many of you: governance.
The great interest FBC has sparked and the rich discussion it has incited has been invaluable. Through persistent and pointed questions, many of you have helped us fine-tune our messaging, articulate a clearer picture of our objectives and engage in a more robust dialogue with the community about establishing the FBC Board of Directors.
As outlined in the FAQ section of our website and above, we are crisscrossing the country to consult with Black communities and their organizations, on the matter. During the regional town halls, FBC invites you to share your ideas on setting-up the FBC regional coalitions and empowering the community to elect the FBC Board of Directors, including its Chair.
We have been delighted with the feedback to date, and hope that you will sign up to our social media accounts to participate in the regional gatherings.
Moving Forward Together
Ultimately, the FBC Interim Steering Committee is persuaded that Black Canadians are entering one of the most perilous periods in decades. We therefore believe that more than ever before, our ability to collaborate as a community of communities is paramount.
A loose network of slick online operatives trying to steamroll over any Canadian talk of anti-Black racism (and any other form of oppression for that matter) is just beginning to flex its muscles. The situation in Edmonton, where calls for the lynching of Black youth are gaining steam, is only the tip of the iceberg. There is clearly more to come, and we need to be ready.
That is why the alarming alignment of influential public figures with online Alt-Right trolls provides indisputable proof that we must put aside our differences and trace a collaborative path forward.
This includes establishing safe, non-judgemental spaces of healing, where anyone in our community can play a critical role in igniting change.
Black women, men, non-binary folk, youth, the Black working class, Black LGBTQ+, Afro-Latinx, Black Muslims, and Blacks with disabilities, are obvious candidates. As are formal activists, independent artists, small business owners, faith leaders, members of the labour movement, and students. But we must not dismiss the significant contribution employees of various public institutions can make too.
At FBC, we draw inspiration from the long tradition of Black women, men, and non-binary folk, of all ages and walks of life, who have resisted oppression and defied the odds to carve out spaces of opportunity and healing, within the carnage of colonialism, slavery, segregation and other forms of state-sanctioned violence.
So as more and more reactionary forces rear their ugly heads, the FBC interim Steering Committee feels privileged to add our hands and voices to the chorus of organizations, individuals and groups, fearlessly striving to in favour of our communities.
We look forward to continuing engaging with you while offering collaborative space for us all to safeguard our achievements and push hard for transformative change.
Sincerely,
The Steering Committee
Federation of Black Canadians