It is arguable that the modern day hipster is almost single-handedly responsible for the biggest turn out of creative business startups in cities like London, Paris, and New York in maybe the last decade. Their willingness to carve out niches for themselves in long since neglected, hollowed out low rent buildings in low-income neighbourhoods, is a boon to local economies. Their DIY tenacity and co-operative community building are laudable. Their stories are so similar and well known, they have become legendary for both the best and worst of reasons. It would, in fact, be naive, or even ignorant, to assume it would be different in my home city of Toronto.
Listen to the audio version of this article:
Like the colonizers of yore, they trickle in slowly at first, learning the lay of the land and observing the ways of the natives. Then they come in swarms, practically oblivious to the people who lived there before them. People living there not for any irony, but because the rents were cheap, and economic circumstances gave them few other options. They set up 'dive bars' (that aren't really dives) and diners with graffiti covered park benches, calling it "communal dining". Then come the start-ups, wanting to attract a young tech savvy base of employees. They open up their businesses on this block in order to be in close proximity to the hip new bars, cafes, and restaurants. The developers, smelling fresh gentrified blood, build million dollar townhomes and lofts for the new professional class of people who want to work and play on this block. Teams of bike cops patrol it's nooks and crannies, looking for any of the negative straggler elements that once defined the area. Then, the kiss of death. A Starbucks. Yoga and pilates classes are not far behind.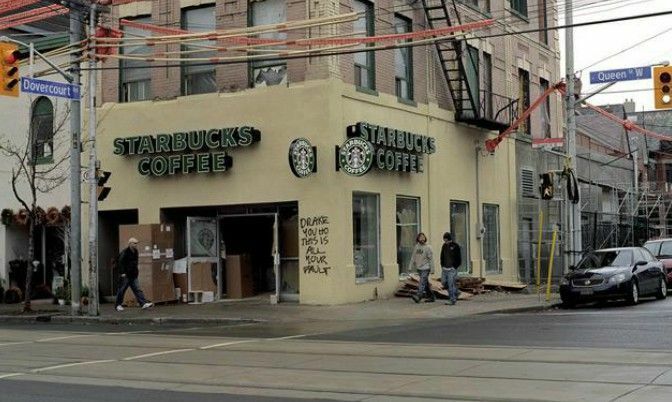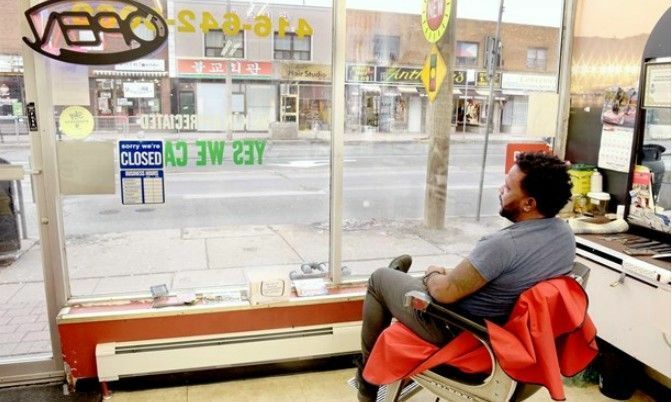 And within all this lies my dirty little secret. Despite all the exhaustive diatribes against the Flat White Economy or the Spike Lee level screaming matches over the ongoing argument against gentrification, I actually don't mind a little gentrification. I just wish Black people would practice it a bit more in their own communities.
Much has been made about the fortunes of Little Jamaica on Eglinton West, and the potential loss of the cultural flavour that defines it to the forces of gentrification due to the construction of the Eglinton Crosstown LRT. Sadly, I think the fear is valid. Why would it not be? You could be blind and still feel the writing on the wall like braille. Behold, a neighbourhood immediately reachable from the highway for motorists, a subway located within walking distance for transit takers, and a soon to be completed LRT system to take people in the community rapidly through the neighbourhood with ease. If you are a developer, how could you not be licking your lips at the prospect of buying up a building housing a barbershop or Black hair care product store to build million dollar midtown lofts? If you were a megalithic grocery chain, why would you not want to buy up a parcel of this strip to service the neo-yuppies already buying up "cheaper" Toronto real estate in hopes of the value going up once the Crosstown is completed? Who will save the neighbourhood from this? A largely un-Jamaican city council? A mayor who doesn't believe in White privilege and is on record defending Black face?
No. As usual, Black Jesus is not coming to save us. As usual, we are the saviours we are looking for. What if Tanesha and two of her girlfriends opened up that dive bar in the dingy basement of a Reggae vinyl shop with a dingy basement dance floor? In exchange for operating their weekly shindig, they could kick back some money to the owner every month to help with the cost of keeping the shop open. What if her partner Desmond plugged some old beat up speakers into his ipad playlist banging out music (maybe even music on loan from the store) every Friday and Saturday night?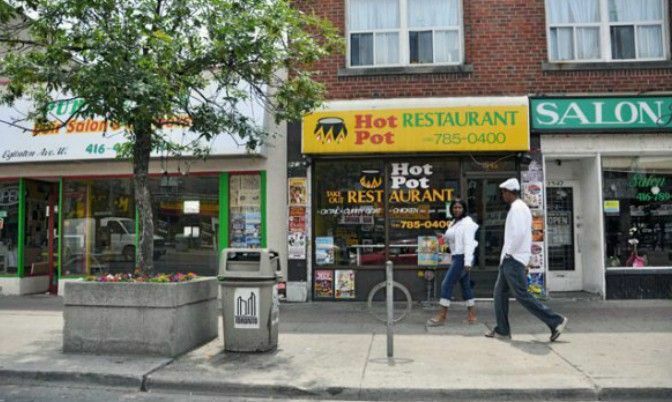 What if the multi-hued cool kids went across the street to eat jerk chicken and pork from the grill of a legitimate West Indian restaurateur keeping the kitchen open a little later these nights? What if we collaborated with each other and pooled our money to approach the older generation of owners already on the strip, and what if they were open minded enough to see the value in allowing the next generation to reimagine what can be built and done in their storefronts, basements, rooftops and backyards? What if we took over cheap office space and planted our flags?
We will open a cafe with rich coffee grounds sourced from Africa, the Caribbean and Latin-Caribbean. We will call it Black Magic and play Sade, Solange and Anita Baker all day. Can't you smell the mouthwatering scent of freshly baked bread at the bakery across the street called Brown Sugar, supplying the cafe with flaky pastries and little buns for cute breakfast sandwiches? We will congregate over libations at a bar called Jook Joint that celebrates Black music and culture among the people that created it, and who will wear it with pride instead of irony or bastardization. You can hold my hand through Black galleries owned by Black curators who will show artwork by Black Canadian artists, and rich people of all shades will come to see and purchase this work because, when have they not? When has Black culture, Black music, Black fashion and food not been in demand?
We will explore the blocko party called "JamRock" every summer, sponsored by Black Canadian creatives, entrepreneurs and the city, building a new economic infrastructure for the community that politicians won't be able to ignore. Kardinal and Jully Black will perform "Ol Time Killin" for old time sake to open the festivities every year. We will not be recolonized, but revitalized by the ingenuity and works of our own Black hands.
These Black and Brown hands will build urban farms on barbershop rooftops, and butcher shops in shuttered storefronts. Black Canadian chefs will plate this bounty gorgeously on to porcelain plates next to calligraphed menus at pop-up dinners in back alleys. They will be the mirrored hope of migrant workers with filthy and calloused Black and Brown hands picking White farmers crops 8 months a year for 20 years, toiling through 12 hour days without ever being awarded citizenship. Let us renew our own Ossington, King West, or Dundas West strip. We need you to go out there and conquer corners. We need "Flat Black Economies."
Eglinton West needs new blood, not new people.
Byron Armstrong is a freelance writer and lifelong Torontonian, raised in Jane-Finch and living downtown.