I've had to regurgitate the bile rising in my throat after throwing up in my mouth, just a little bit. What single thought is the fundamental cause of my involuntary gastric responses?
Elon Musk. Arbiter of free speech.
This isn't going to be the usual rant about any dubious links to apartheid South Africa or even a screed decrying the application of the word "genius" to the man's name. Instead, I will accept that neither Elon Musk's father owning shares in an emerald mine—a mine that pillaged African wealth in the tradition of every colonizer before him—contributed at all to Elon's success. Elon's relationship with his father is strained and likely contributed to him leaving home in his teens before becoming the multi-billionaire founder we all know today. I know this because Musk himself confirmed as much in 2019. How? In a tweet, of course.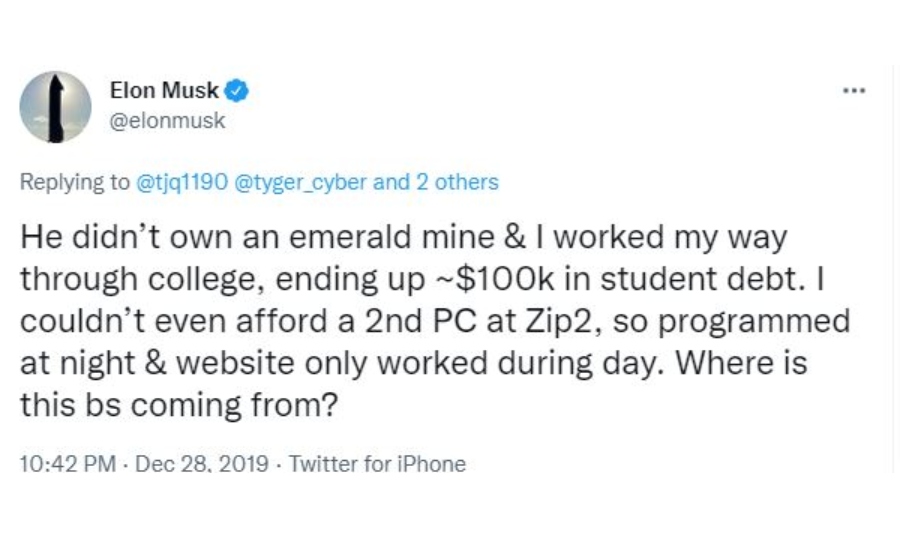 I can also accept that Musk isn't just a figurehead of his own success. He is, in large part, responsible for the incredible technological feats and financial achievements of Tesla and SpaceX. In a NY Times interview with Maureen Dowd, Elon Musk's biographer, Ashlee Vance, has said of Musk's detractors, "The people who love him and the people who hate him are equally irrational." To that comment, I say, "fair." I don't want to be the person making an irrational argument about somebody's character. Especially someone I don't personally know.
However, in the same article, when questioned about his tweeting "take the red pill" and being embraced by the MAGA contingent of the world, Musk's response is telling.
"You know, I'm not sure that everything is so political. To be totally frank, you may be interpreting this through a lens where you think everything is totally political because you're political. But I think the general public does not see everything through a political lens. I would say the amount of thought that the general public puts into politics is quite low. They're mostly thinking about their day and their direct relationships and their work."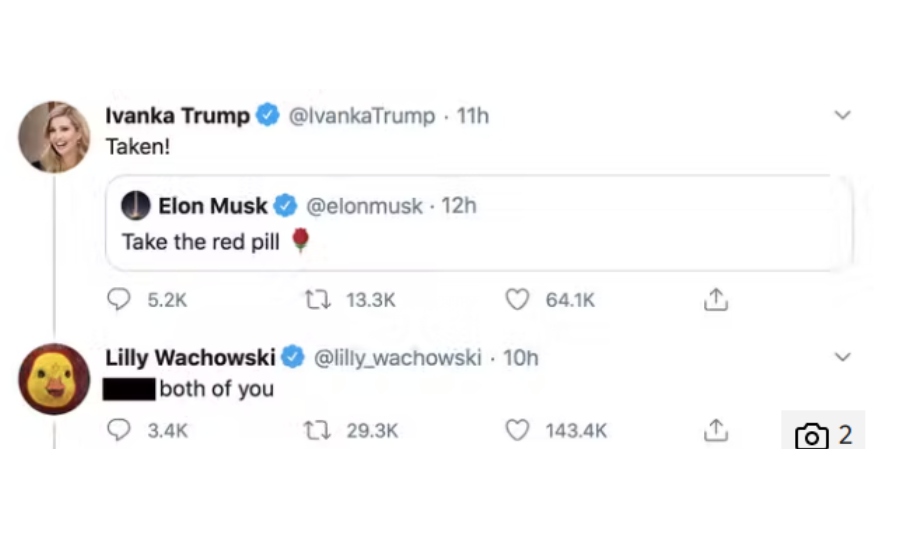 Lily Wachowski, co-creator of "The Matrix" films, responds ("F*#k both of you") to Elon Musk's tweet referencing "the red pill" after it was retweeted by Ivanka Trump.
So, this is now the decision-maker for acceptable content on Twitter? A man who believes the "general public" doesn't see the world through a political lens? What general public is he speaking of anyway? When you consider some very recent accusations about the workplace culture at Tesla, the question of politics and whose freedom of speech Musk believes matters becomes apparent.
Ask Black Tesla employees who faced demeaning work conditions, racial slurs, and threats to their livelihood. The same workers who challenged the freedom of white co-workers to hurl racial epithets at them unchecked, what they think about "their direct relationships and their work." Would they agree with Musk's assessment of what the general public sees through a political lens? For his part, although Musk warned against "being a huge jerk" to members of "a historically less represented group," he also added, "if someone is a jerk to you, but sincerely apologizes, it is important to be thick-skinned and accept that apology." I don't think it would be unfair to assume this is the same level of free speech Musk plans to bring to Twitter. Imagine a virtual world where an army of racists can willfully attack, say, a Black essayist for writing an opinion piece that irks them. I can now hear the cornucopia of creative takes on the "N" word cluttering my inbox as I write. But as long as the following tweet is an apology, then all should be forgiven by the target of the attacks, according to Musk. If Twitter becomes a private entity, no state agencies, like California's Department of Fair Employment and Housing, which launched their own lawsuit for racial discrimination and harassment against Tesla this year, can have the same say with Twitter.
Black Twitter, be damned. So decrees Elon, overlord of free speech.
How about the women suing Tesla who allege "nightmarish conditions of rampant sexual harassment" in the same year Musk was named Time Magazine's Person of The Year? Does their free speech matter? Apparently not, based on the termination of AJ Vandermeyden, a female engineer who dared speak out against the workplace harassment she experienced at Tesla. But why? Why would a company owned by the stalwart advocate of free speech, Elon Musk, terminate a female employee for pointing out its faults and mistreatment of women? Here's why, according to a Tesla spokesperson.
"Despite repeatedly receiving special treatment at the expense of others, Ms Vandermeyden nonetheless chose to pursue a miscarriage of justice by suing Tesla and falsely attacking our company in the press. After we carefully considered the facts on multiple occasions and were absolutely convinced that Ms Vandermeyden's claims were illegitimate, we had no choice but to end her employment at Tesla."
Is this your king, Twitterverse?
Before you go into the "but Elon's not responsible for what happens at his company" shtick, remember I started this piece by saying I respect the idea that Elon is the genius responsible for Tesla. His fanboys would be first to say that Musk IS Tesla and everything it represents. If that's the case, why shouldn't he bear responsibility for what happens in his company too? You can't say that he is the one great mind responsible for everything golden that his companies produce, then say he has no responsibility for any of their flaws.
Or can you?
A picture is becoming clear, to me at least, that freedom of speech isn't so free for everybody. In Elon Musk's world of rich white guy privilege, the terms are ever-shifting in his favour. He can buy a social media platform and control the narrative by claiming free speech for all. He can reign over a kingdom where disgusting accounts of racial discrimination are met with ridiculous platitudes about the need to be thicker skinned. He can be Time Magazine's Man of the Year and fire a female employee for using her voice to call out vile acts of harassment to silence the others behind hers. He can manipulate stock prices in his favour with a single tweet, pay a 40 million dollar fine without batting an eye, and never spend a single night in jail.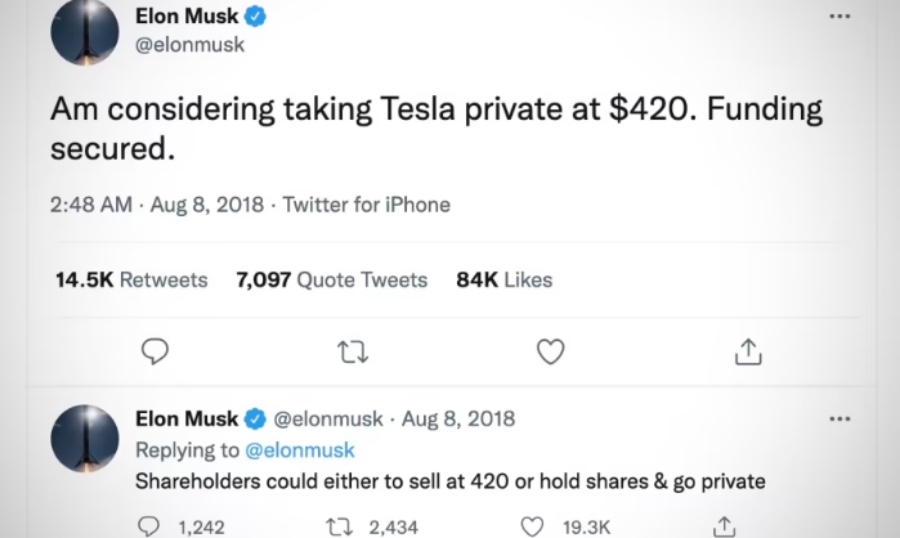 The 40 million dollar tweet: In 2018, Musk falsely claimed in this tweet that he was taking Tesla private at $420 per share, which sent stock prices surging more than 10 percent. The SEC fined him 40 million dollars.
Elon Musk wants the world to believe he is a champion of free speech for all, but his track record says otherwise. It's just another version of the same one-sided game of monopoly we've all been playing with billionaires for as long as capitalism has allowed them to exist. A game where one guy holds all the money and lords over all the property on the board. Rupert Murdock owns FOX News. Jeff Bezos owns The Washington Post. Mark Zuckerburg, Meta and Instagram. Now, Elon Musk owns Twitter.
So keep telling yourself that buying a media platform for a problematic multibillionaire is somehow game-changing. It's not. It's just a way for another rich white guy to game the system by controlling the narrative.
Really, what's so game-changing about that?