Tamla is the Director of Roots and Branches Children's Dance Program and the Artistic Director of the Caribbean Dance Theatre. She is also the Manager of Children's Programs for the Kaleidoscope Intercultural Arts program for Scarborough Arts, and creates cultural performing arts programs for two large child welfare agencies in Ontario. This year, the busy mother of one was recognized for her exceptional work as she was featured on the 2015 Legacy poster, alongside other successful and prominent Black Canadians who have become driven leaders in our country.
ByBlacks had the opportunity to sit down with Tamla to discuss her journey, what being featured on the Legacy poster meant to her, as well as the future.
You've been an active member of the Toronto dance community for over 20 years, how and when did you realize that dancing was your true passion?
I started dancing as a child. I was originally born in Edmonton, Alberta, and we moved to Ontario when I was 10. When we got here – my parents are of Trinidadian background—my mom put me in Saturday dance class, because she knew I loved dance. So, by chance my love of dance was already established.
Did you know at that age that that's what you wanted to do for the rest of your life?
No! I just knew that I loved it; I enjoyed how it made me feel. And when we moved to Ontario, the cultural part of dance really excited me. I loved the idea that we had dances that as Black people were unique to us, that were unique to our Caribbean experience. Because there's an American Black dance experience, and there's a Caribbean Black dance experience, and I really resonated with that. I was very passionate about my cultural dance.
What is the most fulfilling aspect of working in the dance and arts industry, specifically in the African-Caribbean niche?
I would say building peoples confidence, and making people feel good about who we are as Black people. We don't always have many firming, positive things about us, about how we move and how we dance. So it's about the pride that I can pass on to people about who we are, that has got to be the most fulfilling thing. Whether it be children or adults. Sometimes we don't know about ourselves, and having the opportunity to teach people who we are is exciting.
This year you have been featured on the 2015 Legacy poster for African-Canadians, when and how did you first find out?
Robert Small and I have been talking about the poster for quite some time, his daughters were in my dance program for quite some time. So, I've known Robert for many years, we're in the same community. So he approached me with it a few months ago.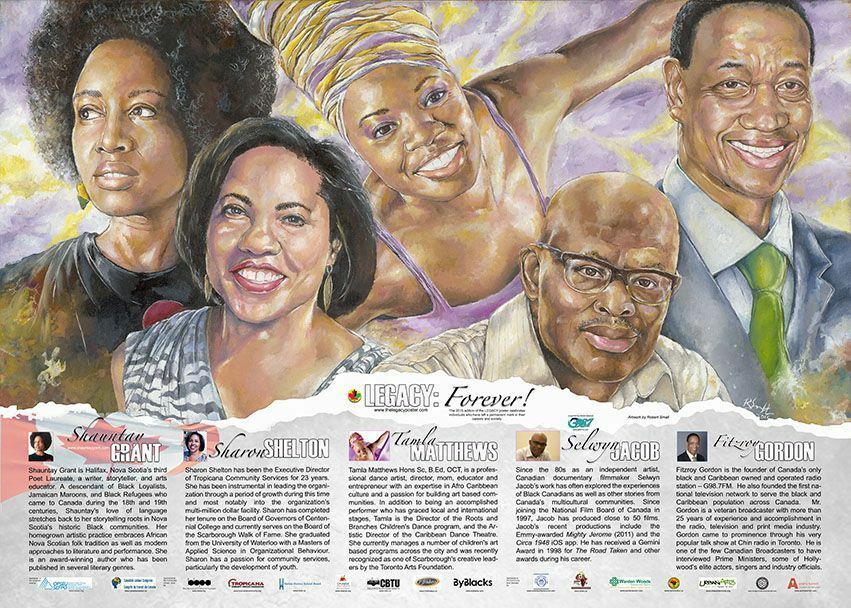 How does it feel to be featured on the poster alongside other prominent Black Canadians? What does this truly mean to you?
I haven't had a lot of awards in my career, so any opportunity where I feel like a wider community appreciates what I've dedicated my life to is really fulfilling. It feels like okay; the work is not for nothing. It's a really good opportunity to get a pat on the head and people are noticing what I'm doing. To be in distinguished company is even better. I mean, these are people that I look up to. The people on the poster, and even the people who have been featured in the past are all people who I'm awed by. So to be in that company is humbling, and I'm really honored that Robert thinks that highly of me that he would want to do that. I'm really touched that he wanted to recognize my work in that way. Working in the sector of arts, you know there aren't too many opportunities that people can celebrate. So, it's like "okay, I have a daughter." And if I die tomorrow, I would like her to have some pride and be like, "you know, my mom spent her life doing this kind of work, and the wider community appreciated that. I want her to know that if you work hard, it may come 20 years later [laugh] but people will recognize you.
What is some advice you'd like to give to young, up and coming Black dancers in Canada looking to leave a legacy with their art?
Do you! Don't be afraid to do something that no one else is doing, don't be afraid to be alone with your ideas, and don't give up!
Where do you see the legacy of your work in the next 10 years?
I see it in a school, an arts school. I'm very passionate, as an educator, in the power of arts, and the power to build, motivate and teach people. So, 10 years from now I want to have a school, and an arts based initiative that I'm running that marries culture, education, arts and entrepreneurship.
To learn more about the Legacy poster and to purchase, please visit www.thelegacyposter.com. For more information about Tamla Matthews and her work, you can check out her personal website at www.tamlamatthews.com.