HOLR Magazine publisher, Neil Shelton is a successful businessman with years of experience under his belt, and one of the driving forces behind the publication. He recently sat down with ByBlacks.com to talk inspiration, the business of magazine publishing and what the future holds for HOLR.
What inspired you and your team to create HOLR Magazine?
I guess to go back a few years; I had worked at Sway Magazine. And when I joined the team at Sway, my goal was to take the brand of the magazine higher. I loved that it represented the Black community, and I saw it doing much more than it actually did. Hence, when there was no more Sway, a door opened for HOLR.
Who would you describe as HOLR's ideal reader?
Well, I think that traditional publishing houses kind of have a certain mantra that they work with. You know, they're going after a particular audience of a certain age group, and it's very specified as to who their audience is, who they're trying to capture. And we're specific too; we definitely want to reach the Black audience. But at the same time, we don't want to be an exclusively Black magazine.
When did you know it was the right time to launch the magazine? And how did you find HOLR's niche in the Canadian market?
Before I got involved in Sway Magazine, I sort of knew what I wanted to do in terms of how I wanted Sway to look. I wanted it to look like HOLR, but of course, Sway was owned by the Toronto Star. So they had their own mandate of how they wanted to go about doing things. Even before HOLR became what it is today, I kind of always had it in my mind. Fortunate for us, we looked at who else is doing what we want to do in the market. We wanted to see if there was a need for this product. We knew the desire was there because of Sway Magazine. Sway kind of blazed the trail for us and made us realize that there was a real need for a magazine like this.
How did it feel when you saw the first print issue?
It was somewhat anti-climatic. And I say that just because, as a businessperson, I'm always thinking ahead. For me, I got an opportunity to go through the process to know the content of the magazine from cover to cover prior to holding onto that first copy of print. By the time I had that first copy of print, we were already working on the next edition. It was great, don't get me wrong, but I'm always thinking ahead. It was more of a case of, okay, it happened, now how do we make it better?
How do you differentiate between which content will be used for the digital platform and which will be used for the print publication?
That's a good question. Well you know in the print world, the dynamic is changing. And so I think for us in the print media world today, digital is an important aspect of it. But we are trying to build a high-end magazine, and I think in order to build that, you have to be able to hold it and touch it and really appreciate the value of the paper, the images. And I don't think you can get that online. I look at it as... the print is the heart of our business, and the online is the tentacles. But you should look for online HOLR in full by the summer. Because there is always an audience who will enjoy it through print and there is always those who will enjoy it more so through their iPads or tablets.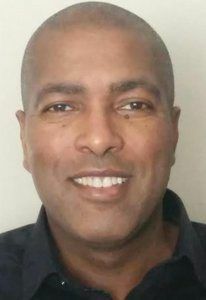 You started your career on the business side of the media industry, how did you make the transition into publishing?
I always had an interest in publishing a magazine. And I thought about "how do I get involved in the industry?" So I had lunch with a great friend of mine who worked in the publishing industry for many, many years. She suggested for me to go work for a publication, and that's how I ended up at the Star Media Group. That's what gave me the insight I needed to be able to publish my own magazine. And I have a pretty strong background in business, so I have a pretty clear understanding of what works, how it works, what doesn't work and how to put a team together to have a successful business. But I knew I needed to learn about the publishing world to be successful. So when I worked at the Star Media Group I used that opportunity to learn.
Do you have a favourite story or topic that HOLR has covered since its launch?
Well, I like them all. I'm going to be honest with you [laugh]. It's like asking a parent which kid you like the most, right? You know, everything that's on HOLR is my favorite. I think I'm HOLR's biggest fan. It would be hard for me to say which I like the most. But one of the things that were important to me when creating HOLR was to represent Black people in a posh way, a sophisticated way. And I think the gentlemen who have created Sören Custom clothing have done that, so that has been one of my favourite stories to cover. I really appreciate what they do.
How do you see HOLR growing within the next 2-3 years?
I think that for us, we're not a large publishing house, and I think that's an advantage for us. Large corporations like those have a certain way that they do things. For us, as a smaller publishing house, we get to do things the way we want to do it. We get to set our own trends. So for me, I think it's important to grow HOLR slowly. In the magazine world, you need to take the time to capture your audience. We're not in a hurry to get to 200,000 readers. We really want to get to know our audience and grow with them. I see in about 3 years, HOLR magazine being the choice magazine for a lot of people who are looking for fresh new content, what's going on in the Black community and other diverse communities. And I think we will appeal to all audiences.
HOLR Magazine is available at Chapters/Indigo locations across Canada. You can also check out their digital content online at www.holrmagazine.com.