It all began while on a flight to Trinidad to visit his uncle. It was a trip he needed to take. While travelling, he was thinking about his wife at home who was nearly 8 months pregnant. "This poem kind of came to me, out of the blue. I never intended to write a poem. It just kind of came to me."
Mauricette wrote it on the plane and when he arrived back in Canada, he started thinking of a publication, and A Name Just For You was born. "But I had never written or published a book," he said. "So it would be new territory for me. But given that I like to try a lot of new things, I thought it would be cool to express myself in written form, this way in the form of a book."
Marking the birth of his son was one of his proudest moments. The book was a way of expressing that. "I want to be able to share this book with other people who are in the midst of having one of the most important times of their lives, the birth of their son or daughter," he said.
The book deals with the search for that perfect name which Mauricette says is very important because your name is what partially defines you. "It is largely how you are identified, for the rest of your life," he says.
"There is power in a name. The key is also for parents to remind and teach their kids the true value and meaning of his or her name."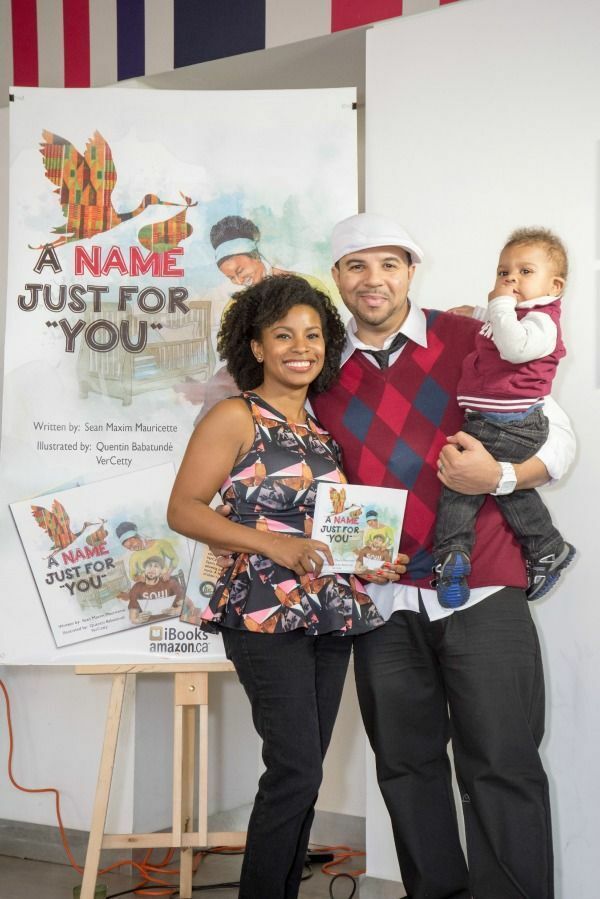 He says for him and his wife, when they did a little research into the name of their son Andwele, they realized it is a Tanzanian name which means God brought me. "We fell in love with the way it sounded but also the meaning on top of that," he said. "We decided that this was it."
He was named after Sean Connery, he says because his mom loved Connery. "If you can name a child after an actor, then we can certainly give him this beautiful name that has African roots and such a beautiful meaning," he says.
"I wanted to contribute something positive to my community. But I also hope that others who are anxiously anticipating the birth of their new son or daughter, that this book becomes a part of their history, a part of their legacy, a part of their growth. And a way for them to explain to their child the importance of the significance of their name."
He feels honoured and blessed when people buy the book and say, "I am going to give to this to my daughter who's pregnant,' or "When my partner and I have a child, I would like to read this book to him or her."
"I feel like quite honoured to be a part of people's journey in that sense, through this publication," he says.
Another message Mauricette wants to convey to readers is that good fathers exist. "In light of a lot of the things happening in media with black men being arrested and shot," he said. "I think it is important for us to see positive images and messages of black men, black fathers in particular."
He says it is important for us to control the message. "What I mean by that is, if you want to wait for other people to put positive stories about black men out there, we might be waiting for quite a while," he said. Mauricette says we live in an age where anyone can publish their own book as he did. They can create their own music, or videos on several different platforms. As a result, getting positive messages out there is easier than it's ever been.
In 2014, he produced a music video for his song Daddy Please Care. It was released on Father's day via his website and YouTube. The song is about becoming a father. It talks about the uncertainty and nervousness but also the joy as well. It is a message to all fathers.
"I did this just to be able to break the stereotype that black positive fathers don't exist," he says. "When you watch the video, especially in the third verse, and you see this collage of black fathers just being loving and crazy about their kids. You know, smiling, hugging and embracing their kids. I think that is so vital, that is so key."
He says it is not until one watches it that one realizes how much of it we don't see. "And that's very important and it's very sad," he said. He points out that if we aren't going to see that sort of imagery on TV or music videos, then we need to take it upon ourselves to create it. And when it is created, it needs to be shared amongst our community.
"We can make it go viral," he said. "And if the media picks up on it, then cool. But if they don't, it doesn't matter. We need to control that."
For more information on Mauricette, A Name Just For You and or Daddy Please Care visit: www.akasubliminal.com.