The sophistication of Ballantyne's premier collection--which is also her college thesis--made it hard to believe before enrolling in Seneca College's Fashion Design program, Ballantyne had no clue how to sew.
Born in St. Vincent and the Grenadines, Ballantyne migrated to Canada in 2011 after studying law in her home country. Her upbringing offered her moments to explore her creative abilities, contributing artistic input on custom garments made by her grandmother. When she discovered she was not passionate about law, her unforgotten love of fashion spurred Ballantyne to earn her Fashion Design Diploma in May 2017 where she also won Seneca College's 2017 "Best In Show" and "Most Media Ready" awards.
"Artifice" is made with Canadian sourced textiles. All of the pieces are currently made to order and play with dynamic motion. They feature 3-dimensional cording detailing on ivory pagoda sleeves, and dramatic nearly-ground-sweeping one shoulder shawls, paired with dark toned bottoms with asymmetrical hems. The colour palette ranges from ivory to charcoal black. Some ivory pieces are detailed with one of a kind prints hand painted by Ballantyne with oil paint and modeling paste. The 3-dimensional cording is used to "reflect the movement of chess pieces across the board," a central theme in Ballantyne's collection.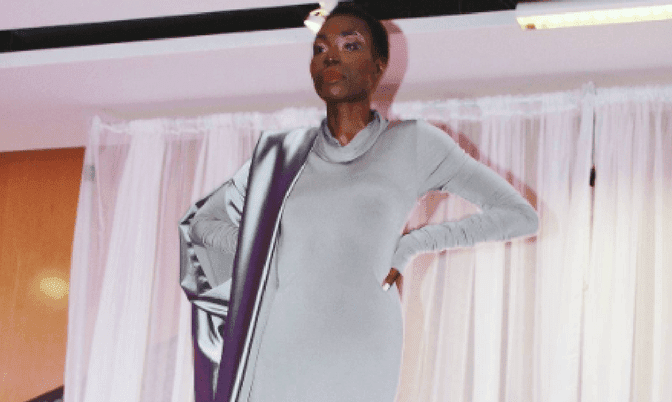 "I wanted it to have meaning and to reflect who I am as a person," says Ballantyne, who after thorough research decided she was enamored by the part of the pawn. Ballantyne explains that the pawn is encouraging and is a metaphor for a vital life lesson--Pawns can transform into any piece once they've navigated across the chessboard successfully. "If you successfully navigate the world, whatever you want is yours," says Ballantyne.

If you have yet to see her designs, catch Ballantyne's upcoming show at the Made Inland event on September 29th where you can interact with designers from Canada and purchase from their collections.