The self-described "gaybie" (pronounced like newbie) was commissioned by Pride Toronto to design one of six alternate covers for their 2021 Pride Guide, in celebration of the 40th-anniversary history of Pride in Toronto. The cartoonist Chuck Jones once said, "Every artist has thousands of bad drawings in them and the only way to get rid of them is to draw them out." If that's the case, Lewis appears to have ridden herself of those "bad drawings" at an early age. From mega-brands like Starbucks and Disney, Lewis is collecting an enviable portfolio of happy clientele.
As a young, Black and Queer creative, she is drawing outside the lines so to speak, by aligning her political principles and personal moral code with most of the projects she has accepted to date. Thinking about the future for BIPOC members of the 2SLGBTQ+ community while never losing sight of those traditionally erased from the history of political activism and advocacy. I reached Jenelle Lewis through our current virtual means of communication, to glean her thoughts on freelance life, working with tiny independents versus colossal giants, using creativity as an outlet for advocacy, and the importance of her Pride Guide cover; one that required her to unearth stories left buried in the past to reimagine a more inclusive world that leaves no one behind.
How long have you been a freelance illustrator and what inspired you to make the leap into that profession?
I've been professionally freelancing since I graduated high school about 5 or 6 years ago. I had my first illustration gig the summer I graduated from high school. I made a logo for an athlete's summer camp which was a lot of fun. I think what inspired my drawings initially were comic books and indie graphic novels. I loved how they were able to tell a story beautifully and in a way that I thought couldn't be conveyed with prose. I remember the feeling of breezing through a bunch of those comics. When I was around 8 years old my mom would buy me stacks of printer paper and I would just doodle and draw stuff. That's why it's sort of hard to answer when I started doing this because it feels like I've always been drawing my whole life. Then there was this smooth transition into professional work.
I think a lot of people might like the idea of living off their creative work but lack a realistic understanding of what that initially looks like. What were (or are) some of the realistic challenges of freelance work that might surprise folks?
I just learned this one a couple of months ago. Being a freelancer is like one long job hunt or application. I know people say that applying for a job is a job unto itself, but being a freelancer means you're always applying for work. Even when you're working on something else, you still have to put yourself out there for the next thing. I realized that I should be submitting to more things because that's how you get your work out there as a freelancer.
How has COVID-19 impacted your work, if at all?
It's impacted it for the better, which is interesting. I think after people found themselves spending a lot of time at home they began to rely on the arts to keep their spirits up, whether it be movies or photography etcetera. I started getting more queries to create work after the pandemic started. So I've been busier than I've ever been before.
You've worked with massive brands like Starbucks and Disney, and smaller independents like Outpost Coffee Roasters and local Toronto band BBQ Pope. What would you say are the benefits of working with either type of client? Where do you feel most comfortable?
Working with bigger brands is insanely validating. To have them look at your portfolio and think, oh we want you, lets me know that I deserve to be here creating stuff. With the smaller stuff like BBQ Pope, it's heartwarming to know they want my art for their EP cover because I love live music so much. It's the space that I occupy when I'm not drawing so I loved being able to occupy it in my art. The coffee shop was very special because they have an initiative every couple of months where they support a charitable organization. They asked me to design pretty labels to draw people in and, even if they don't know it's a charity they're supporting, they still end up supporting that charity. I loved that they had the idea because it's working. We raised a lot of money for those organizations.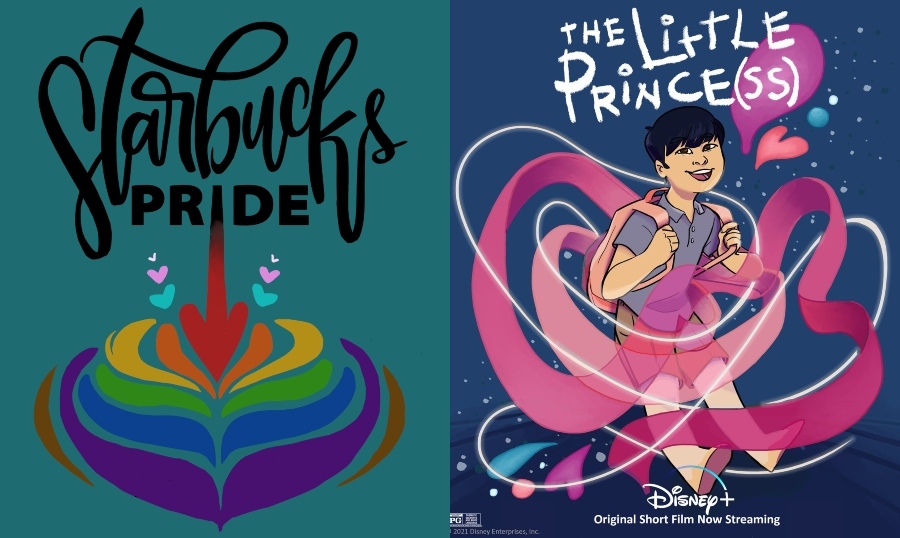 Starbucks Pride campaign (Jenelle Lewis 2019) / Disney+ work for the short film "The Little Princess" (Jenelle Lewis 2021)
I've noticed that a lot of your commissioned work supports social justice or social good. What does it mean for you to be able to make a living and direct your creative work towards things that matter to you?
It just means a lot that I can maybe place a spotlight on or advocate for people who may not get certain opportunities to do it themselves. Even within queer communities, People of Colour and Transfolk have been at the forefront of every movement since the beginning, but their stories have been omitted. So when I do Pride pieces I try to make sure those voices are at the forefront because they keep getting locked out and that's not okay. We're missing the bigger picture when we do that to people. Reinforcing the ideas in the El Rey house rules poster helps community members to feel safe. Everyone deserves a safe space, especially with this idea that you should have to work to earn your place in the world. But I think you should have a place in the world the moment you're born; you shouldn't have to work for it. Having these rules supports the idea that people deserve to exist and not be uncomfortable.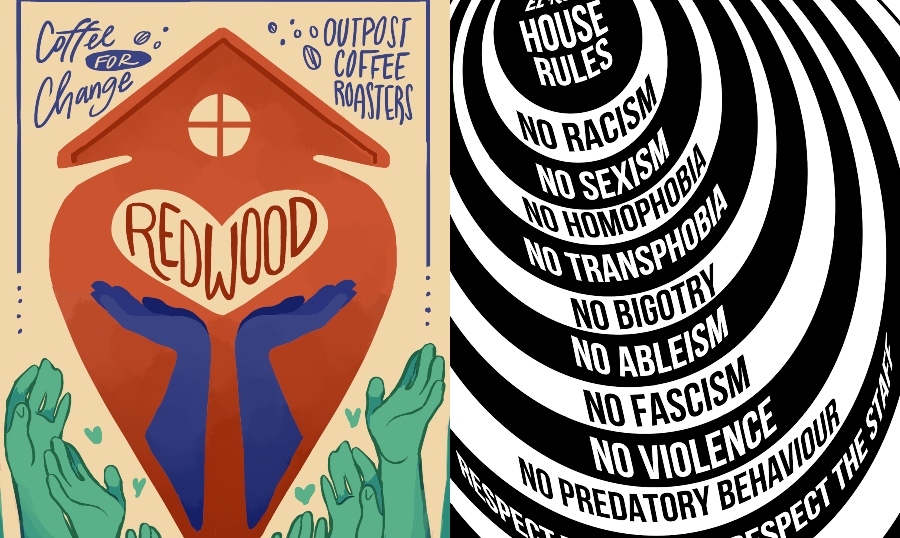 Outpost Coffee Roasters "Coffee For Change" / El Rey Houserules (Jenelle Lewis)
In 2019, your illustration was selected by Starbucks for its Pride campaign. This year, Pride Toronto tapped you to illustrate one of six overs for their official 2021 "Pride Guide" celebrating the 40th anniversary of Pride in the city. How did these collaborations come about and why was it important for you to work on those projects?
Again, it's just very validating to be seen as a Queer Black woman. In 2019 I was a Starbucks employee and my work was selected for a national contest held internally. I was selected out of all the people across Canada because I'm in the 2SLGBTQ+ community and seeing things with a lens that other people may not be. That's why it was so inclusive with the Trans flag hearts going up for stories that keep getting left out. Then, when Pride Toronto asked me to do something focusing on Toronto's gay history... I consider myself a gaybie or a new gay member of the community, so I honestly didn't know enough about it and had to read up for that. I read Queer Progress: From Homophobia to Homonationalism (Tim McCaskill) and Marvelous Grounds: Queer of Colour Histories of Toronto (Jin Haritaworn, Ghaida Moussa, Syrus Marcus Ware), a counter archiving of Toronto's histories. Quite a few people in the latter book talked about 'The Steps' in Toronto, which was demolished in 2005, so I never got the chance to see it. They talked about how it was a safe space where they could congregate and talk about ideas and things going on at the time. I was drawn to all these stories, and I reimagined what it could look like if it was ever rebuilt more intentionally. So there's a ramp at the bottom for people with disabilities because they should also feel welcome. The whole way down is the Pride flag circling downward with the brown and black swirls and the Trans flag, sprinkled with the widest range of diverse people just hanging out and living their best lives. I just wanted it to feel hopeful in the sense that if the city ever invested that much time into rebuilding it, this is the utopia it could look like.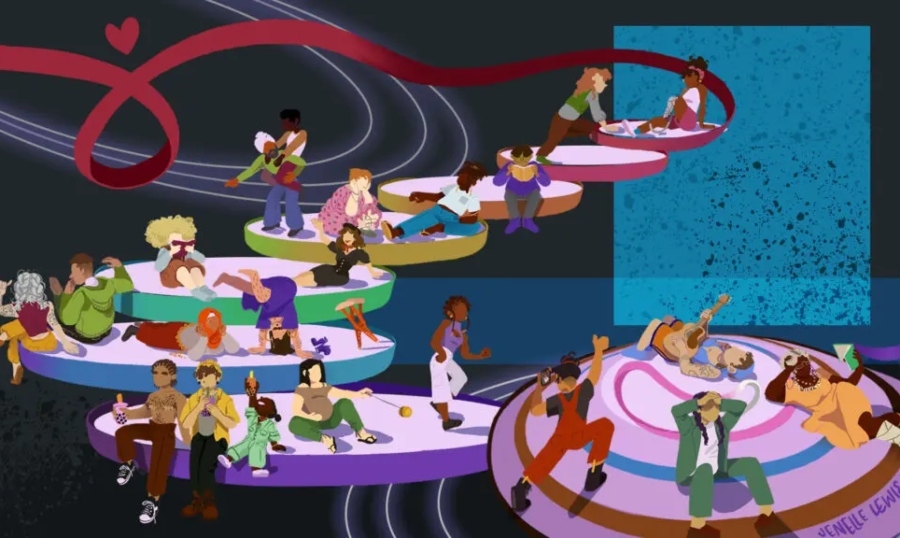 One of six covers for Pride Toronto's 2021 Pride Guide "The Steps" (Jenelle Lewis)
As a Black Queer woman illustrator, I imagine you are a bit of an outlier in your industry. How do you feel that identity has been both a challenge and an opportunity for you?
Usually, your sexuality doesn't come up too frequently in conversations about your work, so it hasn't really been much of a challenge for me. It's actually opened doors where people are looking for my perspective and the different intersectionalities I hold within my body. It's been cool.
Speaking of which, Disney+ recently commissioned you to create a commission for a short story series that is supported by Made in Her Image, a non-profit organization that empowers young women and non-binary youth to create space for themselves in media. What do you think has inspired so many of these large brands to look at things like representation and inclusion within their industries?
The project is in partnership with Made in Her Image who actually reached out to me. I wasn't aware that it was for Disney until after I took the gig. It was a surprise and I felt like I had to do a good job because they were relying on me. These stories have been around for a long time and they've been omitted. We have a watered-down story of human existence and life is so much more interesting when we have all these other stories that allow us to see the fuller picture. It's nice that people are finally starting to realize that we should be including people. We should've been doing that all along. I think it's happening now mostly because of societal pressures. Back around 2015, I already felt the energy shifting, but I also think that people have realized we need to get our acts together within the last year. People with the privilege to work from home had a lot more time during COVID-19 to sit at home and research what was going on, versus when they were at their nine to five jobs and were too tired to focus on what's going on. They also have the time to go out into the streets and do something about it.
Speaking of COVID-19, what are you most looking forward to in your personal and professional life once everyone is vaccinated and all the restrictions have been lifted?
For myself and my art, I hope that as music and live shows start up again, I'm able to be more active in that. Doing more EP covers and merchandise, or maybe following bands along on their tours might be cool. As a society, I hope we don't forget what we've learned while we've been in the lockdown. The idea of self-reflection, slowing down and looking out for our neighbours...I just really hope we don't go back to the way it used to be and forget how we looked after each other during the pandemic.