Kobi, 26, was a student at Sheridan College when he was struck with inspiration and decided to start his own business in 2013. Kobi was passionate about fashion and looking for a way to incorporate his creativity into his business.
Using personal attributes such as someone's name or characteristics Kobi is able to create designs that align with the needs of his clients. Iconic director Spike Lee and Toronto rapper Kardinal Offishall are amongst some of the people Kobi has designed for. Kobi has featured his Neck Couture bow ties at several events including Hand's of a Hero Foundation's Fashion Against Poverty, Kendal Blake's The Foundation and The Showcase Your Roots Fashion Show in Waterloo.
Kobi's designs feature many different patterns and materials, including some that reflect different African tribes, such as the kente cloth which is found in West Ghana. Kobi is very proud of his Ghanian heritage and likes to talk to his customers about the rich history behind his bow ties.
When did you become Interested in fashion and realize it was something you wanted to do?
I got into fashion through hanging around my older cousins who were into fashion; I gravitated towards that. Since high school and even elementary I always focused on the little things like watches and accessories; I always made sure to be well kept. That and studying fashion minded individuals molded me into the person I am. And I've always worn bow ties so when I decided I wanted to produce and create something I thought why not learn how to make bow ties.
What was it like learning how to design and sew?
As I started to get more into it I got more creative with it. It started as something I was interested in, it just took a little bit of curiosity and the rest was just mastering the craft.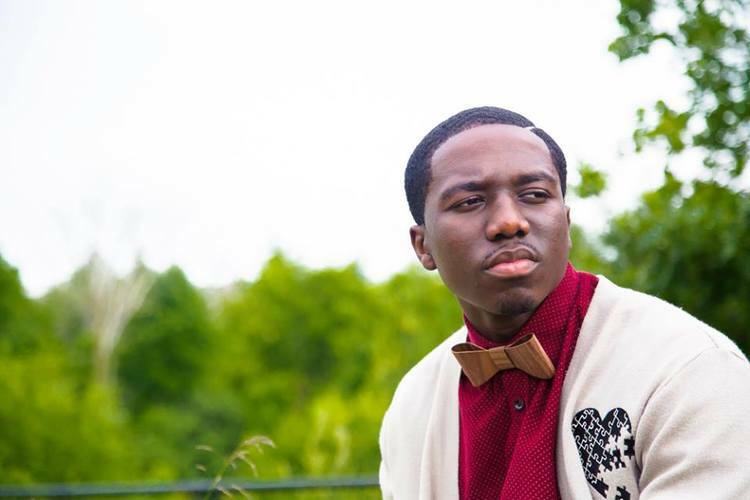 I see you have one of your wooden bow ties on, when did you get to the stage of wanting to create something that goes beyond the regular bow tie?
I take time to be creative and that's really important. Your mind is always working so why not take advantage of that and create new ideas. Every week I set time aside to write out ideas and concepts; not only for my business but life in general.
One of the materials you use often is the kente cloth from Ghana, why is including different fabrics and materials important for you and your business?
It's important to me and to other people because your product has more value if there's a story behind it. The kente cloth has different meaning for different tribes in Ghana, so you're getting a bow tie and a story. The craftsmanship of making the kente cloth is interesting as well so all that together makes for an amazing bow tie.
What has been the most difficult part of growing your business from learning to sew to where you are now?
It was more difficult at the beginning just figuring out how I was going to manage doing all the things I was doing, I was also in school and weight-lifting competitively. Now it's not really a problem because I found out that organization is everything. Sometimes the most difficult part is being in school because I know that to get to where I want to go with this company I have to finish college. So sometimes I feel like it's holding me back. There are opportunities that I can't take on because I have so much going on; the hardest part has been deciding what to drop and what to keep.
What or who has influenced you and helped make you who you are?
My mother for one, she's a full-time nurse but she also has her side hustles and I've always been observant of that. I learned you can make money in other ways than having a job. I have cousins who were doing personal training, running basketball camps and things like that. I also started watching what other entrepreneurs were doing, I read books like "Think and Grow Rich" and "How to make a dollar out of 15 cents" and I learned that it's all really about your mindset and learning that there's more to life than getting a job.
You've had stars such as Spike Lee, Kardinal Offishall and Jay Electronica wearing Neck Couture, how does it feel to have celebrities like them endorse your brand?
It feels really good. Sometimes it takes a lot of reaching out and emailing them personally but that's the only way to do it if you don't know someone in their inner circle. It shows me that what I'm doing is unique because these guys have probably seen everything, so I must be doing something right.
(Kobi met Spike Lee at an event. He walked right up to the director and introduced himself. Kobi gave Spike Lee some of his bow ties and he loved instantly loved them.)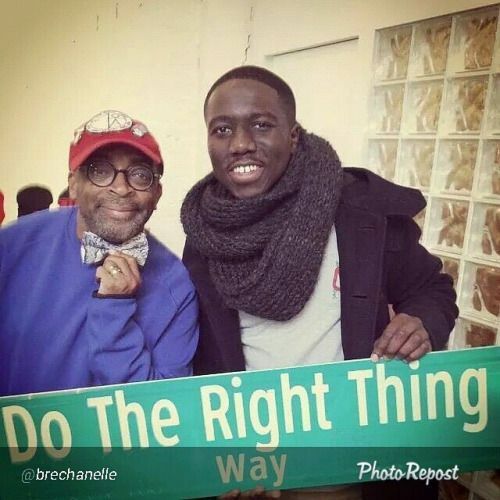 When someone orders a custom-made tie you have consultations with them to find out what they're looking for, what are those consultations like?
I let the person talk and see what they want. I like to find out about the person, what style of tie they normally wear, whether or not they're a conservative person, some people have that trust in me because they've seen what I've done before. It's all about seeing where they're at.

Despite already receiving offers to have his work featured in other stores, Kobi hopes to one day open a store of his own selling suits and men's accessories in Brampton. Kobi says having other stores sell his bow ties would take away from the "exclusivity and uniqueness" of Neck Couture.
You can place an order for a custom bow tie through www.neckcouture.ca Or connecting via Instagram @NeckCouture.