She registered for law school and was seemingly on her way to success, when she became pregnant with her first child. When her maternity leave was over, instead of continuing her studies, she got a job. "I was working at Rogers Cable and making decent money but it wasn't anything that I aspired to be. A lady brought her child in for 'Bring Your Child To Work Day'. So, as we were sitting in the service centre at Rogers answering the phones, I thought to myself, I don't want to bring D'Andre here."

Despite being a creative at heart, as a new mom, she knew she had to find a way to connect her passion with practicality. She went home that night and mapped out a plan with her then boyfriend, Dwayne Dixon. She began taking night-classes at George Brown College while working full-time. Although it was a struggle balancing work with family, the sacrifice paid off. She was hired by Walmart Canada where she currently works as an Assistant Buyer. In 2011, she was asked by a co-worker to collaborate on the costume design for The Toronto Revelers. In that moment, Dixon found her niche.

Seven years later, her company Suga Cayne Mas is leading one of Venom Carnival's fourteen sections for the second year in a row. With Trinidad setting the gold standard in Caribbean costume design, she says being a Jamaican costume designer for Caribbean carnivals is an advantageous anomaly. She's certain her unique aesthetic is one of the reasons her collections sell out year after year.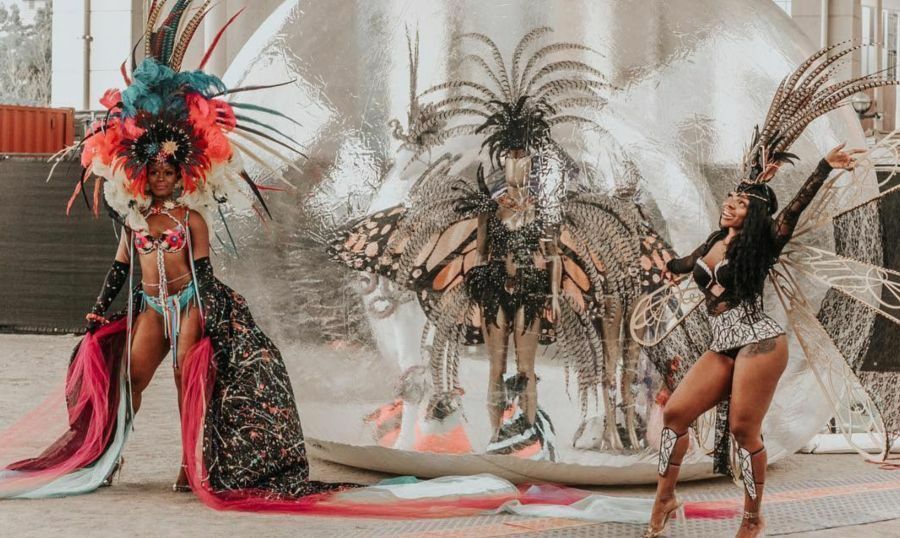 Photo: Instagram @qxinntessential

LEVEL UP

Dixon continues to expand her brand Suga Cayne Designs and defines her work as an expression of creativity, couture and culture. The art historian and visual artist says that once she has a theme, she becomes obsessed with its meaning, colours and textures. This year's IndigoINK is no different. Developed from the main theme INKED, she felt the need to dig deeper.
"I learned about Indian ink, indigo and calligraphy and that squids excrete ink. There are so many different levels to this ink. I know more about indigo than I should ever know. I try to derive things back to Africa in any way that I can. Because I want to show how beautiful our culture actually is. So with indigo, I actually found out about the dye pits they have all over Nigeria and the different ways they can dye beautiful fabric with this particular ink. The indigo industry boomed when the cotton industry boomed.
When denim became a force, nations like Haiti and Jamaica had indigo plantations to supply the industry. I ended up fusing denim within the design, an indigo looking tie-dye material, to portray that. On top of the fact that I am a buyer and a fashion designer so I know a year in advance what you'll find in the store."
She draws inspiration from other trailblazers such as Iris Van Herpen who introduced 3D printing to the fashion world and legendary designer, Douglas John. Dixon was awarded a grant from the Ontario Arts Council and spent three months in Trinidad and Tobago being mentored by the best in the business.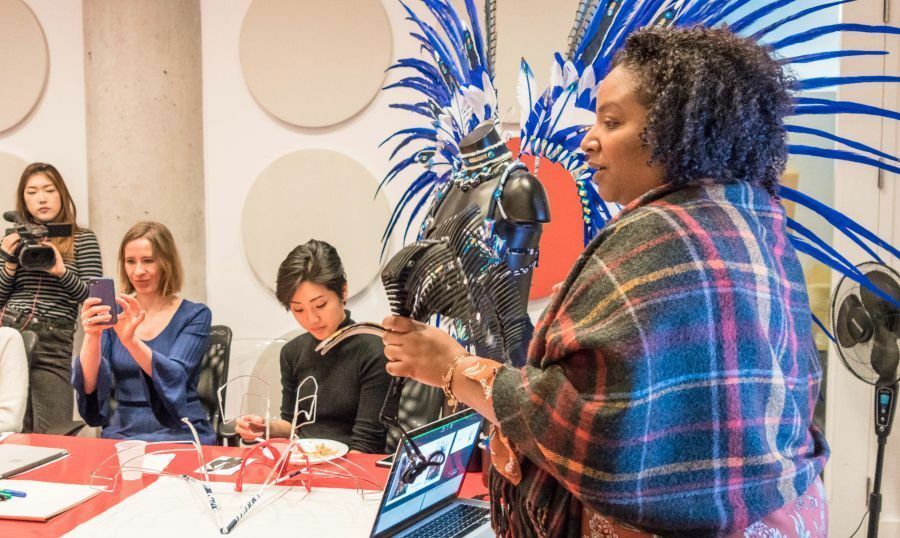 WHEN TECH MEETS FETE
The intricate detailing and superior craftsmanship of carnival costumes is by any standard haute couture fashion. Yet designers don't always get the same recognition outside of their community. That being said, Dixon continues to find innovative ways to expand her vision.
Which is why she couldn't pass up the opportunity to collaborate with Ryerson University's Design Fabrication Zone in 2017. The first incubator was a hack-a-thon where almost twenty students had their tech and creative talents put to the test. It was a learning moment for both sides and Dixon says she was blown away by the ideas that resulted in only two hours, from students who knew nothing about Carnival and had never been to a parade.
This year's Inkwell Project resulted in the production of three costumes conceptualizing the inkjet printer, squid and calligraphy. Working with cutting-edge technology, mentors, and all resources at her fingertips, is Dixon's dream.
"Some of the pieces I'm doing at Ryerson are one-offs, I'm not mass producing those pieces. We're using architects and robotic technicians, 3D Print experts and we're actually trying to push the envelope a little bit. I think it helps to showcase the art form to people who wouldn't otherwise understand it. Coming from the fashion world, I like to create pieces that are almost untouchable."
Cover photo by Peter Parker
True Daley is an actor, arts educator, singer/songwriter, community worker, multi-media journalist and pop-culture critic. Her career spans over 20 years and she has worked with major outlets including CBC, The Toronto Star, Macleans and Flow 93.5FM. Currently, True is in pre-production as the co-director of a documentary #EBCM while running arts programs in the Jane-Finch and Parkdale neighbourhoods.

@truedaley
@freshvintageboutique