Like many of us, he also spends a good portion of those days feeling consumed by the constant barrage of negativity happening globally. He decided to take a literal leap of faith - and use his belief in a higher power to create something that would spread good vibes.
How did you get the idea for GoVibly ?
The idea for Govibly came while I was thinking of some of the challenges we are facing in our community and indeed our world today; the scarcity of good news stories, and how I can use what I have in my own little way to create something that can help spread good vibes in the everyday ordinary things that we do. I got this strong feeling that together, as we connect with the good in and around us, we can actually create and become today's good news stories ourselves. I thought further and began to explore some of the skills and talents I have which I can apply to help change the negative paradigm and narratives for the better. Although I work 9-5, I have developed exceptional graphics and design skills over the years.
Where does the name come from?
Govibly is a word I created by merging three words together: good godly vibes. I feel creating a new word will help create something original and authentic that can grow organically. Govibly is a lifestyle design brand with quality products that will help to spread love and hope. I am hoping the word will make it into the dictionary as an inspirational word.
Tell us about the different designs currently available.
The designs are first created and then transferred to various material medium and t-shirts happen to be one of them. I found the t-shirt to provide a vital print real estate that can be used to spread good vibes but the designs will be on other mediums also. I have created a few designs but will be launching four this spring/summer. The designs are:
1. Only One Is the Greatest shows many small circles and one very big distinct circle. That distinct circle is God. The design is a reminder that despite how great we appear to be with technology making it appear that we are more powerful than we are, only one remains the greatest of all time and that is God.
2. At God's Wavelength shows how we can flow at God's wavelength and do the very things that God will want us to do. It a design that shows four waves that symbolize energy, current, and power.
3. Random Yet Joyful shows a collection of confetti live elements, random shapes and sizes and love-shaped heart icons. The message behind this design is to remind us to find the joy in whatever we find doing. While we look for a better, perfect state, we can enjoy the journey and embrace the joys and challenges with courage.
4. Christ In My Everyday Life although appears to be the most abstract of the designs, carries a very important message that Christ doesn't just want to be called at times of emergency or troubles but Christ wants to be involved in all that we do including eating, playing, hanging out with friends and more. The everyday things that we do is an opportunity for worship and to be a blessing to others.
What's been your main challenge in launching this business?
The main challenge as you would expect is identifying reliable suppliers for maintaining production. Based on the idea of Govibly and the social-good business model I created for it, I knew we would not want to be involved with any sweatshop company, industry or country. So the challenge of narrowing down our suppliers to countries that abide by US and North American labour laws appear to be one of the main challenges. Although not working with certain countries or regions with poor labour and industrial laws cuts into our profit margin, I believe doing this serves to strengthen our brand and the positive message that we are out to preach. We hope it will further repose confidence in the strength of the Govibly brand and will make our customers feel very proud to be part of what we do.
You've also created an app - what's the idea behind that?
Yes I built the prototype of the Govibly Mobile App and am currently with developers to finish up work on it. I really value community and I felt it makes absolute sense to create a platform where we can celebrate the good things we are individually doing every day as well as to create good news stories. The App will operate like a community event creation app whether it's just to create a reminder to have coffee with a neighborhood friend, to creating a small individual project where members of the Govibly Mobile App community can make small daily donations like a dollar to help each other achieve a social good cause. Users can also earn Govibly points by doing good deeds recommended and those points can then be used to buy products on our online store. It's envisioned to be a kind of inspiring and inspirational environment.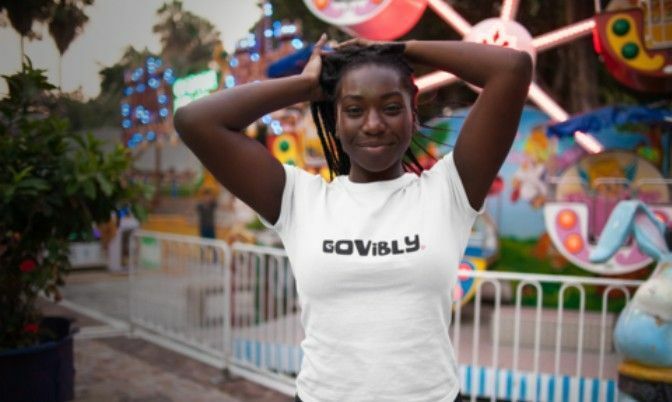 What do you want people to feel when they're wearing GoVibly?
We want people wearing Govibly t-shirts or using any of our products to feel very proud that they are part of a community making positive impact in our world today. With each design and the accompanying message and stories, we want our products to fill an environment with good godly vibes that inspires and encourages people.
Not only have we worked very hard to ensure a production process that is free of sweatshops, as a community-oriented, social good company, we are putting aside some of our proceeds (called FPPP - Fixed Portion of Profit Plans) and partner with other charities and group to help those in need. We also have specific financial literacy, skills development, internship and employment roadmaps we will be implementing in the communities we operate. These are the positive good news stories we want people to feel and share when they wear anything Govibly. Together, we are today's good news stories.
Click here to shop GoVibly.