Later in life, King Catering became a side dish that he attentively worked on while dreaming about making it the main course. His job at the time was in a former restaurant he didn't own, Picnic Foods, which he helped nurture as a chef but took up most of his time. Long and weary shifts beginning at the early dawn of 7 am cycled into 2 am the next morning. His workday would start, and so, strategically, would his shift for King Catering; planning logistics and sourcing corporate catering gigs as he realized a rush of work parties would demand a fresh supply of new flavours.
King would work 20 hours a day for five weeks before meeting with his boss, who laid out his business plan before asking King a simple but life-changing question. "Where do you stand in this business?" King had his own business plan. The first three months of the year, King Catering had seen $12,000 dollars, and by the following month, April, it tripled with a grand of $15,000 dollars knocking on King's door. King answered, left his boss' office, and closed that chapter to pursue King Catering as the main dish on April 12, 2016.
With a 1.2 billion dollar catering industry within downtown's core, coupled with a cluster of 10 caterers who shared a piece of that pie, the rising visibility of King Catering meant that he had to differentiate himself. He had to create a quintessential business from the ground up and make sure it grabbed a sliver of that pie for his company. The fact that existing and prominent catering services specialized in generic catering made this slightly easier. However, carving out a lane for King Catering meant experimenting with non-traditional flavours, which was also a risk for a small business.
Risks didn't scare King. After all, King Catering started on the back of one. "We offer high-end Caribbean fusion," says King of his catering. "It was able to intrigue people enough to actually try, and from there it was just about building relationships and having them try our bigger menu." Still, the high-end corporate space was hard to get into. Likewise, it was challenging to convince the corporate crowd to switch out longstanding caterers and their menus for an altogether different flavour palette.
Finding His Footing
With a reputable start in this industry, King's resume was enough to do the talking. He took food and beverage management and culinary management at George Brown College. After completing the program, he worked as a dessert and pastries chef at Levy Restaurants. He changed gears for five years and worked as a Sales Representative for Nike from 2007 to 2013. Then, discovering that his passion for food was solely that--food, he decided to open up his own small food business. With a touch-and-go approach, he supplied food at street festivals. In 2016, King Catering transitioned into a full catering service and found themselves in corporate and private events, social hours, and corporate lunches. If King could take $150 from his Nike severance pay and turn it into $9,000, courtesy of a successful street festival, then taking on the intimidation of the corporate world seemed like a fair challenge.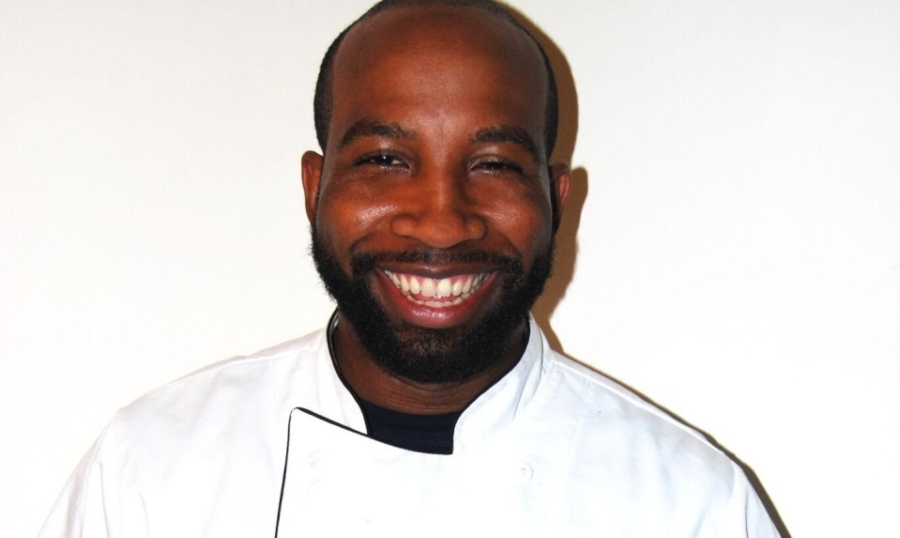 Deon King has experienced highs and lows in the catering industry (Photo Courtesy of King Catering)
"Caribbean food is very popular but it is also looked upon as just for mom and pop shops," says King of the stigma around Caribbean food. "So I wanted to kind of do something different to push it forward and offer what we do best in a new light by taking Caribbean flavours and fusing them with other cuisines." King sees North American cuisine as a jumble of different cultures. His confidence in his flavour profile comes as an extension of that understanding.
"We blended tropical flavours into other cuisines like Mexican, Italian, and a little bit of French to try and reach a broader audience and it worked," says King. "We do things like jerk chicken tacos, jerk gravy poutines, jerk Alfredo sauces and mango dressings."
Popular menu items include jerk pulled duck bites, which are deep-fried plantain, topped with coleslaw, and some charcoal pulled duck. Their southern bites are mini cornbread with a piece of fried chicken glazed with a sweet chilli sauce. The Caribbean-Italian fusion brings to the table jerk pork ravioli, a beautiful hand-crafted ravioli stuffed with jerk pork and topped with jerk Alfredo sauce. One of their unique salad dressings has become a sought-after addition to their meals. King says their mango dressing can be put on almost everything and provides a fresh burst of addictive tropical flavour; so addictive that you can soon grab a bottle of your own at selected supermarkets.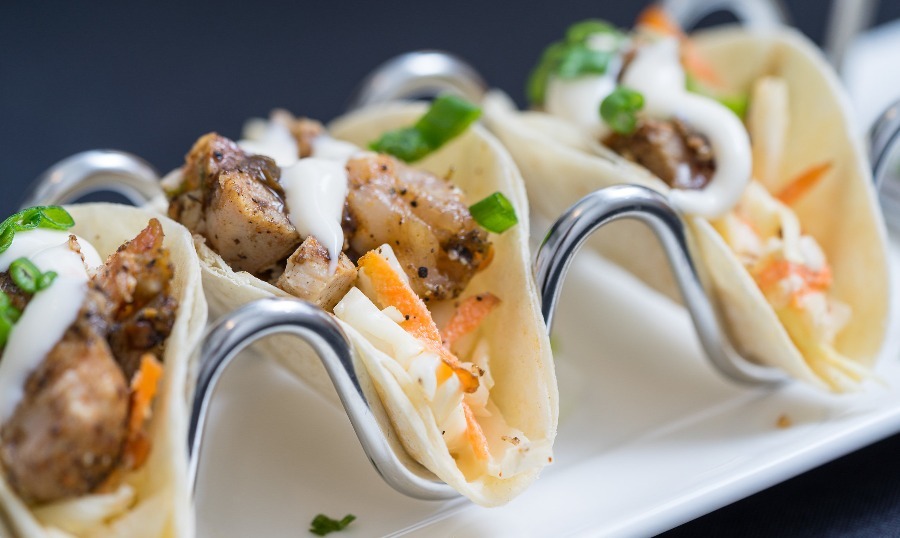 Jerk tacos are a popular appetizer item and the right blend of Caribbean and Mexican flavours (Photo Courtesy of King Catering)
The reality of a pandemic
With the pressure that COVID-19 and provincial lockdowns brought, King Catering was thrown into a sea of pivots. "Everything relied on social gatherings so certain things didn't work for us anymore," says King. "Our kitchen is set up to function better with mass production, but over the years I've done well enough to kind of weather the storm."
This storm came with work closures, wedding cancellations, and limited events. This forced King to let go of most of his employees. In January 2019, they started with a team of 19, which dwindled to 4 by April 2020. Now there's a team of 5 full-time workers. During the pandemic, King explains what they resorted to in order to stay afloat.
"We offered meal kits. We prepackaged a lot of our stuff for supermarkets too to bring in some income so we're in a couple of supermarkets right now," King says.
Zoom dates were a thing, as they offered online cooking classes. Along with catering, they offer personal chefs, bringing a three to four gourmet course to your doorstep. With various services under their belt, King describes their business as a one-stop solution that makes it easier for clients to shop. Now, with social gatherings picking up due to loosened restrictions, high vaccine rates and the adoption of vaccine passports, King Catering is getting back into its groove.
"In June, weddings have picked up like crazy but the corporate clientele is not fully back yet," King says. "It's amazing to get to be a part of so many people's big milestone days. I see love every weekend, from June until maybe last week."
Alongside weddings, most of their business comes from private events from the Black community. The challenge is the type of food requested, often a specific food palette like African or Caribbean food.
"When they go to the banquet hall, they just don't make it authentic enough. If they try to get a restaurant to do it, they can't do the whole capacity. So the [catering service] will end up showing up late or the food is not enough for everybody," King says. "We have a nice niche there, where we can do up to 800 people easily so our community can have the same experience as every other culture would. That is what we offer because there's not a lot of us doing it."
Adding a twist
The hidden, preexisting pandemic in a white-dominated catering industry could be seen as the lack of Black chefs. As one of the few, King feels stereotypes are given, and his food service is reduced to being thought of as just spicy food.
"I keep on meeting everybody's expectation of going beyond it," he says, referring to pushing through assumptions and limitations made by clients. He's learned to lift his catering service by defying certain narratives, focusing on the vision of fusion and fun, and allowing clients to experience joy on a plate.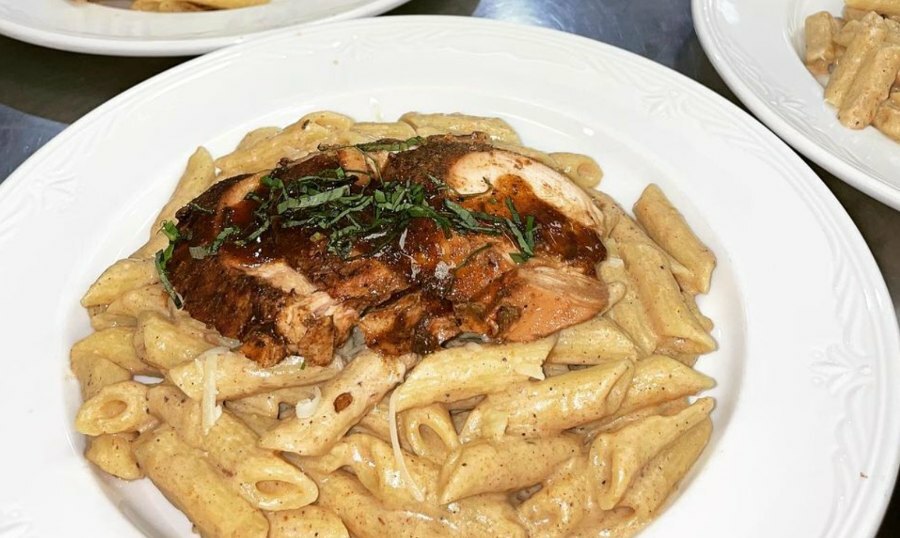 Jerk chicken alfredo, a delicious plate of pan-seared chicken breast on Alfredo penne pasta, and in-house jerk Alfredo sauce (Photo Courtesy of King Catering)
It's also the key to giving room to more caterers like King, who has a bold calling and desire to bring forward diverse cuisine. King references Twist Catering, led by Toronto chef Latoya Fagon. Her motto is "Culinary Simplicity with a Twist," and that twist represents a growing, exploratory cooking landscape pushed to the frontlines by Black chefs like Fagon and King. Her menu is diverse, serving a little bit of everything while introducing a Caribbean flair that is comforting. Another chef adding a twist is Young Animal Catering, led by Trindidian-born chef Adisa Brian Glasglow. Serving classic Trini meals, Glasglow represents both his identities on a plate.
For King, his journey has been both exhausting and liberating. He hopes that young future chefs in this industry learn from his mistakes. "I would say as long as you have a dream and you have a drive you will figure it out. My way was definitely the hardest but because I'm hungry, know what I want and where I want to go, I'm going to get there no matter how," he says. In addition, he has paid his experience forward by hosting a mentorship program for three Black students in 2017.
His next steps are getting the business back to 100 percent, opening up a fusion restaurant, and getting into the prepackaged frozen food sector.
Breaking milestones comes with pushback when spotlighting experimental cuisines. King says he's done events where traditional West Indians would impulsively judge his dishes but loop back around and praise him for its deliciousness. "Winning over those types of people is the most rewarding," he says.
King isn't your grandma, but his cooking will unearth a wave of heartwarming childhood memories, whether with a bowl of sweet fried plantain or fall-off-the-bone chicken. In a world where globalization is the political, environmental, and financial reality of the day, Deon King not only pays tribute to his culinary lineage through King Catering but also represents the future of dining in a world of merging cultures.