Glasgow was born in the quiet southern countryside of Trinidad and Tobago where grew up inspired by his blind grandmother who despite her disability, knew her way intimately around the kitchen. Glasgow's idyllic Caribbean childhood was disrupted by his parents divorce when he was 12 years old. That's when he moved to Vancouver with this father, watching closely how his dad marinated and stewed different meats. But it didn't become a passion until much later.
Was it always your dream to be a chef?

No. I actually wanted to be a lawyer when I was younger. I kinda fell into cooking.
How did that happen?
I was in a group home when I was younger and living in Vancouver. But they kicked me out when I was 17. I had nowhere else to go. I had no other money stream so I just started working at this restaurant. I didn't go back to school or anything. I just ended up working as a cook, and then eventually continued in that field. I've never been to culinary school, I've just learned from experience.
Could you tell me how you went from being a cook to owning your own restaurant?

Young Animal came after working at restaurants here in Toronto. I was just witnessing people do other cuisines like a snackable or just trying to alter the cuisine a little bit. I wanted to introduce a Caribbean staple to some unsuspecting people. As it turns out, not as many people knew about doubles as I thought.
My goal was to find all the Caribbean dishes and make them into snackables. Something you could eat in your hands and walk away. I thought because of Caribana a lot of people would already be familiar with Trinidadian food culture here in Toronto but I was wrong. So I just started working up at a farmers market near my house. I eventually started doing festivals and pop ups at events. The fourth year into working as a chef and running the business, I decided to partner with Laylow. (Young Animal shares a space with Laylow Brewery in Toronto)



Did you ever think you'd own your own business?

You know I never really thought I would own a business. It's a very competitive industry out there. I honestly didn't know people would like it as much as they did. I thought I was just going to cater to the Caribbean population but apparently all of Toronto turned out to like it.
When you say competitive, I'm just wondering, does race play a role in it?

There aren't that many black head chefs working in the cooking scene here in Toronto. I think a lot of that has to do with privilege and where it is that you grew up. I didn't really have the opportunity to call on anybody for help or anything like that. I kind of stood by myself. It seems like it was a bit of a harder way to go about it but I guess anything in life that's worth it, is going to be hard. If we break it down, yeah, it would definitely come down to... it's harder for a black guy. 


What are some of the obstacles you had making your business a reality?

The main obstacle I think I had starting off was convincing people to eat curry chickpeas at a festival. It was something that they had never seen before. Every time I did a festival, I was competing with hot dogs, or meat on the stick. It was always hard to show up every day to try and compete against stuff that people already recognize as festival food. That was tough. It was also tough, trying to put my twist on something that Caribbean people consider to be a classic. So when I started altering some of the dishes, I had some of the community kinda call me out a little bit, but it was fine.
When did you launch Young Animal?
The restaurant started in October 2017, and that's when I partnered up with Laylow. They were an already existing restaurant and a brewery at the same time. They weren't satisfied, and were looking for a little bit of change with their current chef. I knew one of the owners and he had been keeping an eye on what I was doing, and he asked me to come to the restaurant to work. I said the only way I'm coming to work here is if I bring my own business. We talked about it, worked out some logistics and we decided to form a partnership. So it is actually two businesses under one roof. I technically own the kitchen, and they own the bar. They serve the tables, take the orders and send it to me. I generate my revenue from food, and they generate their revenue from alcohol. 


What do you like best about your job? 


Honestly, the thing that's really exciting right now is how fast it's growing on people. I wouldn't say Caribbean food was always presented in the best way. I mean most people in the city that have had Carribean food, it's usually at a take out place. What's making me feel really good is that people are now coming out dressed up for date night or whatever to eat my food. They are impressed by it because it's something they've never had before, and they are very curious about it. They are being very adventurous. I'm excited to just be a part of the beginning of introducing this cuisine to more of a mainstream audience. 


How do you cope with long hours?

Well, the long hours is always a struggle. Since I've started cooking, it's always been a contention for my personal life. But it's something that I love to do. It's my passion. It's the only thing that's been a constant in my life. People have come and people have left but the one thing I have always maintained is my career path and my ability to make a living.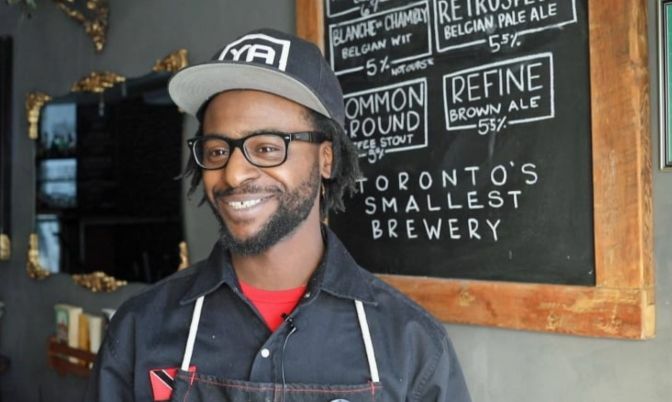 Why the name 'Young Animal'? And have people ever been offended by it?

Yeah. I had a couple of people at the beginning that were not loving my name. For instance, at the farmers market they would see my sign and be like, 'young animal? What's that supposed to mean?' Whether or not I wanted to give them an explanation depended on my mood. But the name is actually inspired by my parents. When growing up in Trinidad, my dad's friends nicknamed him Animal. I used to sit on his motorcycle when I was a young kid driving around, so I got the nickname young animal. And as it turns out, my mother's maiden name is Young. In 2014 or 2015, my dad was diagnosed with bladder cancer. So when I was doing the business, I wanted to find a way to incorporate his name and my mom's maiden name as well. I managed to put that together so that's how I came up with young animal. It has nothing to do with animals that I cook or anything like that. It's more of a personal thing for me and dealing with my parents because we are not super close. I feel like that's the way for me to constantly keep them around me.
Which are your favourite meals on the menu?

I'd probably say my goat wellington is my favourite. It's basically a play on curry goat roti. So it's curry goat and potato wrapped in phyllo pastry.
Do you have any food geared towards vegetarians, vegans, and or people who are health conscious?

I do. And they are not afterthoughts. They are actually dishes that we eat in Trinidad that just happen to be vegan. So I wouldn't say I cater to vegans and vegetarians. I just make the food of my country, and there are vegan and vegetarian options on the menu.
Do you think the culinary world takes Afro-Caribbean food seriously?

You know what, I think that's been part of my obstacle. It's trying to make this cuisine a little bit more popular to the masses because yeah it is a little tough to bring this cuisine to the forefront. Right now people are into their tacos. There is only one other trendy Caribbean place out there and it's called Chubby's. They do Jamaican food and everything like that. We are slowly tapping into the market right now but it's still going to be a bit of a struggle.



Do you think black chefs are underrepresented? And why?

We are probably misrepresented not so much in Caribbean restaurants which have tons of black chefs but at other restaurants in the city like French, Thai, and Mexican. We are definitely misrepresented because it also starts with privilege like I said. There are not a lot of black kids who have the opportunity to pay for cooking school or also just go to cooking school and work at the same time. We have to choose one or the other just because of our financial situations. It was really hard for me to get respect in the kitchen because I guess they just couldn't believe that I could cook certain types of food. With my assertiveness, they also mistook that for aggression. Me and my friend always talk about how aggressive is the new word for nigga in the kitchen. I feel like it's really hard just growing up as a black kid here in Toronto.
Who inspires you? Who are your biggest supporters?

I would say the only person that really inspires me is my late grandmother. She has always been the inspiration for me when I look back on my struggles. One of the biggest supporters that I do have is the guys I partnered with. They are cool guys. They understand what I want to do. They understand my vision for food and they don't get in my way. I've had a few people who have been with me since the very beginning, like coming to my farmers market stall and trying my food. People like Heidi and Trevor who had doubles for the first time. They would always show up at every event that I did to support me. My biggest supporters I would say would just be people who saw the growth. I have a lot of people now coming into the restaurant that are enjoying it but it's the people who were there from the get go. I would say my ex girlfriend. She was a huge supporter. She did everything that she could to try and make sure that this business got off the ground. Even though she had odd hours, she still stayed up late with me to help me prep stuff.
What is one thing you would say to those looking to own their own restaurant?

It's already a saturated market. But I would say, you need to find a cuisine that hasn't been fully tapped yet. And then also, really attach yourself to it. Believe in it and go hard. I would say determination was the key factor to my success. I always knew eventually that it had to pay off. I would say you have to actually love what it is that you do. It would be crazy for me to say that I wanted to open a restaurant because I wanted to make tons of money. That would be crazy. You have to do it because you love doing it and you want to offer something special. You need to really look at Toronto, and be like, 'why does Toronto need this particular restaurant'? When you have come up with that reason, you have to really own it. Also, what helps is also somewhere in the back of your head being able to admit the fact that this might not work.
How has the partnership with Laylow brewery been received by its customers and the Toronto foodie scene?


We have been pretty fortunate to have a wide diversity of people coming to the restaurant because of the brewery. There is this brewery craze with people coming in and trying the beers that we have there on tap. They are really nice, and there is even a beer made with sorrel actually, which is pretty cool. I would say 100 percent since I took over the kitchen, that there's been more black people coming into the restaurant than before. I have been noticing a lot of support from the black community, which is awesome. 


Young Animal is located at 50 Portland Street, Toronto. You can check out the menu at younganimal.ca
Lucy Oneka is a playwright and journalist. She has covered many stories for Toronto based newspapers such as the East York Observer, the Scarborough Observer, and the Toronto Observer. Lucy's other passion is music. She is a two time semi-finalist of the prestigious UK Song Writing Contest and recently released her own debut gospel album, "You Are Faithful".