"I always loved cooking and entertaining, but I've always been more into business," he said.
Nsafoah was born in Ghana and came to Canada at the age of 9. He grew up to be that guy - cooking up a storm on the regular, and hosting large groups of friends. It was some of those same people he often entertained who suggested he take this hobby seriously. Nsafoah eventually enrolled at Liaison College of Culinary Arts in 2011, and a few years later in 2015 he became the proud owner of Afro-Carribean Golden Stool Restaurant and Lounge in Brampton, Ontario.
What's the story behind the name Golden Stool restaurant?
I'm a proud member of the Ashanti tribe of West Africa. The Golden Stool is the symbol of the Ashanti people. It essentially possesses the soul of all Ashanti's living, dead, and yet to be born. So it's a very sacred symbol of who we are how we've come to be. When I decided to open a restaurant featuring mainly West African food, the name had to represent my culture.
The thing is West African food, African food in general, is very good. It's just that a lot of our food is not put in the forefront in a presentable way. So Golden Stool was just the right fit. I know the name was sort of a double edged sword to some people because the word stool has multiple meanings. I had to consider that, but in the end, I realized that it would more than likely spark people, or become a conversation piece about why that name? And when most people look it up, they are pleasantly surprised of the history. That's why I decided to use that name.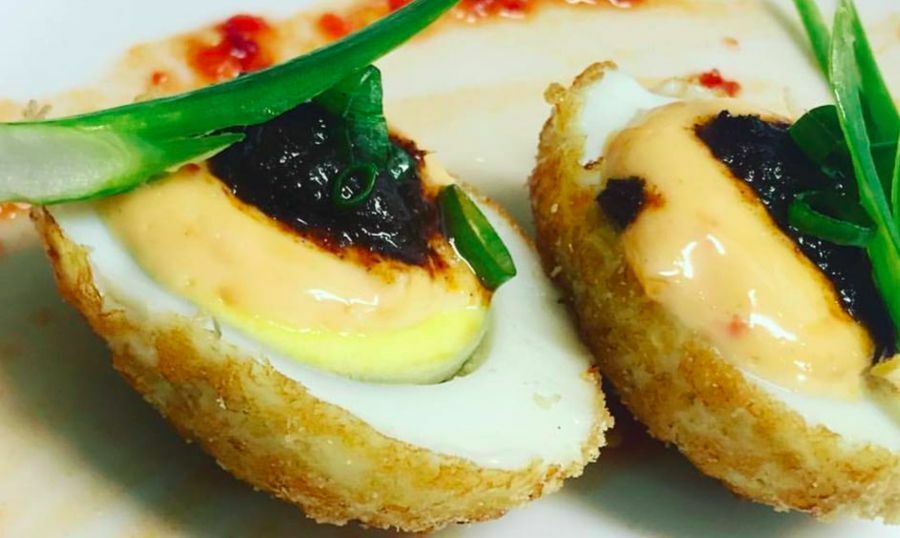 You blend Caribbean and West African foods. How was the restaurant first received when you opened in Brampton?
When I first started doing it, there were a lot of challenges because I knew I was introducing something that people aren't really used to, in a market where everybody goes for comfort foods. There were a lot of challenges at the beginning; but once people got over their preconceived notions of what African food should look or taste like, and started trying us out, the reviews are what kept us alive. In addition to the online reviews, it has also been people who have come back to say the experience was amazing and promote us by word of mouth. So that's pretty much what's kept us afloat, and kept us growing up to now. It is also the quality that I put in the food that I cook, customer service, and the blend of alternative options.
You can have your fish steamed versus fried. We offer many options for people who are health conscious. But there's also a lot of authentic, deep, non-compromising taste food where flavour comes first. The maple ginger salmon and jerk infused fried chicken are two of the more popular fusion dishes at the restaurant. People usually pair it with our award winning Ghana Jollof rice.
There are many items on the menu that are vegetarian to begin with or vegan for that matter. There's a lot of stuff that's not cooked with animal or dairy products. We have the vegan delight which is made with black eyed peas and rice. And then we have a medley of vegetables, that I saute myself and plantain fritters infused with ginger and pepper. It's actually quite a hit, and is a very popular option at the restaurant.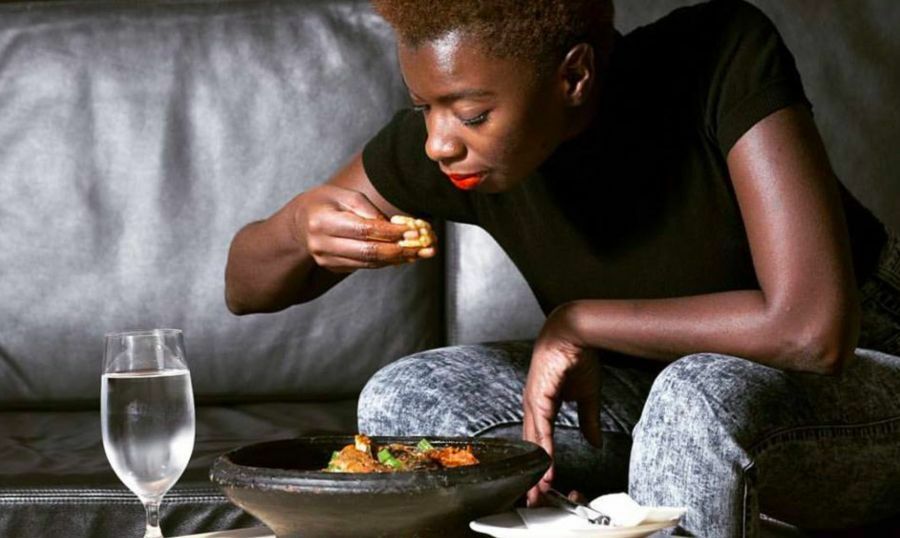 What are the positive and negative things about being a chef?
The good thing about being a chef are the rewards. It's a very rewarding industry. And for me being a business owner, and being in a position to empower other people as well as hire other people, those things are a rewarding aspect. The downside is all the hard work, the long hours, standing on your feet a lot, always working when everybody else is partying, and the stress of meeting deadlines for people and their important dates. So there's a lot of challenges. Those are some of the things that a lot of people, when they see the TV shows on food network, they come into the industry not knowing that there's a lot of hard work behind those cameras. A lot of people are not built for it.
Can you tell me about some of the events you host at the restaurant?
We have an open mic on the last Thursday of every month. So we do comedy, spoken word, people come and sing, dance, and do acoustics. Whatever your talent is, we give a platform. It's going to be a bit of a younger audience which I'm proud of because I like giving young black artists a platform to be able to display their talent rather than being out, you know, doing foolishness; and to keep striving for what they believe in.
How important is it for black people to own their own business?
It's extremely, extremely important because that's how we build wealth and create wealth within our community. I try to look for a black service first before I go outside my community for any service I need for that matter. I think it is very important for instance, my kids are growing up in this environment that I've created for them. They work with me, and they're going to inherit my business and their children will too. And just that experience of them growing up in a family where the least they feel they can amount to, is to be a business owner. It's already a preset in their mind.
What advice would you give for anyone who wants to go into the culinary arts?
The advice I give them is to start practicing. Don't wait to just say I'm going to culinary school. It's not like brain surgery where until you go to school and learn, you can't do brain surgery. Cooking is something you can just start at home. Start practicing. You create maybe one day a month, you invite some family and friends. Sell a few food tickets. Allow them taste some of your stuff. Practice. Even if you are not selling it, you are just giving them a chance to taste your food. Be about it. Feel it. If you can't feel the food in your hands and in your soul as a passion, it's way too hard of a profession to just go in to make money.
So for someone who wants to do this, make sure this is something that you really want to do and that you feel it. It can't be a money making gig. At that point, you might as well go and get a different job somewhere else that will pay you way more money and be less strain on your body.
If you just like cooking, you can go online. These days all the top chefs put all their recipes online. Anybody can learn. However, if you want to go to culinary school and take it serious as a profession, make sure that it's something that you are passionate about because it is hard work. People can taste the food if it's made with love through your hands. That's one of the things that I feel like I've been blessed, to be able to create. The food that I cook, every aspect of it is me. And it may be a simple onion and tomato but depending on who's cutting the onion and tomato, people can sort of feel that energy. If you're a chef and you don't have that passion, your energy doesn't transform through your food. There's too much of that out there. So I want to promote passionate black chefs. It truly is an art, and all artists will tell you it's something that they're passionate about. It's energy that floats through them. They're creating.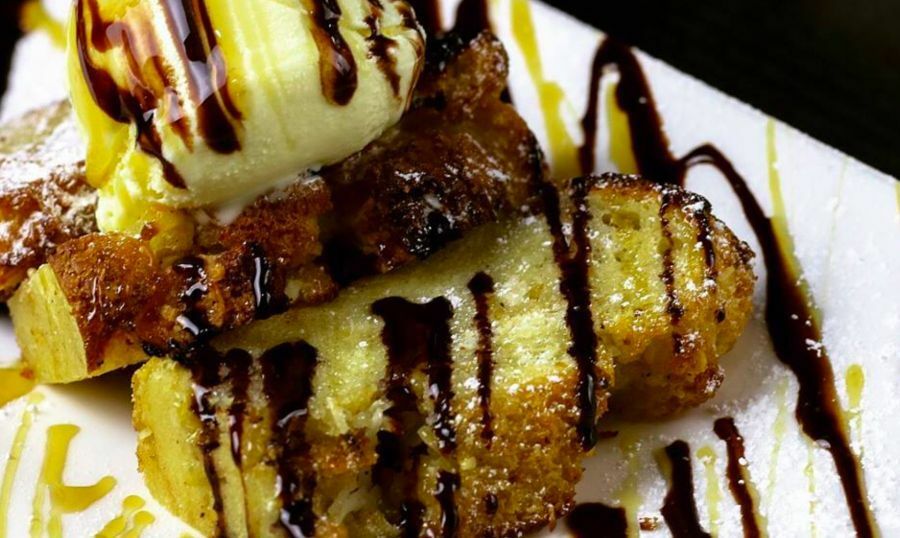 Do you have mentors? Or a support system that has helped you?
I look up to a lot of people who are prominent who have come from behind. I've been through a lot but I'm just blessed to be headstrong. I've always believed in myself that even when I'm at my lowest, I'm built for bigger things. And to be where I'm at right now, I feel like I'm just simply scratching the surface. I try to be positive. I always think the best instead of the worst. I look to build with anybody who's positive. I take mentorship from anybody who's positive. It could be my children. I have three sons. They motivate me. I look at them and they inspire me and keep me going, among many things. But overall, it's myself. Knowing that I can't fail myself.
I want to big up my mom. I would never be where I am without my mom. She is the original chef. She is an amazing chef amongst the whole family. She always wished to go to culinary school when she got to Canada but never got around to it.
And of course my wife Sylvia, who herself has a hospitality background and has been a tremendous pillar in in the opening and growth of Golden Stool Restaurant.
What's next for Chef Kwame?
I see myself either with a chain of restaurants, or I might be behind the scenes making food products and so on versus being in the grind of the restaurant business itself.
But in everything I do, I'm all about black community, and us promoting each other's growth. I'm about diaspora unification, I believe our strength is within our unity and ultimately we are one. Those are the things that I encourage in our youth and our young black men to be able to mentor them. It keeps us alive. A lot of what I'm about is trying to promote black prominence with leadership and black Canadians supporting black businesses.
Lucy Oneka is a playwright and journalist. She has covered many stories for Toronto based newspapers such as the East York Observer, the Scarborough Observer, and the Toronto Observer. Lucy's other passion is music. She is a two time semi-finalist of the prestigious UK Song Writing Contest and recently released her own debut gospel album, "You Are Faithful".