Teneile Warren is a lyrical ninja, and one of ByBlacks.com writers whose articles get the most hits. In my second article focused on our contributors at ByBlacks.com, she answers my questions on her love of reading, books, the stage, and food.
How did you get here? To this point in life?
That's a very loaded question. I guess I travelled. I think I'm in the place that I'm supposed to be in and I've always been heavily surrounded by words, working with my hands, building from the ground up. Charting my own course, being decisive. I think at some point between finding adulthood and getting over teenage angst I've started to absorb the lessons that my parents were trying to instill in me and the observations that I was making and here I am.
You've been recently charged with being the Executive Director of Literature For Life. What is your goal for the organization? What do you want to accomplish?
My goal is to continue what we've always been doing and that's reading for social change and sharing the benefits of reading for pleasure, and that reading is not just something you do at school. It's not something you just do for learning but it has long-term benefits and I want to see our mission spread beyond young mothers. We work with women and right now we're just in Toronto but I want to see us across the GTA and across Canada and hopefully making international relations with other organizations.
I just want people reading. I want books accessible and I want every person to find that one book that they've either learned something from or they've seen themselves in.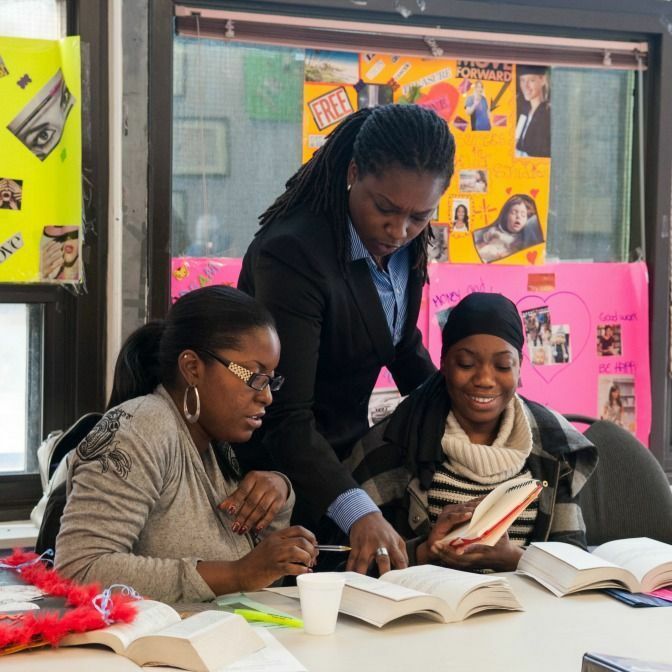 You also have a second job, tell me about that?
I work at PTP Adult Learning and Employment Programs in business development which is also around literacy. There I develop learning tools for the service providers so that they're better able to serve the population. We are the workforce builders, building the workforce trainers is how we look at ourselves. We create tools that make it easier for employment agencies, literacy agencies, community agencies to be able to help someone who is new to Canada, or is completely confused, determine their employment path or their education path.
Everybody has their thing, but why is reading so important to you?
I have never been lost or alone because books have existed.
Books brought me respect in places I was uncomfortable. So many times I've been able to just mention an author and suddenly people look at me eye to eye. I remember going to my grandmother's and always reading. She is the person to credit who I am, in so many ways.
I started reading to impress her. I tried to read King Lear at 9 just to impress her. She would always hand me a book, share a book with me. Books were always what she gave me; I have never had an overly emotional conversation with my grandmother because if there were some things she wanted me to know, she handed it to me in a book. I'm Caribbean and from a culture where we don't talk about things openly, but you know that they need to be spoken about, so you find a way to have the conversation. She gave me that book 'So You're Becoming a Woman' when I turned 12. That was the gift she gave me. She didn't even ask if I had read it.
So I realize that if you're lost, then you can read a book anywhere, you can take it anywhere. Even if you have to hide it in brown paper because you don't want your mother to see a certain book. It's just always there. Books are like those friends that you keep searching for. They're always there.
The arts. When did you get into that?
The arts. Well, I was always writing plays. I used to try to mimic Shakespeare when I was like 5, and then I did some plays growing up, and when I got to University I think I was just feeling lost, and there was an audition for a play 'Vagina Monologues'. I did it and did really well. I got in, went to all the performances. Then I decided to join the drama club from there, and then it just changed. I mean I was always writing plays, I was always writing short scripts, always writing poems, and I used to burn them. I used to be scared to share them with people. I thought that people are not going to like this but I saved the collections. Then in University, I staged my first self-written work and the way I viewed my writing and how I viewed myself as an artist changed. And I just grew; in confidence, in personality, in identity. I learned what I loved. I had a voice. It wasn't until I found the theatre that I knew how to stand up for myself.
You have a play that you developed in the playwright's unit at Obsidian. What is it about, and when will audiences be able to see it?
The play that I developed, 'Random Closeness' is about relationships, and how complicated relationships can be. It's focused on immigrant relationships, between black individuals, specifically dark skinned and light skinned black individuals.
It looks at an immigrant Caribbean woman having a relationship with a bi-racial North American woman; how their politics clash, and how their experience with blackness impacts their relationship. When is it going to be on stage? Fingers crossed, 2016.
You also review events for ByBlacks.com. What was your favourite production in 2014, and why?
My favourite production for 2014 across all arts genres was the "The Gravitational Pull of Bernice Trimble". It was my favourite one because one, it was a black cast, but the play was written by a white author and I think that in order to break down racial barriers and racial communications we need to do more of that. We need to see more willingness to open ourselves up to plays that are written by people of different races, different genders and playing with them and seeing that there is no difference. Because when you watch that play you would never know. But we assume that everything is different. I loved the staging, I loved the setting, I loved the direction. And I just love that it was written by a white author and staged by a black theatre company.
Definitely, have to agree with you on that. Recently you embarked on a business venture as well, Life in Homemade. Where did you get this love for cooking and creating products?
That I will give all credit to my father. The man just loves to cook. He likes to eat his own food, and prepare his own meals. He likes to go home to his own meals. He's not a big "eat out" kind of guy. I remember when he decided to chase a dream, which was to have his own farm and make his own products. Which at the time I didn't think about, but it made sense, because his father was a farmer, and he grew up around that. So that changed the way I received food and one thing about my father is he will cook something because he loves it. And he will serve it and he will say "it tastes good don't?"
My father cooks because he loves it, and he loves feeding people and he didn't just want you to enjoy it, he wanted you to be happy and he'd make sure you were happy eating the food. He cooked the food with happiness and, not grudgingly 'oh I have to feed my children'. It was always made from a place of joy and that transferred into my friendships.
I always remember hosting Christmas dinner as a group, or people having events and asking me to cook. They appreciated it, and I enjoyed it. I enjoy the camaraderie that comes when you gather around a warm pot of food, because everyone's safe. For some reason, wherever there is food, everyone is safe. And that's how I got into that.
When I came to Canada, I started to have different health reactions, particularly with my skin and winter. A lot had to change, and then I started to see the bigger world of food, you know food politics and everything. I needed to take control of what I put in my body, what goes around me and what touched my skin.
I realized everything connected because now I was surrounded by people who want to eat, and they're too busy to have a meal and suddenly I'm no longer sitting down looking at someone across a table in complete peace, having a moment. And everything was a production, everything was how quickly can we do this, how quickly can we do that. That was my way of slowing down.
How can people connect with you?
Follow me on Twitter @iamquagmire