Canada won gold on the court for the first time in the history of these games - narrowly beating out the United States 81 - 73. Forward Tamara Tatham says, "It was a surreal moment. It was a moment I have been waiting for since I picked up a basketball. I have always dreamed of winning gold and I can't tell you how many times I've come so close. Second place so many times as a professional athlete... winning gold with Canada across my chest and representing my country as an elite athlete at the international level is truly amazing. And to do that at home is absolutely astonishing."
This Olympian knows a thing or two about turning dreams into reality. It's a journey that began at an early age. Tatham was 13 years old when her parents asked her to choose an extracurricular activity which would keep her busy while on summer vacation, and she opted for basketball.
Tatham has since come a long way playing overseas in Slovakia, and has played at two world championships and represented Canada at the 2012 Olympics. After her gold win this week, Tatham now has her eye on qualifying for the 2016 Olympics in Rio de Janeiro. That happens a few weeks from now in Edmonton. "This gold means a lot to me and call me selfish but I want to have another gold medal in my hands. If I can do that I can call myself a two time Olympian, so I as well as my team, are striving for that. We have made history in Canada and it's only the start. Inspiring another generation of female athletes in this country means the world to me."
Who is Tamara Tatham?
I am an athlete, entrepreneur, and a dream chaser.
Could you expand more on dream chaser?
I go after the things that I want. I know that a lot of success around me has to do with basketball, but I also want people to know that I am so much more. Of course, basketball is a huge part of me. I would love to play at another Olympic, which is a huge goal I have set. I am also a very huge fashion fan, and I want to work in the fashion industry one day. I never thought I would be an entrepreneur, and that is huge for me. I started a clothing line with one of my really good friends, and that's one of the biggest things for me right now. I am chasing something I have always loved— secretly loved. Now it is out there.
How did your journey to success begin?
I got an athletic scholarship to go to a school in the United States. After that, I decided to try playing for Canada. I made the senior national team, and that became a huge part of me, a huge part of my identity because it is pride and it is the fact that I play and do it for Canada. There is no other feeling like that in the world, to be honest. So that's how my journey started.
How do you stay grounded?
The way I was raised is a huge part of why I am so grounded. I also think a huge part is my Faith. Everything I do is through God. I couldn't be here right now if I didn't have God behind me. My faith is also what keeps me going, and that's also what keeps me grounded. Everyone should receive some kind of giving, and I want to give to my teammates, and I want to give to my friends. Everything I do is for a better cause, and my faith keeps me grounded.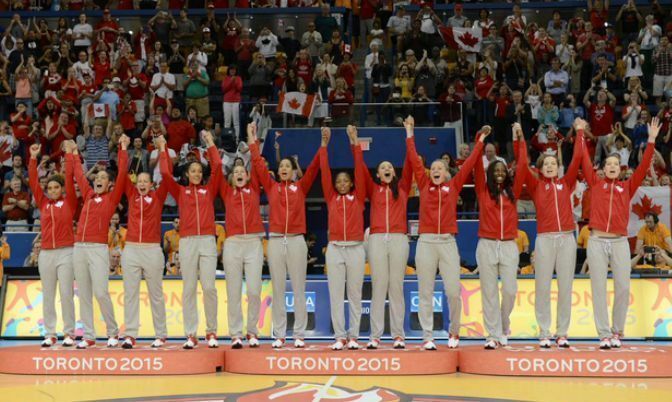 Who are your inspirations?
Definitely my siblings Patrick and Alisha. Alisha is my younger sister who played on the National team with me and went to the London Olympics with me. She is now an entrepreneur and also working at Sports Net. The things I have seen her do, inspire me to be a better person, be a better role model for young girls, and a better daughter. She is a huge inspiration for me. My brother Patrick who has always been there for us. A lot of the things I have learned about the game have been through him. Growing up, having him guide us, was also a huge part. I am the middle child. It was always the three of us. Our brother was the oldest, and we looked up to him.
What is Love Live Hoop?
It is a youth program started by my sister. It's a program for young girls looking to be better basketball players. It's also a mentorship program. My sister started it a couple of years ago, but we're still working on getting it up and running. It is basically for us to give back to young girls. We want to help tap their raw talents and help and support them as they grow into womanhood.
Tell me about 4Ever Hoops?
It's my athletic clothing line. One of the main reasons we started it was because a friend of mine from California-- who I play basketball with overseas—wanted to, this was her thing. She wanted to start a clothing line. She ended up having stage 4 breast cancer at the age of 28. She had to go through chemotherapy. Basketball was one thing that she missed, always loved, and it was always a part of her. Consequently, that's how we came up with 4Ever Hoops. It is a clothing line that pays homage to all the fans, the players and the ex-players. 4Ever Hoops is a clothing line not just for people who play basketball but those who love the game.
What advice do you have for anyone working on turning their dreams into reality?
One of the biggest things to chasing your dreams is confidence. Everyone at some point in their life is scared to do something. However, if you have confidence it will propel you forward. Confidence will help you get to the next place you need to be, whether it is confidence on or off the courts or life in general. Confidence is a huge part to chasing your dream because if you don't feel you can achieve them, then you will not. I also think you need a positive mindset. You can't be negative. You have to be positive and keep working. If you work hard, things happen. It may not happen the way you want it to the first time, but if you keep on trying it may happen for you. Chase your dreams, work hard, and stay confident.