First up is Toronto Raptors' President Masai Ujiri. He's just back from Africa where he led his Giants Of Africa team on a mission to bring basketball and life skills to boys and girls across the continent. They went to Morocco, Mali, Nigeria (where Masai took the NBA Championship trophy to his hometown basketball court), Cameroon, Kenya, Tanzania, South Sudan and Somalia—where the first girls-only camp was held.
Marci: Thanks for taking the time to chat with me, Masai. People might not realize this but after the NBA season ends you keep going. There is Summer League in Las Vegas and you have meetings to attend there, then you head to Africa for your GOA program which you've done since 2003. Why is this important to you?

Masai: It's where I'm from. I grew up there. I see so many kids that need direction, an opportunity to see that they can do it. I feel that taking Patrick Mutombo(Toronto Raptors Assistant Coach), Patrick Engelbrecht(Toronto Raptors Director of Global Scouting and International Affairs), Eric Khoury (Toronto Raptors Assistant Coach/Director of Analytics) and Jama Mahlalela (Head Coach, Raptors 905) will inspire the kids in some way. I hate the term giving back because for me it's an obligation. It's not giving back—it's something we have to do if we are in a position to do it and God has put me in this position and I have the opportunity to bring others along.

Marci: What do you teach the kids?
Masai: No matter how good you are, it will only take you so far. Character comes into play. We bring these kids along and teach them life skills. Being honest. Being on time. Respecting women. Respecting elders. Being confident. All those things. Sports and basketball is going to help develop some of those things.
Marci: How would you describe your leadership style?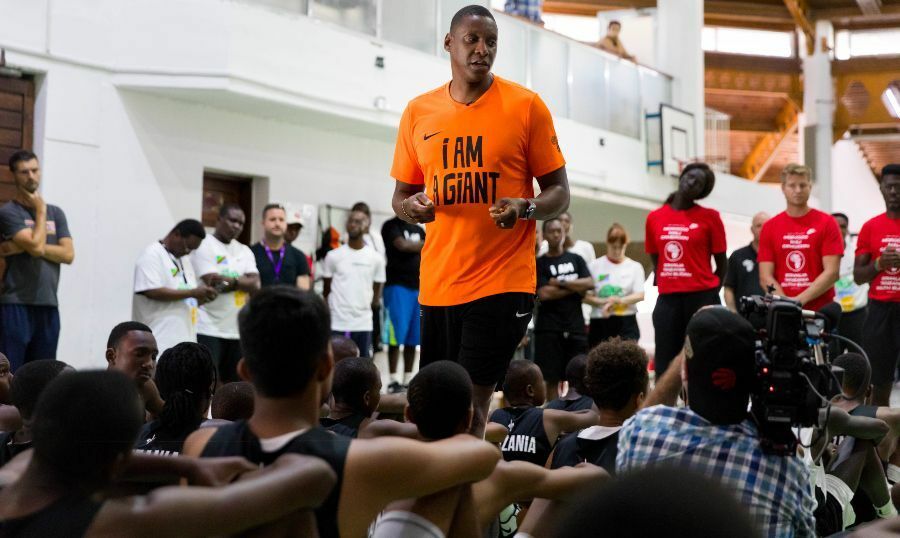 Masai: That one is difficult for me. I try to do the best job that I can. It's important to hire smart people. That's the first thing I say. Whether it's with Giants of Africa or the Raptors I think I have the smartest people working with me—and they're good people. If you have the ability to prepare well I think you can confront anything and approach anything with good determination. Also being fierce. Honestly, it's basketball. It's not that complicated. But there is one thing: I don't fear anybody. I don't fear being criticized. It doesn't bother me in any way. As long as I'm trying to do my job the best possible way that I can and give it my all. I believe sports is about winning and nothing else.
Marci: Well, you know a thing or two about winning. Congratulations on the NBA Championship!! What are the most important lessons you've learned on the journey so far—things that helped you on the road to winning it all?
Masai: There's so much you can gain if you pay attention to the people around you. I do it quietly. Just being a scout by nature (Masai started as a scout for the Orlando Magic and then the Denver Nuggets) I try to observe as much as I can. Also observing best practices. You can't be content in sports because somebody else is going to come and kick your butt. You can't relax. You always have to keep moving forward. Maybe it's how I'm built but I always feel that you can get better. We've won a championship. How do we win another one? How do we win another two? That's constantly on my mind.

Marci: What was your mindset when you pulled the trigger on the DeMar De Rozan/Kawhi Leonard trade?

Masai: The most difficult thing that can happen in this business is trading a player and when a player leaves. Both of them happened to us. As a leader you have to be able to deal with it. You have built a culture at the end of the day no matter whether a player gets traded or the player stays here you want them to go back and look at their time here when all the emotions have come and gone—that they really enjoyed their time playing for this club. It wasn't easy to trade DeMar, JV (Jonas Valanciunas), Delon (Wright), or Bruno (Caboclo). Those guys are family. It's almost like they grew up here. Those things are tough to do but it's part of the business and we have to deal with it. Just like when a player leaves—when Kawhi left—we have to deal with it. We have to figure it out.
Marci: Were you surprised when Kawhi left?
Masai: If they told me there was going to be an NBA team in Nigeria and they asked me to come run it—if I was going home—it would be a difficult decision for me too. I get it. The great thing is he gave it his all here. He gave us a championship. He played his heart out. He gave everything he possibly could have. We really do appreciate that. Nothing surprises me in the NBA. You have to expect anything.

Marci: What do you do for fun?
Masai: (Laughs…then answers) I don't drink. I don't golf. I don't do happy hours. I love to go home to my family. So after work—going home is a beautiful time for me. I relax every day because I go home to them.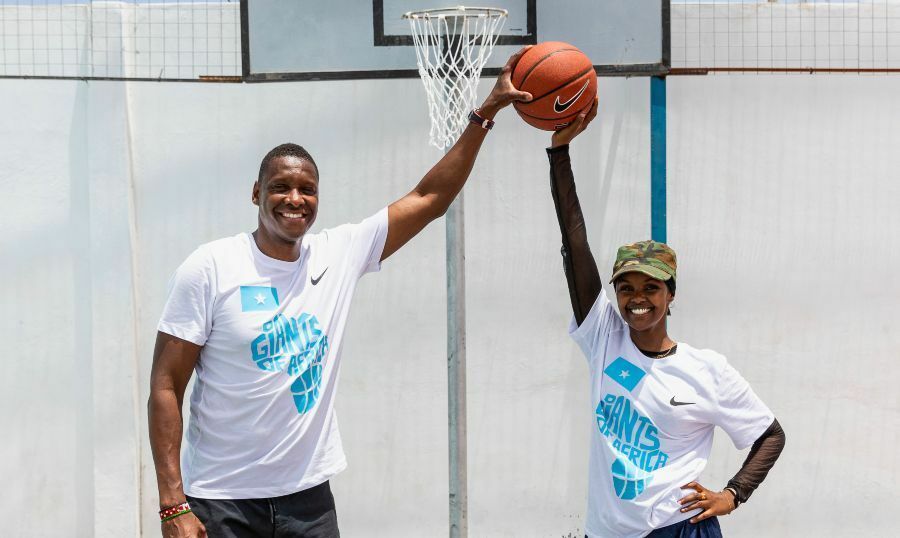 Marci: What's your favourite movie?
Masai: (Without hesitation) The Shawshank Redemption (We take a moment to talk about the film because it's my fave too!)

Marci: Who inspires you?
Masai: My parents. They brought me up well. They motivate me in everything I try to do. My wife. My kids. I want to do so much better for them. The look my daughter gives me, or my son or my wife—when I've done something right—it moves me. Nelson Mandela because of how selfless he was. I love Barack Obama because he's an unbelievable person. He's become a friend. His leadership. How good a person he is and how well he treats people. Forget about how smart he is. He patiently takes thousands of pictures and he's the same with everybody and it's so unique to see.

Marci: Is there anything you don't have and still want?
Masai: (doesn't skip a beat) More championships! We've got to get more. I want us to win more in Toronto. On a personal front—I want the best for my kids. I want them to learn well and do well.
Marci Ien is an award-winning journalist and Co-Host of CTV's The Social. She believes that Albert Einstein was right when he said: "The important thing is never to stop questioning."