Donté it's great to catch up. I'm glad you're doing so well. Let's go back to the beginning. When did you start dancing?
Ever since I could stand on two feet. That's what my Mom always says. I took some classes when I was young but found it wasn't for me I got bullied a lot in the dance classes that I was in so I avoided the whole technical scene—but I got back into it when I got into the performing arts high school that I went to where they focussed on technique.
Which school?
I went to Wexford Collegiate School for the Performing Arts.
(I tell him I know the school very well because I'm from Scarborough, Ontario as well. We take a moment to shout out Scarborough and then continue)
Honestly, though—YouTube played a huge role in me teaching myself how to do different things. I learned how to turn, from YouTube. Movement is so special and however you move in space is beautiful so I kind of always keep my mind there. You don't have to be cookie-cutter or look exactly like someone else in the room. You can feel things and move through space differently and do what feels good in your body.
Why did you start making videos for Instagram?
At the end of grade 12, I lost my sister to suicide. (Donté tells me his sister Janelle was 22 when she died—the same age he is now) I was just graduating high school –trying to figure out what's next and getting ready for university. It was a transformative time for me. You never really know what's next —what will happen in life. Who will be there one day and gone the next. You have to do what you love at the end of the day. Even if that means taking yourself out of situations that you're in. If you're not happy with who you are it's going to project out into the universe. For me it was about finding that thing that makes me feel really good.
There are messages like: "You got this! and "You can do anything!" in your videos. Who are you speaking to? Are they partly self-affirmations?
Definitely. The intent of them is a release for me but also to let anyone who sees them know that they got this too. The most special thing about the internet is that we can be so easily connected with one another. We need this sense of community now more than ever because of all the things that are happening in the world.
What was life like growing up?
Growing up wasn't easy. But my Mom has been the best support system. Her being a single parent and pushing and striving for what she dreamed of. She was my age when she had me. Seeing how far she has come and seeing her grow as a person has been inspirational.
I was that odd kid out—I was that kid that would be dancing in the classroom or on the playground and kids wouldn't get that. I was bullied a lot.
Have you heard from people who have been impacted by your videos?
The responses have been out of this world. I'm so happy and thankful that I have a part in people's happiness. I still can't wrap my head around it.
But I'm so happy I'm making other people happy.
Some of those people are famous and that's led to some interesting projects. Tell me about that.
Well, I'm in my last semester at the University of Guelph studying digital communications. I love it! Creating content for a brand is what I've always wanted to do.
So getting the chance to work with Ariana Grande and Victoria Monét was definitely a huge highlight this year. (Donte collaborated and appeared in the Monopoly video)They are the sweetest people you'll ever meet. They are so creative and so talented. Getting the chance to work with Rihanna and her Savage X Fenty line was another big one.
Any lessons learned along the way?
I have learned that just because someone is famous and has a lot of followers doesn't mean they're great people. I definitely had to navigate that. There have been people I was so excited to meet and then I did and was so disappointed. I was like, damn, you're not who I thought you were.
Who do you look up to?
My Mom. She is definitely the most influential for me. Then there's Oprah, Will Smith and Ariana.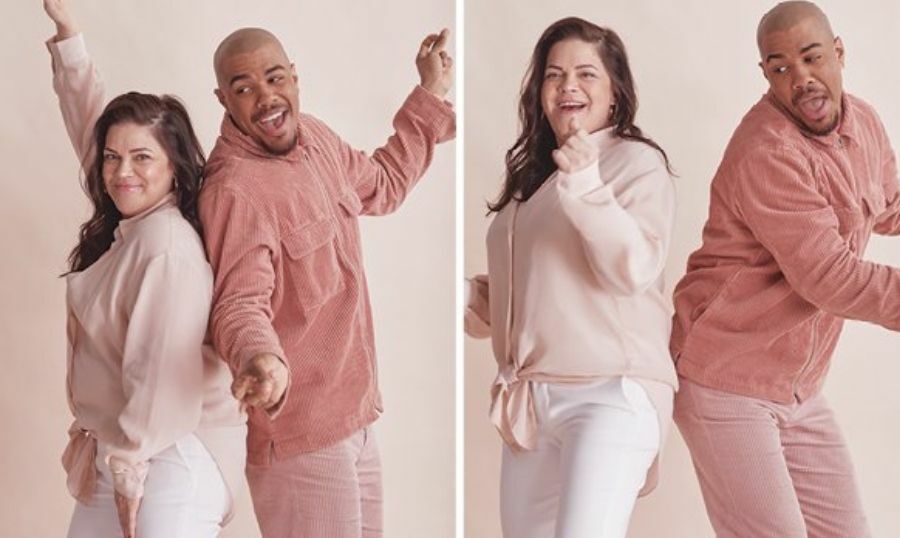 (Donté Colley and his mom: photo courtesy The Kit)
You're in your last year of school. What's next?
I'm going to continue producing online content. I would also love to be in a television series or create a show that encourages and supports Black youth, specifically around mental health. I would also love to work with Beyoncé.
Well—Bey definitely knows who you are!
(Laughs) That's true!
Know a Black Canadian story we should cover? Email us: info at byblacks.com.
Marci Ien is an award-winning journalist and Co-Host of CTV's The Social. She believes that Albert Einstein was right when he said: "The important thing is never to stop questioning."