"I hit a growth spurt really early and I think that kind of forced me into doing sports because I was faster than all the boys in my school," Mercurio said as she described her childhood and the beginning of her athletic journey.
Starting from middle school in her hometown, Kitchener, all the way to college in the United States, Mercurio was always involved in sports. She played soccer, volleyball, and basketball and competed in track. Track led her to triple jump. She "fell in love" with the sport and was recruited by a local track team while she was in high school.
After high school, Mercurio got the opportunity to go to the University of Nebraska-Lincoln as a student-athlete where she could pursue triple jump at a more advanced level. Mercurio said that those few years of her undergrad degree involved a tight schedule with little sleep, early morning training, and lots of school work.
"As an athlete, your every waking moment revolves around your sport. So, it's like, even though I was able to do a lot of other things like research and community involvement, everything [still] revolved around my sport. So, everything was like a secondary thing I was doing," Mercurio said.
This dedication, passion, and structure helped her win the 2019 NCAA Woman of the Year award this past October. Out of over 500 other nominees, only she and 28 other women got the opportunity to be flown to Indianapolis for the weekend award ceremony. Mercurio said that winning the award made her realize that although her athletic journey had always felt very personal, it was bigger than her.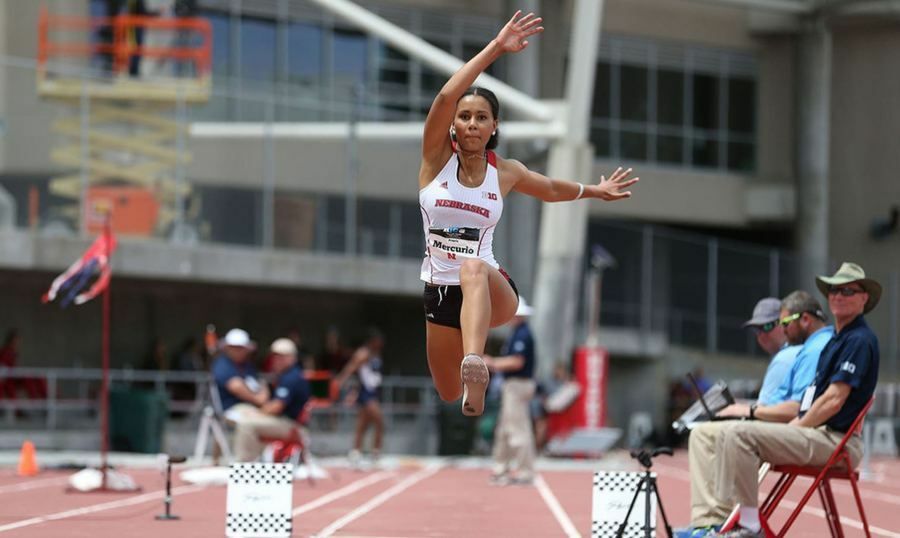 "I think the biggest award from it is that validation and that understanding that the NCAA, not even that long ago, didn't even allow women to participate in sports, and is now honouring women on these stages," Mecurio said. "It's being apart of that history and that continual advancement of women, inclusion of women, and honouring of women in all the things that we accomplish and do."
While focused on sports, the award-winning athlete also worked hard in other areas of her life, including academics and community work. Graduating with a 3.98 GPA with a double major in biochemistry and women's and gender studies, Mercurio also found time to co-found a group on campus called Sisters United. The group brought Black female student-athletes at her university together as a community to support and empower each other as minorities on campus.
As Mercurio continued her women and gender studies classes and learned more about the human body, she slowly found herself making connections between the two and falling in love with the intersection of those topics.
Yet, it wasn't until she suffered an injury while training for the Olympics that she was forced to make a decision about her newfound passion.
"My entire senior year ... I had really bad Achilles tendonitis. Like, almost the entire season. It was really aggravating," Mercurio explained.
During her fifth year, in 2018, Mercurio made some changes hoping that her leg would get better...and it did.
"[The pain] went away, and I had literally the best season ever. That was kind of what motivated me to be like, okay, let's take this year and let's train for the Olympics," Mercurio said.
Unfortunately, not long after that season ended, her Achilles tendon felt worse than it ever had before. Ignoring the pain, she told herself to push through it.
In February 2019, at what would be her final meet, upon finishing her third jump and then warming up for her next one, she felt something pop. Mercurio found out that she had pulled her calf muscle, and it was severe.
"Once I finished my last jump I couldn't really walk. It went from bad to worse really quickly," Mercurio said, adding that the injury put her out for about seven weeks.
The downtime gave her time to think about what would come next.
"It kind of hit me how consuming track was. Like, every waking second, and I thought, 'Okay, I have this one year before going to medical school. I know my ultimate goal is to go to medical school. I know my ultimate goal is not to do track forever. Do I want to spend this one year still doing track, or do I want to start moving closer towards my ultimate dream, my ultimate goal?'" Mercurio recalled.
Following her injury, the aspiring Olympian chose to stop training and dedicate herself to her growing passion for women's health. As she pieced together all the interests she was pursuing throughout her university years, both in and out of school, she realized, "Everything I'm doing is about women. This is what I want to do," and she gradually started to narrow in on the many aspects of women's health she wanted to work with.
"We're learning about the body, we're learning about all these things, but none of our bodies just exist as physical bodies. We're acted upon by so many social forces and pressures, expectations and ideas. I don't believe we can fully understand anything about the body without looking at society in general," Mercurio said on the importance of intersectionality in women's health.
Mercurio added that one of her goals in the future is to practice interdisciplinary reproductive health care. She plans on helping to bridge the gap between obstetrician-gynecologists, midwives, doulas, and other healthcare professionals to provide a more holistic healthcare experience for women of all socioeconomic backgrounds.
"I realized that my passion for where I want to go with medicine is being a doctor who contributes to the healing of women. Right now I'm most interested in reproductive justice and reproductive health care, specifically towards like underserved women and Black women," she said.
Mercurio is currently working at a hospital doing clinical research in the field of orthopaedic sports medicine, as she prepares to start medical school in the fall of 2020.
Elizabeth Ononiwu is Nigerian born and Canadian raised. A passionate storyteller, she writes on topics relating to her Christian faith, women's health issues, race, film and theatre. She's currently completing her journalism degree at the University of Toronto. Follow her on Instagram @Elizabeth_Ononiwu.