When you first started, how was She's4Sports received?
It was well received. To be honest with you, I was nervous starting it. Like any entrepreneur, anyone who launches a passion project, it's you by yourself. I didn't have a co-founder. It was me coming up with a concept, working with a designer for the logo, and making sure that it captured what I wanted. It was hard. When I tweeted for the first time from @shes4sports, I was like oh my gosh we have pressed the green button. We launched the first week of February 2016 and by February 24th, we had 100 followers. To some people that might not be a large number but to me I was like, ok well there are a hundred people out there that like what I'm doing and they want to support it. That was great. We have now grown to a little over 2000 followers on Twitter and across our other platforms. All together we engage over 3000 people in our community. This doesn't even include the other supporters who aren't online but have emailed us or attended our events. So it is going very positively. At our hockey event which was hosted at the Hockey Hall of Fame, for example, there were a lot of people who emailed us and said they have never been to this hockey museum before. We were giving them an experience. We were able to work with the Hockey Hall of Fame so that these women and a few men were able to tour the museum and experience it. We had fun. I always try to combine an element of education and experience.
What were some of the challenges in beginning this organization? And did you ever feel giving up?
Oh yeah, all the time. When there is an event coming up, by the third or fourth day just before the event, you are like who decided to launch She's4Sports? This is just crazy. Some of the challenges are financial. Anybody who starts off has to invest in their product. If you don't have huge backing from a company, don't have a great big savings account, or have some rich wealthy family member who didn't leave you money, you are funding and investing in your own business and product. That's a challenge sometimes because you can hold an event but are not always sure who is going to show up. Sometimes you don't know because you are still building. I've got a friend who has been in her own business for about 11 years and only now is she starting to see the sold out crowds. She is also now starting to see more organizations wanting to work with her. There isn't a playbook where it is overnight success. People have to be patient with the growing pains. That's definitely something i've learned launching my own business. You have to be patient with the growth. We are lucky to have other organizations champion us on social media. I know when we were planning a hockey event someone told me our event was mentioned on Hockey Night in Canada with Ron MacLean. Sometimes you don't even know whose championing your event. It's great that other large organizations see the hustle and the work that you are doing as a smaller organization.
Who has been your inspiration?
My mom. She was a single parent. She raised three daughters. I remember my mother at a very young age had said to me, you can be whatever you want to be. When you are young, you are thinking yeah ok mom. But as you get older, you are like that one message really inspired the journey of my life. It was those empowering words at such a young age that has kept me going. My mom is my biggest supporter. Anything I do she's like, yup you got this. There are days when you are just like oh my gosh I can't do this or maybe I'm not the best person for this thing. You start having doubts about yourself. I think when you have a strong parent who no matter what age you are is going to tell you, you are built for this, it really helps in what you are able to accomplish. Outside of that, there are a lot of women in my circle who I connect with. One is Emily Mills from How She Hustles and another one of my colleagues Lisa Gollar who is a great communicator. She is someone who has built her experience but then went out and started her own consulting organization. There are a lot of women that I pull from my own network who I definitely look up to. They are doing great things in their communities. I'm pretty sure I could list some more but those are the two that pop in my mind right now. It's about building a great network of women around you who you can ask questions. Sometimes when you are working on something, you are in the bubble so you don't always see outside of it. It's good to tap into your network to say what do you guys think about this.
As a black woman, what are some of the obstacles you have had to overcome on your road to success? If any?
I think right now I've positioned myself to be more of a leader not only in the founding of my own organization, but also in the companies and experience I was able to build. I worked for really large companies, and I've also taken a risk and moved to Ottawa two years ago to work for the government. I think my work speaks for itself, but there are challenges that women of colour face all the time. This is whether you are someone who is trying to get buy-in for a project that you are leading or maybe you have a situation where a colleague doesn't take you seriously. You have to sometimes go back and look at how do you move forward with communicating with somebody if you know they have a bias against you. Maybe they have shown an attitude towards you that might make you feel like maybe if I was white, maybe the conversation would be taken a bit more seriously, or maybe I would get further in what I'm trying to do with working with this colleague. I can't say I've faced anything directly but it's out there. Most people of colour have similar stories of being in the office and of some of the challenges that they have faced. I would definitely say I've faced some of those similar ones as well.
What does success mean to you? And what does it look like?
Success with She's4Sports, is really about creating a safe space for women to come to talk about sports. Whether it's digital, online through some of the featured interviews we do, or maybe it's at our events where they can meet these diverse women in sports and ask them questions at our Q&A and network with them after. We really just want to have that real community engagement and that's why people come to my events. I always get emails right after an event where people say it was really real, I got to ask my question, I got to meet this woman in sports and talk to her, and it was a safe space for me to be in. So that's what success looks like for me. It is to build She's4Sports and continue to provide that platform for women and girls.
Some people might ask, why is it important for women to have this avenue for sports? Why is it necessary?
It's very necessary. There aren't a lot of platforms out there that speak to women from different generations, different backgrounds, and really show them that they can contribute to sports in different ways. A lot of people tell me that they see different panels and they hear a lot about women in sports but they are not seeing a diverse range. I've featured women of colour on my panel, an Iranian woman and a black woman. I've featured a woman who is transgender. We need to see a wide range of these women in sports and hear their stories. They all have great stories and are contributing to sports but we don't know their names. She's4Sports hopes to be that conduit to allow people to become educated about these women and know that they are there.
In terms of women breaking through in sports, how far of a road do you think it will be before we start true equal representation?
You know it's trickling in right now. It's still kind of one or none. There is Jessica Mendoza and she's the first play-by-play commentator on the MLB side. We had Meghan McPeak working for the Toronto Raptors as one of the first play-by- play basketball commentators in the NBA G- league side. She's gone to Washington. I think we want to get to a place where it's not unusual to see three women commentating. We want to see women out there as referees. In the NBA, I have started to see a couple of women who are referees. We don't see that many in hockey in the NHL but why can't we get there? It's 2019 and women can contribute to sports in many different ways. We have featured Kim Davis who is an Executive VP for the NHL, and a woman of colour. We can be in the boardrooms, at the C-Suite level. We can be on the field refereeing the games. We can be helping athletes on the field if they have a health issue or there is some sort of athletic medical issue. There is Nikki Huffman, we had her on our baseball panel, she is the Blue Jays head athletic trainer. I believe there are only two women across the MLB who have that role. It shouldn't be these diamonds in the rough, that we are just saying oh there is one person. It should be open to all women, and I think that there are a lot of women who want to have these positions and roles. They have the skill sets but in terms of seeing them actually being hired for these roles, it's very slim. You don't see a lot but because we are starting to see a few here and there, hopefully it will continue to build some momentum.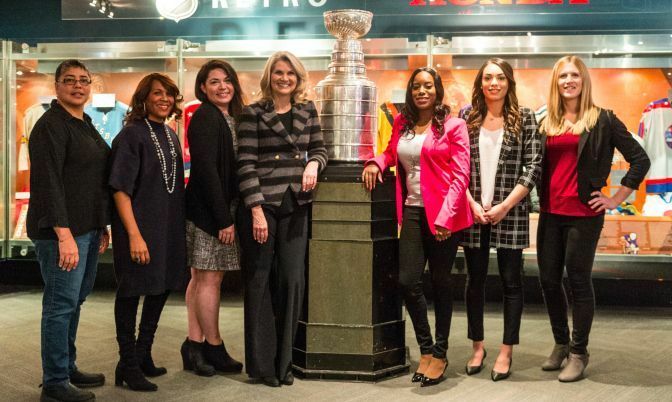 At the Hockey Is Her: Celebrating women in hockey event. L-R: Angela James (4X IIHF World Women's Champio), Kim Davis (Executive Vice President, Social Impact, Growth Initiatives, & Legislative Affairs, NHL), Jennifer Chefero (Assistant Coach, Scarborough Wexford Raiders), Christine Simpson (Reporter, NHL on Sportsnet), Ainka Jess (founder She's4Sports), Sarah Nurse (Olympic silver medalist -Team Canada, CWHL player, Toronto Furies) and Jessica Platt (CWHL player, Toronto Furies).
What do you hope to see in the future regarding She's4Sports?
For the future, I want to see us build the network. A lot of people come up to me and suggest we have an event every month. I believe you have to build your community organically. But I want to see us partner with other organizations. At our second event, we partnered with CBC Sports for an event featuring women in sports, and it was great. We want to see more of those things, more partnerships with larger brands. We want to see some sponsorships and really align ourselves with other organizations in sports who want to empower women the way we are doing it. Organizations who want to give women a voice and who believe that there should be equality with hiring and pay. Tennis is trying to change that situation where male and female champions do not get the same pay. But it's just a shame that it's taken this long for owners, sports leagues, and the industry to say that women should get the same pay as men. We are doing the same sport! I also want to make sure that I'm engaging with young girls outside of the parents wanting to bring their kids to see role models. There are a lot of statistics out there that young girls are dropping out of sports once they hit puberty, which in itself has a lot of health implications. There are issues with building confidence in leadership skills as they get to college and get into the working world. Being a part of sports and being in a team can help with that. I'd love to team up with girl initiatives to push those issues. I have a lot of dreams and hopes for She's4Sports. But I'm definitely one of those people who like to take it one day at a time. I know this initiative is bigger than me. I think it could do so much more and I can't wait to see where it goes.
Lucy Oneka is a playwright and journalist. She has covered many stories for Toronto based newspapers such as the East York Observer, the Scarborough Observer, and the Toronto Observer. Lucy's other passion is music. She is a two time semi-finalist of the prestigious UK Song Writing Contest and recently released her own debut gospel album, "You Are Faithful".