Marci: The last six months have been a series of highs and lows for you, Measha. Let's start with you no longer being married.
Measha: May 9th, the day after my 20th wedding anniversary I signed the divorce papers with my now ex-husband (Markus Brugger).
I love the symmetry of it being 20 years plus a day because 20 years is a milestone for everyone. My kids are seven and four so I haven't been a mother for 20 years. I was a wife for 20 years. The only other thing I've done more than that is be a singer. I can see now that we weren't well-matched but that doesn't make it any less of a loss. We prioritized our children and made sure they felt nothing. Just the fact that Markus could feel comfortable dating and finding the woman who would become his wife a few months later—which seems fast but if you consider the proceedings and all that goes into it—it was three years later. For men that timing is fine. I know that when women come out of a divorce they often blame themselves, but when men come out of major relationships they want to jump in and try and fix it which means they need someone else with which to face what they should really be taking the time to examine themselves and then jump in—but it's not for me to say. His wife now makes dinosaur cakes. Ain't nobody over here making dinosaur cakes so welcome to the family because it only adds to my sons' lives. Then I had a heart attack a month later.
Marci: The fact that you are sitting here in front of me is a miracle in itself. Tell me what happened:
I had done the most incredible quarter of my career. We went from singing with the New World Symphony in Miami, to sold-out performances at Carnegie Hall, then flew over to sing at the Barbican Centre in London. Next, I'm the Artist-In-Residence at the Manitoba Chamber Orchestra and then I went and closed the Calgary Philharmonic season. After that, I presented the television show I'm developing at the Banff World Media Festival. I was staying with friends in Calgary and woke up the morning I was supposed to leave with chest pains. I recalled how I felt ten years ago when my aorta ruptured. I knew it was something else but I knew it was serious.
I went downstairs and said to my friends—we need to go to the hospital. After they examined me I was told I had to undergo open-heart surgery again.
Marci: What went through your mind?
Measha: I thought of my sons. I wanted them with me.
Marci: Were you thinking you might not survive?
Measha: Yes. I didn't want it to be like where did Mama go? They'd be thinking I went away for work and didn't come back. I promise them every time I go away that I will come back.
(Measha's boys were flown from Halifax to Calgary to be with her—but after her first night in hospital—another shock.)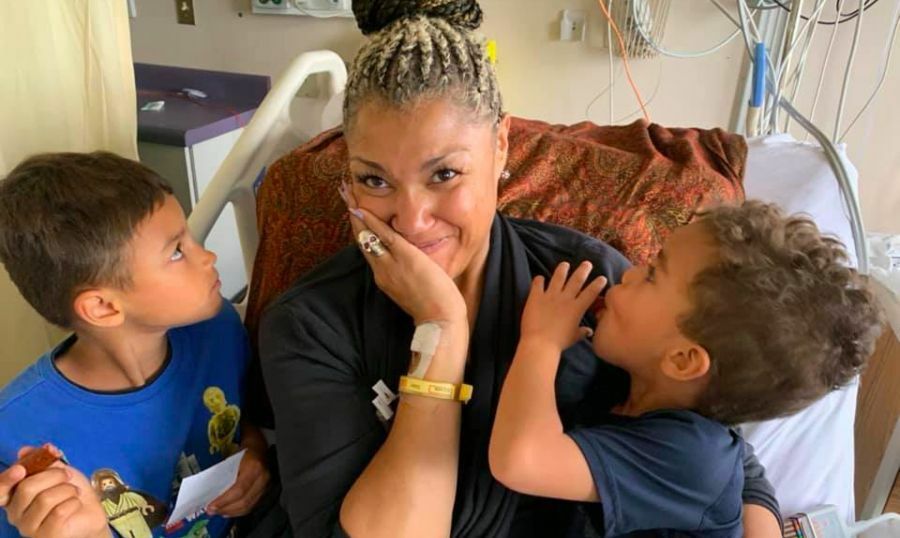 Marci: So it's the first morning in hospital –you're scheduled to have surgery in a few days and a call comes through. Who is it?
Measha: It's my brother. He tells me my Dad has passed away. A heart attack. He was in the bathroom one morning and my mother heard a thud. It was my Dad falling on the bathroom floor. It's rare that I'm caught off-guard but it wasn't what I was expecting. I was so surprised even though I knew a heart attack would ultimately get him. I still get emotional from the shock of it. But why now?
(I interject) Because we think we always have time—we say to people see you next week—see you tomorrow. We say it with confidence. We never expect things to happen this way.
Measha: (Sighs) Yes. Right.
Marci: Did you tell your boys what was happening? (Measha had open-heart surgery on June 20th)
Measha: Yes. I don't lie to my kids. I said they're going to fix Mama's heart.
Me: What about your Mom? How was she coping?
Measha: My Mom went from making funeral arrangements for her husband of 52 years to getting on a plane to Calgary to be at the hospital bedside of her youngest child who had just come out of open-heart surgery.
Marci: It's good that you've taken some time to heal. You haven't rushed back to work.
Measha: The last time I had open-heart surgery it was all about me getting back to where I was before—how quickly can I get healthy? This time I was like how much time can I take to get myself right? You can come back and be physically well but are you spiritually well? Now the stakes are higher because I have little eyes watching. I was trying to heal from the surgery and the loss of my Dad.
Marci: I'm so sorry you lost your Dad. Your Mom has had some health issues as well.
Measha: I love my Mom. She is my best friend. She knows where all the bodies are buried. She has never judged me for all the mistakes I've made. She's right there in the trenches with me. Does she not get cancer ten days after my Dad's memorial? An MRI revealed a six-centimetre mass pressing on her vena cava(a large vein carrying deoxygenated blood into the heart). I said to her OK. I'm here. We're in this together. The time we spent travelling by car to and from her treatments was so special. She's doing well now.
Marci: So are you! You have some exciting stuff coming up. Fill me in.
Measha: I'll be at Recital Hall, in the FirstOntario Performing Arts Centre in St. Catherines, Ontario on October 19th and then looking forward to sharing a stage with my friend of 20 years, Jully Black, in her musical theatre debut as Caroline in the production of Caroline or Change at Toronto's Winter Garden Theatre early next year. I play The Moon and act as a spiritual mentor to Jully's character. I can't wait!
Know a Black Canadian story we should cover? Email us at info at byblacks.com
Marci Ien is an award-winning journalist and Co-Host of CTV's The Social. She believes that Albert Einstein was right when he said: "The important thing is never to stop questioning."