Born and raised in rural Guyana where according to Tray, "there's not much to do", he used his art to keep himself busy while keeping it a secret from his friends and family.
"Caribbean men were not supposed to be doing art. They're supposed to be fixing cars and building houses," Tray explained, citing a colonial mindset inherited from slavery.
"During the slave period, art was not a profitable commodity and therefore was not encouraged by the overseers and plantation owners. The creation of art was considered a slothful occupation that hindered efficiency, causing plantation owners to lose money." [1]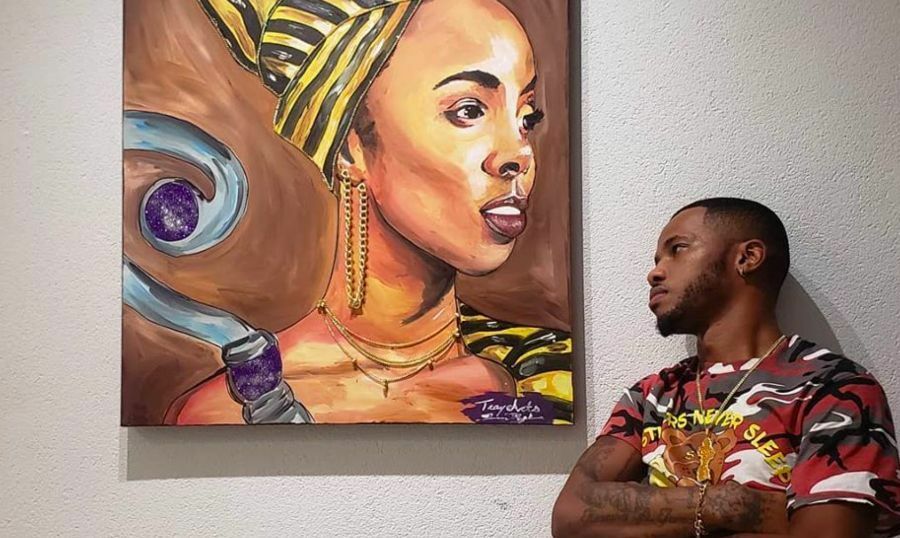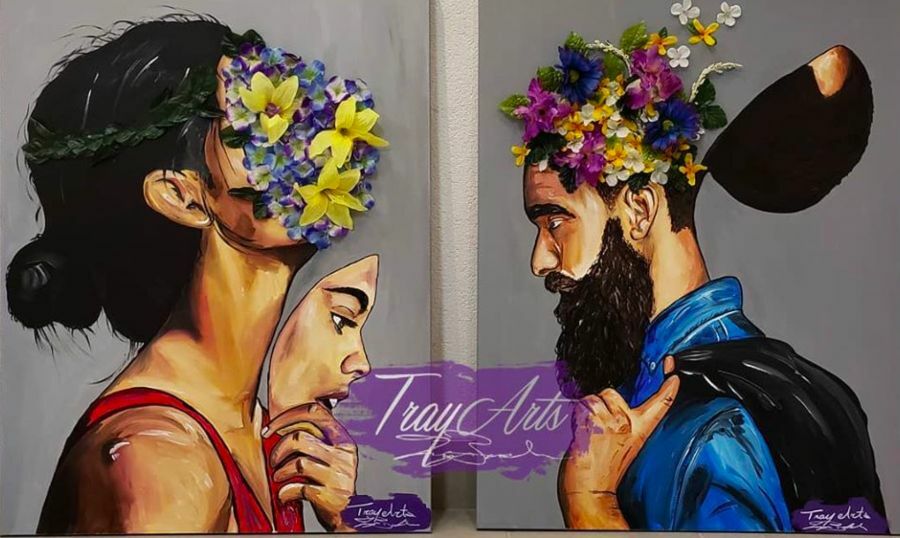 Despite this generational transference of misinformation, Caribbean artists have learned to embrace their talent and recount our history using different art forms. Tray has joined this defiant group and is using his art to make waves. As a young artist, he preferred to work with the shades and shadows of sketching until he discovered painting in high school.
"At first I didn't like painting, but it opened a different part of my brain and I fell in love with it and continued to do it. Painting actually saved my life."
During his early years in Canada, Tray was put in foster care, became homeless and found himself on the wrong side of the law. This is when, in an interesting twist of fate, art became his best friend.
"I entered some of my pieces in an art contest in Woodbridge and the judge who was presiding over my criminal case was one of the judges for the contest. I placed second out of a thousand participants and that judge had a chat with me afterward and told me that the life of crime was not for me. He said he was on the verge of retirement and wanted to do something nice for someone before he left, so he cleared my record and set me free. That's when I started to take art more seriously. I didn't go to art school because I wanted to find myself, not somebody else. When you study, you are learning someone else's technique. I wanted to learn my own techniques."
Tray Arts hosts paint night events inside his North York studio with unlimited wine, live DJ and giveaways.
And Tray's unique technique has helped him gain visibility in the art community. He says he actually doesn't like using a brush to paint and only uses it when teaching students. He prefers to challenge himself by using everyday objects to create paintings.
"I saw a young man from Africa painting with his feet and I thought that was pretty dope. As an artist, I like the fact that you don't have to stick to using a paintbrush. So when Nipsy Hussle died I got the courage to just take up the knife and start painting with it."
So far, he's used a pair of sunglasses to paint Stevie Wonder, a book to paint Maya Angelou, and a chair to paint Snoop Dogg.
"I love challenging myself to use different media to paint and to also add unique details to the paintings like gold chains and glitter for a bolder effect. I find that when I do these things it expands my mind to think on another level."
Tray opened his studio a year and a half ago but has been doing art as a business for seven years. He recently returned from an art show in New York where he successfully showcased his work. He is also very visible on the Toronto art scene where he represents at shows like Raw Toronto and Pancake and Booze. Tray says in a city where the majority of art shows focus on abstract art, it can sometimes be challenging to show his work in Toronto because of his focus on Black art.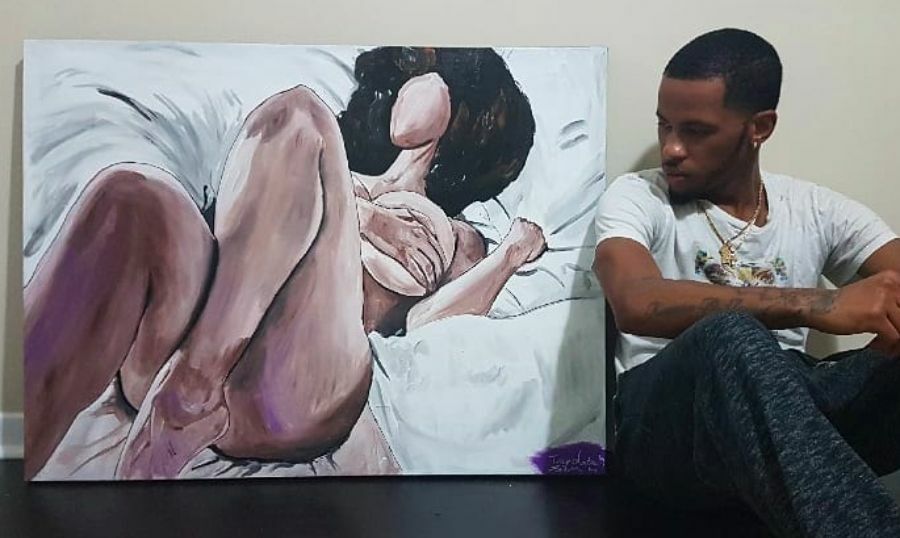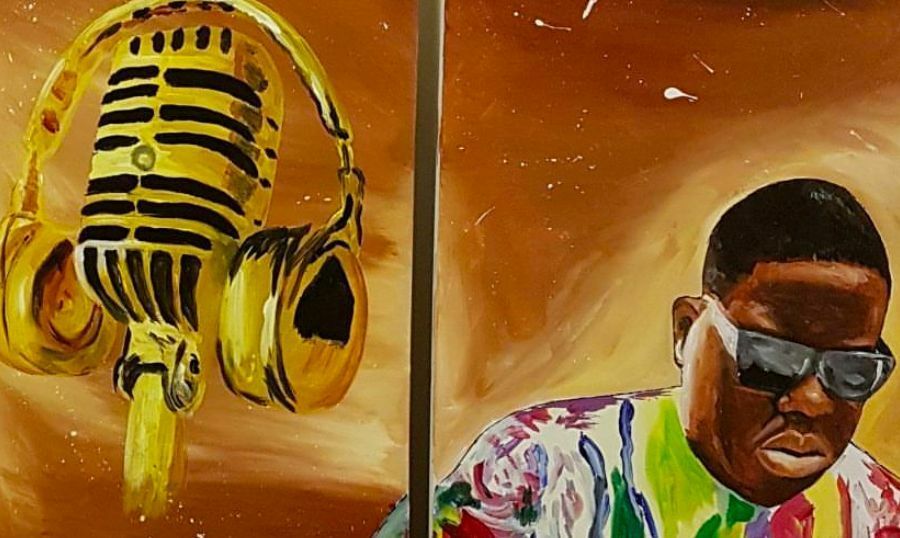 "When I was growing up I didn't have a Black role model. My dad is Indian. My mom is Black and Chinese. People have their own take on that but I'm Black. I grew up in the Jane and Finch area where the youth didn't have much to aspire to except hip-hop. Hip-hop used to be about poetry but it has changed over the years. To fill that void I decided to create art that inspires. So when I paint images of the Black female body the message I want to convey is to embrace your natural beauty. For the guys, the message is that of a prince becoming a king. Many of these are among my kids' collection, and most of them have been sold to schools."
In a culture where themes of female empowerment seem to dominate, Tray has recognized that men need positive messages too.
"I caught myself doing a lot of female empowerment pieces then stopped and asked myself, what about the men? The first male empowerment piece that I did was an image of a muscular man, shirtless with butterflies coated in glitter flying around him. It's basically showing that a man can be both strong and sensitive at the same time. We were raised to believe that a man shouldn't show emotions, which has caused a lot of damage to our psyche and within our community. That piece sold in no time after I finished it. That tells me a lot."
He creates a safe space to delve into these and other cultural issues with his paint nights.
"I was going through a breakup and needed to clear my mind. I thought about how I could differentiate my paint night from others and decided to use my art. No one else can create my art. Painting always helps me when I'm depressed or feeling lonely and I thought there may be someone else who's going through that. Eighty people attended the first night. Of that number, twenty people emailed to tell me that they were suffering from depression and that the paint night had helped them."
Art as therapy.
After that, I decided to arrange my studio for public paint nights. Besides these, I am regularly booked for private paint nights, girls' nights, birthdays, bachelorette parties, kids' nights etc."
But he cautions, his work is not all G-rated.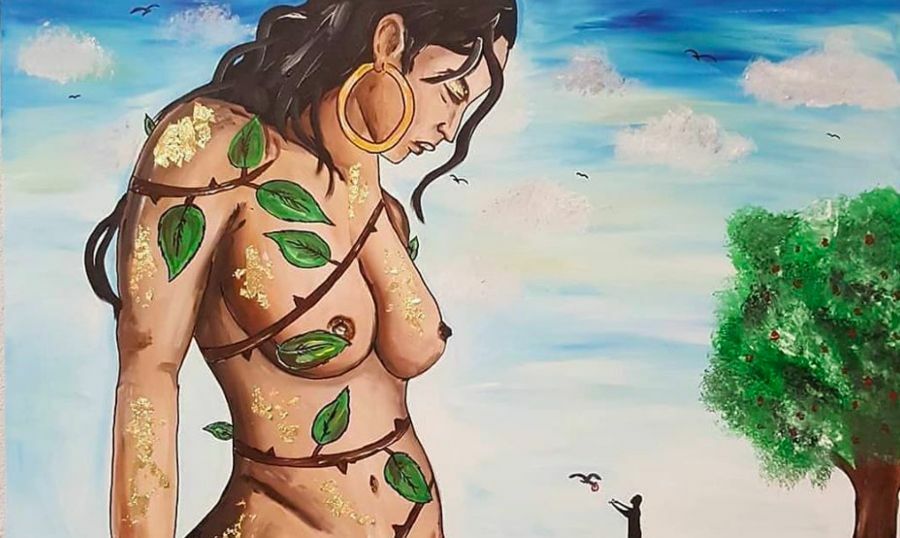 "I call myself an explicit artist as a warning that I also paint erotic art. Sex is a taboo subject in the Black community so I decided to use my craft to show that it's also art. In a time when young people are using sex as a means of finding love and companionship, I want to highlight that it's a powerful and spiritual form of communication."
On the issue of dealing with naysayers, Tray says he's learned to listen more and talk less.
"I actually started setting up fake events to see who would support me and who wouldn't. One or two of my many friends would post a flyer or show up to the location and when they did, I explained why they were there. That is how I pruned my circle and kept those who are real while letting go of the others. I don't really have a circle anymore, I have a rectangle now." He laughs.
There is something to be said about finding your passion because when that happens, it infuses you with energy to perform with excellence as demonstrated by Tray's ventures.
"I am pleased to say I work with different organizations like the YMCA and Peel Police to help them get at-risk kids off the streets. My past helps me to be a mentor to them. I met a 10-yr-old kid who already has five charges relating to guns and drugs. Our boys need love. They, we, need to hear I love you. I have a son and I tell him that all the time. Not many people understand just how important it is for a boy to get that type of affirmation."
My involvement with Peel Police is to teach 200 policemen how to mentally deal with Black children. We work with several schools through a mentorship program that's now being adopted by Quebec and Waterloo police."
From criminal record to teaching cops, Tray's success is inspiring evidence that it's possible to re-write your story at any time, whether it's with a pen or a paintbrush.
Know a Black Canadian artist we should feature? Email us: info at byblacks.com
I am an award-winning author, screenwriter, playwright, and speaker. I am a twice published author with two independent books, have collaborated on another two and have created several courses focused on Writing, Storytelling and Mindset Transformation. 
As an independent playwright and filmmaker, I wrote, directed and produced my first play, Forgiven, in 2014 and completed writing my second play, Diamond Life, in 2018. Stepping out of my comfort zone I co-produced my first short film, Princess Lamp, in Vancouver in 2016, and my second, When Destiny Calls, in Toronto in 2017.
Source:: (1) Hew, David. Afro-Caribbean Art of Jamaica
https://scholar.library.miami.edu/emancipation/jamaica2.htm#_edn1