The salon was transformed into an urban beauty oasis where upon arrival, guests received a warm welcome and were treated to good music, tasty libations and nibbles, and of course an opportunity to experience the new products via a hair service or hand massage.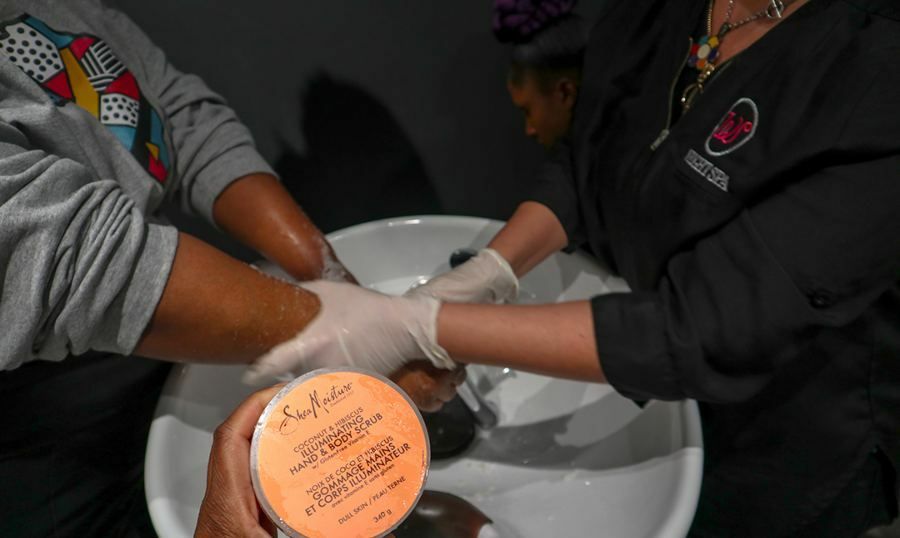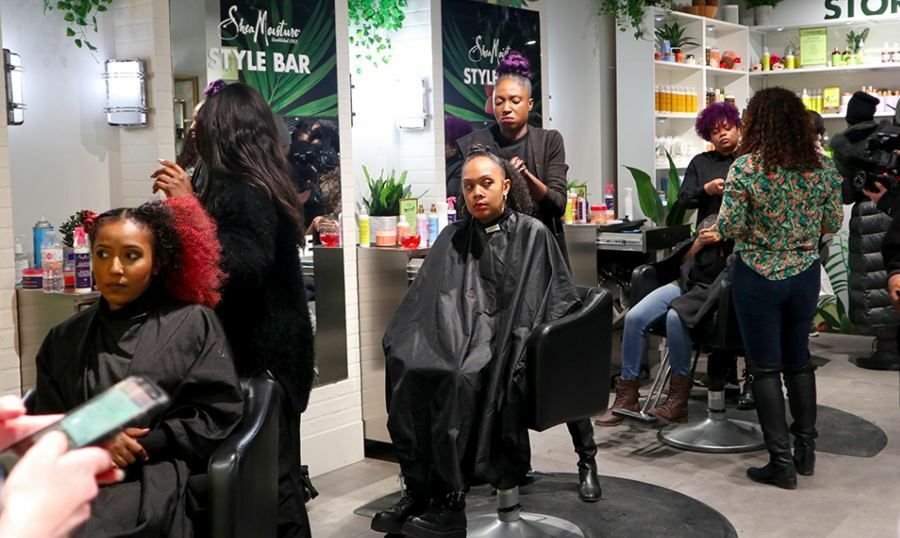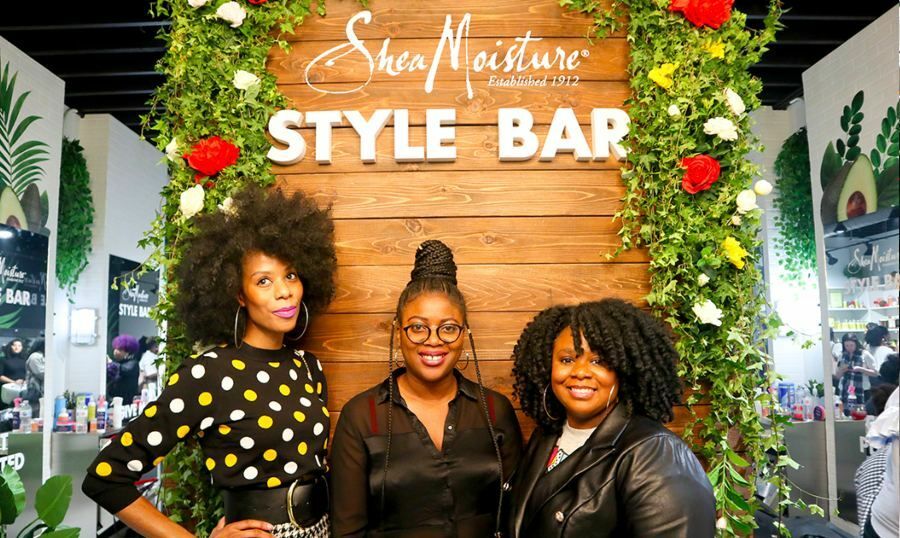 Gail and Leslie Thompson with Abimbola Rafuah (centre), Associate Brand Manager of SheaMoisture Canada PHOTO: Roseline Bonheur
If you're looking to add more moisture and to really nourish your dry, damaged tresses, then the Moringa and Avocado Power Greens line is for you. Products like the Reconstructor and Conditioner are packed with moringa, avocado and a power greens mix that are designed to nourish and strengthen weakened strands. The sulfate-free shampoo cleanses your hair and scalp all while being nourishing as well. Containing moringa, kale, avocado, matcha and green algae, this formula, according to SheaMoisture, adds 7x times more shine to your hair.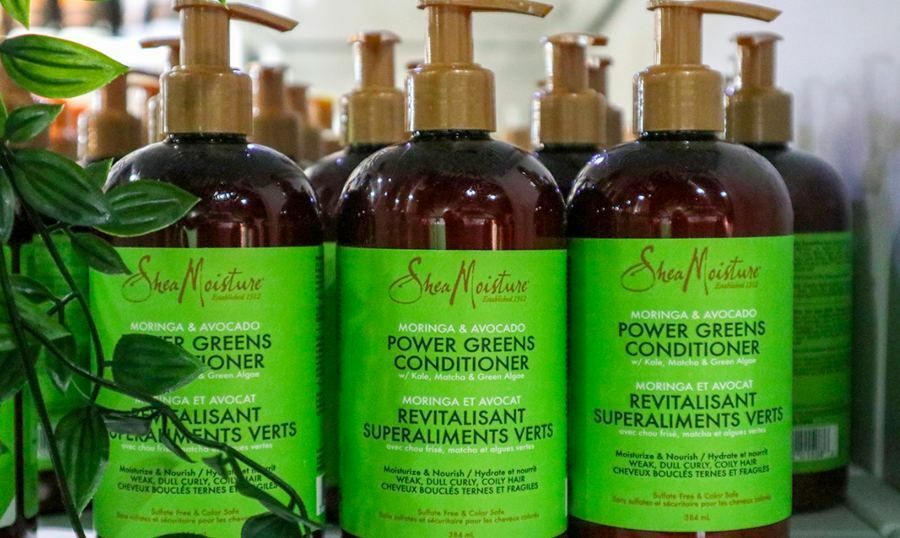 Need to cleanse hair quickly for those light wash days? No need to fret, SheaMoisture's got you covered with the Moringa & Avocado Power Greens Hair Rinse.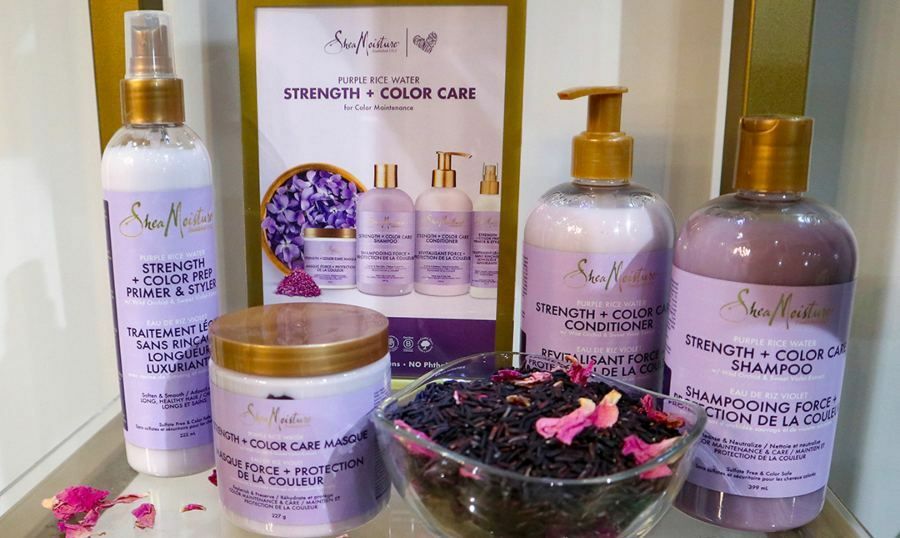 Have colour treated hair? Then the Purple Rice Water Strength line is just what your coloured tresses are thirsting for. We know that the use of color on our precious strands can result in breakage and brittleness, so this line works to nourish, restore and revitalize colour treated hair.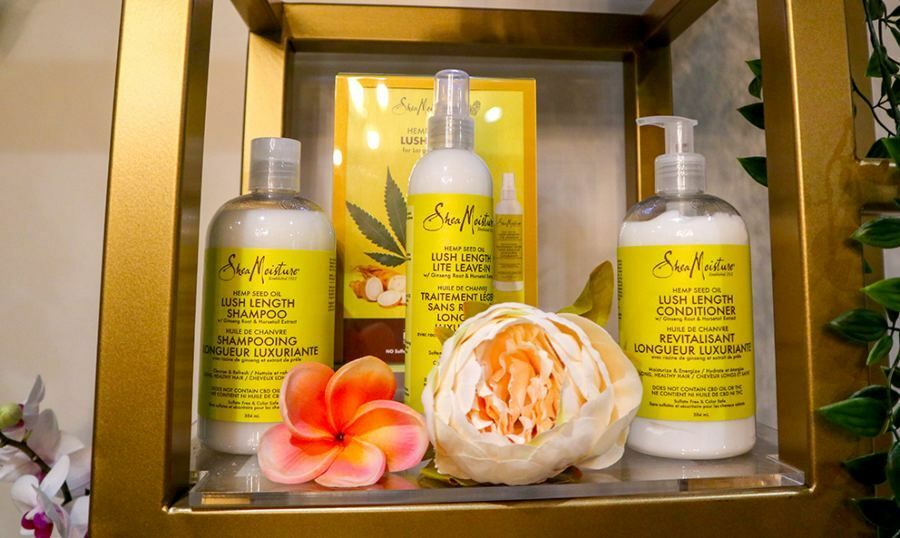 The third product line SheaMoisture has launched is the Hemp Seed Oil collection. Abimbola Rafuah, Associate Brand Manager of SheaMoisture Canada dubs this 'the lush length collection' as these products work to encourage thicker, longer hair. Created from THC and CBD free Cannabis Sativa (Hemp Seed) oil, this product line also contains ginseng root and horsetail extract which when all combined create a revitalizing formulation. This particular line is not limited to just hair care products - the Calm and Comfort Hemp Seed Oil Body Lotion is a creamy moisturizer made of not only hemp seed oil but aloe and chamomile!
All three product lines along with other best-selling SheaMoisture products can be found in retail stores like Wal-mart, Loblaws, Rexall and Shoppers Drugmart across Canada right now! Abimbola also let us know that as of this year, "We are at the same launch phase as the United States. Meaning, when the U.S. launches, we launch the same products at the same time." So no need to run across the border to scoop up the latest SheaMoisture products!
Abimbola also mentioned that SheaMoisture has introduced new products to current product lines. We picked up a new body lotion from the existing Manuka Honey & Yogurt line called the Skin Renewal Body Yogurt Moisturizer which is packed with vitamin C!
All in all this event left us feeling nourished both inside and out!
We are Gail and Leslie two sisters originally from Montreal who now call Toronto home! Thank you so much for following along with us as we navigate the fashion world bringing you looks that work for all bodies. Follow us on social media @thelongandshortofstyle